Nutrition for a Healthy Heart
Heart health dietitian advice on what to eat for heart health, high cholesterol and high blood pressure
If you are confused about what you should be eating to keep your heart healthy, you are not alone. All of the conflicting information about nutrition makes it difficult to figure out what to eat to help protect against heart disease. The debates about nutrition for elevated blood cholesterol or high blood pressure can be even more perplexing.
Rest assured that the best heart-healthy eating plan is the one you will actually follow.  You do not need a diet. Instead, you need a healthy lifestyle you can sustain for life.  Follow a plan that speaks to your food personality and the types of foods that you enjoy.
What is the best diet to follow for my heart?
Many research studies on nutrition for heart health exist. You can find one to support almost anything you want to promote or discount. One study will show that a well-planned vegan or vegetarian eating plan is healthy for your heart. Another will say that animal foods, such as the dairy, meat, poultry, and seafood included in the Mediterranean diet, also belong in a heart-healthy eating plan.
Your health and heart health depend on your whole diet, not just the type of fat you eat, how much sodium is in your diet, or any other single nutrient. The key is to take a big picture look at what scientific research suggests. Then, use your common sense and remember what your grandparents likely already knew.
First, eat plenty of whole foods that you can recognize as food. Avoid complicated labels with a long list of ingredients. Emphasize plant-based foods like vegetables, fruit, whole grains, nuts, seeds and legumes. If you wish to consume animal foods, choose those that are minimally processed with lower levels of sodium and sugar. Limit ultra-processed foods that have very high levels of sugar, like pop and candy. Packaged snack foods and convenience meals also contain high levels of sodium.
Trans fats are a particularly unhealthy class of fat found in packaged and processed foods like deep-fried items, and commercially baked goods and pastries. Read food labels and limit foods that contain hydrogenated vegetable oil and shortening.
However, you do not need to be extreme. There is always room for your favourite soulful foods, such as sweets and savoury foods that you choose for taste and enjoyment. You can eat anything, just not everything. It's all about being intentional about your overall choices.
What is the most important nutrition change to make for heart health?
While reducing your sodium intake and watching what type of fat you are eating is key to boosting your heart health, it is important to remember the following.
If you are overweight and consuming too many calories, the single most effective nutrition strategy to lower your blood cholesterol levels (and blood pressure) is to lose weight.  Even small changes in your weight can significantly affect your blood cholesterol level.  The best weight loss plan is going to be based on your food philosophy and which eating plan you can actually sustain.
Is it worth talking to a dietitian?
Working with a registered dietitian on our team can really help.  An experienced dietitian can create a customized plan for everyday meals that considers:
what, when and how much to eat
what types of food you enjoy
your cooking skill
your family situation
and how often you like to eat out.
As well, our online nutritionists / Calgary dietitians can give ongoing support and strategies for success related to:
emotional eating
managing cravings
and accountability.
Contact us for more information on our Dietitian Calgary nutrition counseling services: CONTACT OUR REGISTERED DIETITIAN TEAM
Are foods like butter, cheese and eggs bad for my heart?
The answer is both yes and no. Traditionally, it was thought that saturated fat was harmful for heart health. Saturated fats are found in heavily marbled meats, the skin on poultry, in butter, margarine, and tropical oils (coconut oil, palm oil, cocoa butter), and in high-fat dairy foods like cheese.
High levels of LDL cholesterol can be harmful to heart health. Newer research has found that saturated fats may or may not increase the 'bad' LDL cholesterol in the body. Part of the reason that findings conflict is because research results depend on which foods replace the saturated fat. Replacing saturated fat with monounsaturated fats (found in olive oil, nuts and avocado) and omega-3 fats (such as what is found in fish) is beneficial for heart health.
Be aware that the cholesterol in food is different than the cholesterol found in your blood. Although foods like eggs and shrimp are high in dietary cholesterol, they have little effect on blood cholesterol. There is research to support that an egg a day is fine for most people. Both shrimp and eggs are free of trans-fat and low in saturated fat. This means their influence onblood cholesterol levels are limited for most people. This is good news if you enjoy eggs for breakfast or grilled shrimp on the barbeque.
You may wonder whether the butter, cheese or eggs you are eating is good or bad. The bigger question is about which food you put butter on, and what else you eat with your eggs and cheese. Since most people need to eat more veggies and fruit, focus on this group first.
A final note about heart healthy eating
Health depends on the quality of your whole diet, not just a type of fat or the amount of sodium or cholesterol in a food.  Rather than counting grams of fat or milligrams of dietary cholesterol, focus on healthy cooking skills.  Any diet should include more vegetables, fruit, and wholesome foods your grandparents would recognize, with simple ingredients on the label that kids can pronounce.
Looking for more nutrition advice from trusted Registered Dietitians? Sign up for our free weekly nutrition newsletter for our latest articles, videos and recipes on healthy eating here: Our Free Nutrition Newsletter
Book an appointment with a heart health dietitian on our team to help you personalize this heart health advice for your own needs.  We specialize in weight concerns, meal planning, heart health nutrition, nutrition for high cholesterol and what to eat to reduce high blood pressure. We can see you in our local dietitian Calgary office or by phone or video conferencing for virtual nutrition counseling.   CONTACT US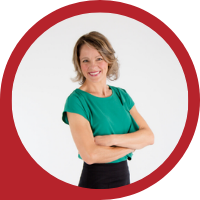 About Andrea Holwegner
CEO, Registered Dietitian, Counseling Practice Director & Professional Speaker
Andrea the «Chocoholic Nutritionist» is founder and CEO of Health Stand Nutrition Consulting Inc. since 2000. She is an online nutrition course creator, professional speaker and regular guest in the media. Andrea is the recipient of an award by the Dietitians of Canada: The Speaking of Food & Healthy Living Award for Excellence in Consumer Education....Read more