Nutrition for baby boomers
Healthy eating for baby boomers
By Andrea Holwegner, For The Calgary Herald   October 28, 2010
If you are a boomer in your mid-40s to late 50s, it will likely not come as any surprise that your weight and overall health can start to shift. If you have not been taking care of your health up to now, this is likely where medical issues will begin to show up.
You can benefit from taking a close look at your nutrition habits to ward off chronic disease and manage a healthy weight.
Changing nutrition habits for the better can make a huge difference in how you look and feel in the years to come.
Top 5 Nutrition Challenges
1. Getting Used To Eating Less
With age our hormones shift, metabolic rate declines and body composition changes to favour more body fat and less muscle. As a boomer, you simply require fewer calories than you did in your 20s and 30s.
If you're gaining weight despite having the same eating and activity patterns for years, it's natural to feel betrayed by your body and to struggle to make sense of why. But to maintain your earlier weight, you unfortunately need to eat less or, alternatively, exercise more. If you are trying to lose weight it is even tougher.
Food researchers report that we underestimate how much we eat by approximately 20 to 40 per cent. If you pay close attention to quantity and in particular to shrinking your portions of high-calorie food, it will help you manage a healthy weight as you age. It's easy to eat too much junk food or have a larger portion of grains/starch servings or meat/protein servings per day than you need, but boosting your intake of fruits and veggies can add volume to your diet without many extra calories.
If you are trying to lose weight, keep a journal of what you are eating and take an honest look at where you could make some changes. If you are stuck, book some appointments with a registered dietitian.
2. Tackling Emotional Eating
We eat for many reasons, in response to both true hunger and emotional hunger. Signs of true hunger include stomach rumbles, fatigue, difficulty focusing, food cravings and negative changes in mood.
But you also need to tune in to your emotional reasons for eating. It is completely normal to eat to celebrate when you are happy, to comfort yourself when you are sad, or to soothe yourself when you are stressed. But when emotional eating starts to become a regular negative influence on your health, mood, body image and relationship with food, you need to learn other ways to comfort yourself. Try exploring these important questions:
What is eating me? If I am eating when I am not truly hungry, is it because I am stressed, sad, bored, angry or worried?
What am I hungry for? What am I looking for in my life that has not come my way yet? What fulfils me and brings me joy?
How can I comfort myself without food? How else can I soothe or nurture myself? Is there an enjoyable hobby, task or activity that I could do? Is there a friend I can call or pet I can snuggle with?
Remember to dig deep, be honest with yourself and explore the true answers to these questions. You might also consider consulting with a psychologist to explore this further.
3. Warding Off Lifestyle Diseases
According to the Canadian Health Measures Survey, 47 per cent of Canadians aged 40 to 59 have high cholesterol. Based on 2009 incidence rates, the Canadian Cancer Society reports 40 per cent of Canadian women and 45 per cent of men will develop cancer during their lifetimes. The Canadian Diabetes Association reports that an estimated nine million Canadians are living with diabetes and pre-diabetes.
Since high blood pressure, high cholesterol, diabetes, cancer and osteoporosis risks increase with age, boomers should take extra care to keep a healthy lifestyle to prevent and treat these issues.
Getting enough vegetables and fruit, whole grains, beans/ legumes, lean protein sources and lower-fat dairy foods are steps in the right direction. You can also benefit from reducing your sodium intake, limiting high-sugar foods and consuming low or moderate alcohol.
Increasing omega-3 fats from foods such as fatty fish, walnuts, ground flax seeds and hemp seeds is especially good for your heart health.
Consuming healthier fats from plants such as olives, nuts and seeds and reducing animal fats and eliminating trans fats found in processed and deep-fried foods is also important.
If you have been eating a certain way for several decades, it is hard to change everything overnight, so start small: pick a few changes to work on and build from there.
4. Kick The Clock — Eat On Your Time
Chances are, you have heard many conflicting messages about how often you should eat. Do we really all have the same hunger patterns? I don't believe so. Rather than eating by the clock or on someone else's schedule, choose to eat on your time. Follow your own unique hunger pattern.
To figure out your body's hunger cues, eat breakfast within about an hour or so of waking even if you are not hungry, since it sets the stage for the whole day.
If you plan your meals with adequate carbohydrates and protein, you will find you get hungry every three to five hours. This means you might eat anywhere between three to six times per day. The more frequently you eat, the smaller the meals should be: the choice is yours.
5. Finding Middle Magic
Dr. Brian Wansink, a leading food researcher, suggests we make more than 20,000 food-related decisions each day. How could we expect them all to be perfect? Allowing yourself to enjoy your favourite treats is the only way I believe you can be successful with your commitment to achieving good health.
I often see people as either stuck strugglers or shaker movers. Stuck strugglers never seem to be able to progress with the health and weight changes they are looking for. The shaker movers, though, have rolled through change and seen the results in health, energy and weight management. These are some of the happiest, healthiest people I know: they've figured out the concept of middle magic.
Middle magic is about finding a balance between "all or none" and between healthful and soulful living. One without the other will always run you into trouble.
Andrea Holwegner, The Chocoholic Dietitian, is founder and president of Health Stand Nutrition Consulting Inc. Visit www.healthstandnutrition.com and www.chocoholicdietitian.com for tips, articles and recipes, and to subscribe to a free monthly e-zine, or phone 403-262-3466 for nutrition counselling, seminars and resources.
—
Tortellini Bean Soup
Source: Health Stand Nutrition Consulting Inc.
1 tbsp (15 mL) olive oil
1 medium onion chopped
1 clove garlic, minced
1 cup (250 mL) sliced mushrooms
1 red pepper
1 (14oz/398 mL) can stewed tomatoes, minced
8 cups (2 L) vegetable or chicken broth (homemade, reconstituted from powder, or canned)
2 tbsp (25 mL) dried basil
1/2 of a 750 g package fresh or frozen tortellini (375 g), cooked
1 (14oz/398 mL) can beans in tomato sauce
1 (19oz/540 mL) can lentils, drained and rinsed
Saute onion, garlic, mushrooms and red peppers until soft in the oil in a large saucepan. Add tomatoes, broth and basil and bring to a boil. Simmer uncovered for 10 minutes. Add cooked tortellini, beans and lentils.
Option: add salsa, hot chili sauce, or dried chili pepper flakes to spice it up if you like! Makes 10 servings.
Nutrition information per serving: calories 266, carbohydrates 42 g, protein 16 g, fat 4 g, dietary fibre 7 g.
Crispy Potato Wedges
Source: Health Stand Nutrition Consulting Inc.
2 large sweet potatoes or potatoes
1 tbsp (15 mL) vegetable oil
1/4 tsp (1 mL) ground black pepper
1/8 tsp (0.5 mL) salt
2 cloves garlic, minced (optional)
1/2 tsp (2mL) paprika
Place sweet potatoes or potatoes in a large bowl; add cold water to cover. Let stand for 15 minutes.
Preheat oven to 425°F (220°C). Spray a non-stick baking sheet with vegetable cooking spray. Set aside.
Drain potatoes in a colander. Spread on a double layer of paper towels. Cover with a second layer of paper towels. Press down on the towels to dry potatoes.
Transfer potatoes to a clean large bowl. Sprinkle with oil, pepper, paprika and salt; toss gently to combine. Arrange seasoned potatoes in a single layer on prepared baking sheet.
Bake potatoes for 20 minutes. Using a spatula, turn potatoes; sprinkle with garlic.
Bake until golden, about 20 minutes, turning baking sheet after 10 minutes for even browning. Serve immediately.
Makes 4 servings.
Nutrition information per serving: calories 91, carbohydrates 14.4 g, protein 1.1 g, fat 3.5 g, dietary fibre 1.8 g.
Banana Bran Muffins
Source: Health Stand Nutrition Consulting Inc.
1¼ cups (300 mL) whole wheat flour
1/2 cup (125 mL) rolled oats
1/2 cup (125 mL) natural bran
1 tsp (5 mL) baking powder
1 tsp (5 mL) baking soda
1/4 tsp (1 mL) salt
1/3 cup (75 mL) canola oil
1/3 cup (75 mL) brown sugar
1 egg
1 cup (250 mL) mashed banana (2 to 3 bananas)
1/2 cup (125 mL) buttermilk or sour milk*
2 tbsp (25 mL) molasses
3/4 cup (175 mL) raisins
*Sour milk by adding 1 tbsp (15 mL) vinegar into 1/2 cup (125 mL) milk
Mix oil, brown sugar and egg together. Stir in mashed banana, buttermilk/sour milk and molasses. Add dry ingredients and raisins and stir just until moistened. Fill 12 muffin cups 3/4 full of batter. Bake 375°F (190°C) for 20 to 25 minutes.
Makes 12 servings.
Nutrition information per serving: calories 205, carbohydrates 34 g, protein 4 g, fat 7 g, dietary fibre 4 g.
Speedy Italian Caprese Salad
This is one of the easiest and tastiest salads you can make. Tomatoes are a great source of lycopene, which is a phytonutrient that is helpful for reducing cancer risk.
Source: Health Stand Nutrition Consulting Inc.
4 medium vine ripened tomatoes, sliced in 1/4 inch (6 mm) thick rounds
8 oz (240 grams) bocconcini cheese (fresh mozzarella cheese sold in delis in containers as large balls), sliced in 1/4 inch (6 mm) thick rounds
About 20 or so fresh basil leaves
1 tsp (5 mL) olive oil
Salt and fresh ground pepper to taste
Layer alternating slices of tomato, cheese and basil leaves on a large platter in a single layer. Drizzle with olive oil and season with salt and pepper to taste.
Makes 4 servings.
Nutrition information per serving: calories 192, carbohydrates 6 g, protein 13 g, fat 14 g, dietary fibre 1.6 g.
Appetizer Variation: use cherry or grape tomatoes and mini bocconcini cheese and skewer on a toothpick and drizzle with olive oil and balsamic vinegar and season with salt and pepper to taste for a healthy and colourful appetizer.
Hummus
Hummus is great served with pita bread, veggies, or as a spread in a sandwich.
Source: Health Stand Nutrition Consulting Inc.
1 (19 oz./540 mL) can chickpeas (also known as garbanzo beans), drained
2 green onions
2 to 4 large cloves garlic
1/4 cup (50 mL) lemon juice
1/4 cup (50 mL) tahini (sesame seed paste)*
1/2 tsp (2 mL) cumin
1/2 tsp (2 mL) salt
Fresh ground pepper to taste
1/2 cup low-fat plain yogurt
*Tahini is found in jars/containers in deli's, or ethnic sections of your grocery store.
In a food processor or blender, puree all of the above ingredients except the yogurt, until smooth. Mix in yogurt. Chill or serve at room temperature as a dip for pita bread, crackers, raw veggies or as part of a sandwich.
Makes 12 servings.
Nutrition information per serving: calories 91, carbohydrates 13 g, protein 4 g, fat 3 g, dietary fibre 3 g.
Dilled and Grilled Halibut Steaks
Halibut is a great source for heart and brain-healthy omega-3 fats.
4, 6 oz (170 g) fresh halibut fillets
Salt and pepper
1/4 cup (50 mL) fresh dill fronds (stems removed, chopped)
Juice of 1 lemon
1 tbsp (15 mL) olive oil
Lemon wedges for garnish
Place the fish pieces in a baking pan. Season both sides with salt and pepper and coat evenly with the dill. Squeeze lemon over the fish and then drizzle with olive oil to coat. Let sit for 15 minutes. Meanwhile, prepare the grill for direct medium heat. Place the halibut pieces on the grill, skin side down. Cook for about 6 minutes until just cooked through. Remove from grill and let rest for a couple of minutes. To serve, season with a little more salt and pepper, and accompany with lemon wedges and fresh dill.
Makes 4 servings.
Nutrition information per serving: calories 223, carbohydrates 1.8 g, protein 35.6 g, fat 7.3 g, dietary fibre 0.2 g.
Quick Egg and Cheese
This is a great quick weekday recipe that comes from eggs.ca. Combine with a toast or English muffin and a piece of fruit or tomato slices to balance the meal.
1 egg
2 tsp (10 mL) shredded cheese
Oil or a non-stick spray
Crack an egg in a microwave safe mug sprayed with oil or a non-stick spray. Pierce egg yolk with toothpick or fork. Cover with plastic wrap with one corner pulled back for venting. Microwave on medium-high (70 per cent) for 45 seconds to 1 minute or until desired doneness. Sprinkle cheese on top of the egg in the mug. Let stand 1 to 2 minutes without removing plastic wrap.
Makes 1 serving.
Nutrition information per serving: calories 91, carbohydrates 0 g, protein 7.3 g, fat 6.5 g, dietary fibre 0 g.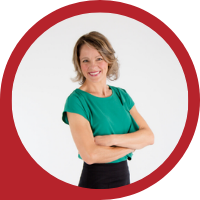 About Andrea Holwegner
CEO, Registered Dietitian, Counseling Practice Director & Professional Speaker
Andrea the «Chocolate Loving Nutritionist» is founder and CEO of Health Stand Nutrition Consulting Inc. since 2000. She is an online nutrition course creator, professional speaker and regular guest in the media. Andrea is the recipient of an award by the Dietitians of Canada: The Speaking of Food & Healthy Living Award for Excellence in Consumer Education....Read more