Nutrition for corporate travellers: how to eat well on the road
By Andrea Holwegner BSc, RD  "The Chocoholic Dietitian"
Twitter:  @chocoholicRD 
Website:  www.healthstandnutrition.com 
David is 57 and travels more than 200 days a year for his corporate sales position. Besides many on-the-go airport meals and comfort food ordered late at night from room service, he also often wines and dines clients over lunch and supper meetings.
When his doctor said his cholesterol was high and liver enzymes elevated, it was the wakeup call he needed to take charge of his health.
One of my favourite parts of working with clients like David is coming up with customized plans that fit unique challenges without giving up favourites. David was surprised that over the course of a year he lost 35 pounds and felt better than he had in decades. He achieved all this while still maintaining the same hectic job and heavy travel schedule.
Without careful planning, eating out regularly and travelling for work can be hard on your health, productivity and body weight. If you travel regularly for work, here are some solutions:
Reshuffle your plate
One of the ways many restaurants save money while ensuring customers leave with full bellies is by filling you up with starchy foods such as bread and excessive portions of rice, pasta and potatoes. In general, veggies, fruit and protein-rich food such as meat, poultry or seafood are more expensive than starchy foods.
Aim for half your plate to be veggies, one-quarter protein, and one-quarter starches. To get this plate balance right, you may need to skip the bread, request half the portion of starches, double the veggies and aim for a maximum of six ounces of protein. This simple guide helped David tremendously in reducing overall calories and losing weight.
Refocus your snacks
Travelling can make you more susceptible to justifying less nutritious choices because of loneliness, stress or fatigue. Corporate travellers also often say they are too busy and find it inconvenient to pack snacks.
David made grabbing snacks at the airport part of his travelling routine, just like checking in for his flight. Early in the day at the hotel breakfast buffet, he would often grab a piece of fresh fruit to go along with the nuts or protein bar he had stashed in his briefcase from home.
Choose to have a snack if it will be longer than three to five hours before you will eat again. This helps boost your concentration and interactions with others while preventing you from overeating later.
Looking for some heathy snack ideas?
Try these 10 snack options at the airport:
-Yogurt parfait (yogurt, berries and cereal)
-High-fibre, low-fat oat bran or bran muffin and cheese
-Raw veggies and dip or salad and nuts
-Crackers, cheese and grapes/ sliced fruit
-Fresh fruit/fruit salad/dried fruit bar and carton of milk/chocolate milk
-Canned fruit cup/applesauce cup and cottage cheese/yogurt/ hard cooked egg
-Trail mix
-Protein bar or nuts and unsweetened juice
-Fresh fruit smoothie
-Coffee-shop latte, steamed milk or chai tea
Rethink what you drink
Travelling can contribute to dehydration and further decrease how you feel. Be sure to buy or bring your own water bottle since you likely won't drink enough by relying on what is served on the plane or at your meals.
Watch your consumption of alcohol. After showing David that alcohol was contributing 300 calories or more to his daily intake, and comparing this to the half-hour or more on the hotel treadmill it took to burn this off, he became very choosy about when he chose to drink.
Rework your perception of value
Some of my corporate clients associate value with an entitlement to gorge on expensive meals and wine picked up on the company credit card. For others, value is leaving a restaurant stuffed after cleaning a colossal plate of food.
Instead, consider value as having energy to thrive at work and in your personal life. While David, of course, mourned the loss of some of his heavier choices, eating better allowed him to combat mid-afternoon fatigue, and his family no longer got the worst of him when he returned home worn out and depleted.
Like many leaders and sales representatives, what surprised David the most was the change in his confidence at work, which stemmed from gaining control of his health and feeling good about how he looked in his business attire.
When you invest in yourself, expect a big return on investment in ways you never imagined.
Andrea Holwegner is the chocoholic dietitian, and owns Health Stand Nutrition Consulting Inc. Visit www.healthstandnutrition.com or phone 403-262-3466 for nutrition counselling, speaking engagements and to subscribe to her free monthly ezine. Twitter: @chocoholicRD.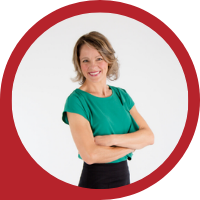 About Andrea Holwegner
CEO, Registered Dietitian, Counseling Practice Director & Professional Speaker
Andrea the «Chocoholic Nutritionist» is founder and CEO of Health Stand Nutrition Consulting Inc. since 2000. She is an online nutrition course creator, professional speaker and regular guest in the media. Andrea is the recipient of an award by the Dietitians of Canada: The Speaking of Food & Healthy Living Award for Excellence in Consumer Education....Read more