Nutrition for elders: 75 and up
Healthy Eating in Your 70's
By Andrea Holwegner, Calgary Herald  November 11, 2010
The good news is that it is never too late to begin changes to your nutrition and lifestyle to help improve your health.
If you're in your mid-70s and onward, you can boost the vitality and energy with which to enjoy your golden years by focusing on the following key areas.
Top 4 nutrition challenges for age 70 and beyond

1. Overcoming loneliness
Have you ever noticed that, regardless of age, you often eat better when you are with family or friends than when you're alone? The conversation around the dinner table can help overcome feelings of loneliness or boredom.
Eating with others can also help ensure you are eating a wide variety of foods rather than getting stuck in a rut. You may also find that social meals help boost your motivation to plan nutritious meals or eat comfort foods to overcome a loss of appetite.
Social meals such as Sunday brunch or Friday night supper are a good time to cook extra for leftovers or, alternatively, just cook one component to a meal if it's a potluck. If you are not able to cook your own meals, eating with friends or family can also help to improve the quality of your eating experience.
2. Tackling digestion issues
Over time, as your appetite declines and calories shrink, you may be taking in less overall food, which can drop your fibre intake. If your physical activity has decreased, you may be experiencing the discomfort of constipation. Be sure to keep as active as possible, since walking and other forms of physical activity keep your bowels regular.
Drinking enough fluids such as water, tea and milk also helpsreduce constipation.
Experts recommend an adequate intake for fibre for people aged 70 years and up is 21 grams per day for females and for 30 grams per day for males.
Foods rich in fibre include bran-based cereals and other whole grains, beans and legumes, berries and other fruits or veggies, and nuts and seeds.
3. Addressing medical concerns
According to the Canadian Health Measures Survey, 54 per cent of those aged 60 to 79, have high total cholesterol levels and 53 per cent have high blood pressure. And in those aged 65 and older, 22.1 per cent of men and 14.8 per cent of women have diabetes.
The Canadian Cancer Society reports that 43 per cent of new cancer cases a will occur among those who are at least 70 years old.
The International Osteoporosis Foundation suggests that osteoporosis affects one in four women and more than one in eight men over the age of 50 years.
Here are your most important nutrition tips to help tackle those medical issues:
Boost your fruit and vegetable intake. People over age 51 years need seven servings per day. One serving is cup (125ml) of fresh, frozen or canned vegetables and fruit, 1 cup (250ml) of leafy greens, cup (125 mL) unsweetened juice or one piece of fruit.
Include more beans and legumes as well as higher fibre grains such as whole grain bread, barley, oats, brown or wild rice, bran-based cereals and whole wheat pasta.
Get enough calcium- and vitamin D-rich foods (consider supplements if needed).
Reduce your intake of saturated fats coming from high-fat meats, tropical oils and high-fat dairy products. Eliminate your intake of trans fats from foods containing hydrogenated oils such as deep fried foods, commercially baked goods and hydrogenated margarine.
Incorporate healthier fats from fish, nuts, seeds, avocado, olive oil and other vegetable oils.
Reduce your intake of added sugars from candy, sweets and other high-sugar foods.
Choose lower sodium foods and remove the salt shaker from the dinner table.
If you choose to drink alcohol, do so in moderate amounts.
4. Boosting calcium,vitamin D and vitamin B12
According to the Canadian Community Health Survey, approximately 80 per cent of men and women aged 71 or older get fewer than two servings of milk products a day. Not consuming three servings of milk (or milk alternatives such as fortified soy milk, cheese or yogurt) or not consuming enough calcium supplements can greatly increase your risk of osteoporosis and may increase colon cancer and high blood pressure among other issues.
If you consume fewer than three servings of calcium-rich foods such as 1 cup (250 mL) milk or fortified soy milk, cup (175 mL) yogurt and 1.5 ounces (44 mL) of cheese, you need to consider calcium supplements.
Vitamin D is important for bone health, cancer reduction and more. To achieve an optimal amount, consume vitamin D-rich foods such as milk and fatty fish and take a vitamin D supplement.
Health Canada recommends all adults over 50 take a vitamin D supplement of 400 IU per day; Osteoporosis Canada recommends daily supplements of 800 to 2,000 IU for the same age group, while the Canadian Cancer Society recommends Canadians take in 1,000 IU of vitamin D every day.
After the age of 70, your ability to absorb vitamin B12 – which you need to form DNA, make healthy blood cells and keep nerves working properly declines.
Health Canada advises adults over 50 to consume foods fortified with vitamin B12 or a supplement containing vitamin B12. Vitamin B12 is found only in animal-based foods such as eggs, dairy, meat, seafood and poultry and some fortified foods such as soy milk and soy-based meat substitutes.
Be sure to have your doctor check your blood levels. A low level of vitamin B12 can cause pernicious anemia and requires vitamin B12 shots.
Although supplements will never replace a balanced diet, taking an age-appropriate multivitamin each day can top up your intake of other key nutrients needed for long-term health.
Breakfast Fruit Sauce
This fruit sauce is great on pancakes or with yogurt/cottage cheese.
Recipe from Health Stand Nutrition Consulting Inc.
1/2 cup (125 mL) water
1/4¼ cup (50 mL) sugar
2 tbsp (25 mL) Birds Custard Powder or cornstarch
2 cups (500 mL) fresh/frozen fruit such as strawberries, blueberries, raspberries, blackberries, apricots, skinless peaches or nectarines
Stir together water, sugar and custard powder/cornstarch in a microwave safe bowl or pot. Add berries. Heat in the microwave or a pot, stirring regularly until thick.
Makes 4 servings.
Nutrition information per serving: calories 96, carbohydrates 24 g, protein 1 g, fat 0 g, dietary fibre 2 g.
Creamy cauliflower soup
Recipe from Health Stand Nutrition Consulting Inc.
1 large onion, diced
1 tbsp (15 mL) butter or non-hydrogenated margarine
1.5 lbs (750 g) head of cauliflower, cut into florets
1 carrot, peeled and chopped into small pieces
4 cups (1 L) chicken or vegetable broth
1 cup (250 mL) skim/1% milk
1/4 tsp (1 mL) nutmeg
1/4 tsp (1 mL) cayenne (or more/less depending on how spicy you like it!)
salt and pepper to taste
fresh or dried dill (optional)
In a soup pot, saute onions in butter/margarine until soft.
Add the cauliflower, carrot and broth and bring to a boil.
Reduce heat, cover and simmer for about 15 minutes until vegetables are soft. Remove soup from heat and cool until warm.
Place soup in a blender/food processor, add milk, and puree until smooth. (You may have to do this in batches due to the large quantity).
Place soup back in the pot and reheat. Add seasonings and more milk if the soup is too thick.
Makes 6 servings.
Nutrition information per serving: calories 104, carbohydrates 13 g, protein 8 g, fat 3 g, dietary fibre 3 g.
Baked Zucchini Sticks
Recipe from Health Stand Nutrition Consulting Inc.
3 medium zucchinis, cut into 3 inch (7.5 cm) long and 1/2 in. (1 cm) wide sticks (peel on)
1/2 cup (125 mL) dried bread crumbs
1/2 cup (50 mL) Parmesan cheese
1 tsp (5 mL) garlic powder
1/2 tsp (2 mL) salt
1/2 tsp (2 mL) Italian seasoning (or mix of dried oregano, thyme & basil)
1/2 tsp (2 mL) ground black pepper
2 eggs, lightly beaten
Preheat oven to 425°F (220°C)
Beat eggs lightly in a bowl, set aside.
In another bowl, mix bread crumbs, Parmesan cheese, garlic powder, salt, seasoning and black pepper.
Coat zucchini sticks by dipping them first in the egg, then rolling them in the breadcrumbs.
Place in a single layer on a sprayed baking sheet.
Bake 20 to 25 minutes until browned, turning once halfway through.
Makes 60 sticks.
Nutrition information per serving (about 5 sticks): calories 46, carbohydrates 5 g, protein 3 g, fat 2 g, fibre 1 g.
Black bean soup
Recipe from Health Stand Nutrition Consulting Inc.
1 tbsp (15 mL) oil
1 large onion, diced
1 cup (250 mL) ham, diced (optional)
1 19 oz (540 mL) can black beans, drained and rinsed
1 19 oz (540 mL) can stewed tomatoes, blended in food processor/blender
1 cup (250 mL) frozen corn
1/4 cup (50 mL) brown rice, uncooked
4 cups (1 L) water
1 tbsp (15 mL) lime juice
2 tsp (10 mL) brown sugar
1 to 4 tsp (5 to 20 mL) hot pepper sauce (depending on how spicy you like it)
1/2 tsp (2 mL) ground cumin
1/4 tsp (1 mL) ground ginger
In a large pot cook onion and ham (if you're using the ham) in oil until tender. Stir in the remaining ingredients and bring to a boil. Reduce heat and simmer covered for 1 hour or until rice is tender.
Makes 8 servings.
Nutrition information per serving: calories 271, carbohydrates 44 g, protein 16 g, fat 5 g, dietary fibre 9 g.
5 layer dinner casserole
Recipe from Health Stand Nutrition Consulting Inc.
2 cups (500 mL) lean ground beef
2 cups (500 mL) sliced potatoes
2 cups (500 mL) chopped celery or carrots
1 cup (250 mL) sliced onion
2 cups (500 mL) stewed tomatoes, crushed
1/2 tsp (2 mL) sugar
1/4 tsp (1 mL) pepper and salt
Brown meat in a saucepan until cooked. Drain it in strainer and rinse with hot/boiling water. In a casserole dish or crock pot, layer potatoes, celery/carrots, onion, beef and tomatoes. Sprinkle with sugar, salt and pepper. Bake at 300°F (150°C) for 2 hours or until done in your crock pot. This meal tastes best when cooked slow over a long time.
Makes 5 servings.
Nutrition information per serving: calories 353, carbohydrates 32 g, protein 24 g, fat 14 g, dietary fibre 4 g.
Old fashioned Gingerbread Cake
Serve with applesauce and frozen vanilla yogurt for a delightful lower-fat dessert.
Recipe from Health Stand Nutrition Consulting Inc. (healthstandnutrition.com).
2 tbsp (25 mL) melted butter/margarine
1/3 cup (75 mL) firmly packed brown sugar
2 large eggs
1/2 cup (125 mL) buttermilk
2 cups (500 mL) all purpose flour
1 tsp (7 mL) baking soda
1 tsp (7 mL) ground ginger
1 tsp (5 mL) ground cinnamon
1/2 tsp (2 mL) salt
1 tbsp (15 mL) instant coffee granules
1 cup (250 mL) hot water
1/2 cup (125 mL) molasses
1/2 cup (125 mL) honey
2 oz. (60 mL) jar pureed prunes (baby food)
Combine butter/margarine, brown sugar, eggs and buttermilk in a bowl.
Combine flour, baking soda, ginger, cinnamon, and salt into another bowl.
Dissolve coffee granules in hot water and then stir in molasses, honey and pureed prunes. Add flour mixture alternately with coffee mixture to egg mixture. Batter will be lumpy, do not over mix. Pour batter into a 9 inch (23 cm) square pan that has been sprayed with non-stick cooking spray. Bake 40 to 45 minutes at 350°F. (180°C) Serve with applesauce and vanilla frozen yogurt
Makes 9 servings.
Nutrition information per serving: calories 297, carbohydrates 62 g, protein 5 g, fat 4 g, dietary fibre 1 g.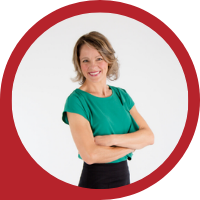 About Andrea Holwegner
CEO, Registered Dietitian, Counseling Practice Director & Professional Speaker
Andrea the «Chocolate Loving Nutritionist» is founder and CEO of Health Stand Nutrition Consulting Inc. since 2000. She is an online nutrition course creator, professional speaker and regular guest in the media. Andrea is the recipient of an award by the Dietitians of Canada: The Speaking of Food & Healthy Living Award for Excellence in Consumer Education....Read more