Nutrition for Healthy Eyes
Listen to my QR77 Radio Program here
Every Monday at 4:15pm on QR77 Radio join me and Angela Kokott, host of Calgary Today, with our segment, "You are what you eat" to get the goods on healthy eating. If you missed my segments I will be archiving these audio discussions on my blog here.
Listen to Episode 37 here: Nutrition for Healthy Eyes
Nutrition plays a vital role in keeping your eyes healthy and preventing macular degeneration which is the leading cause of irreversible blindness in adults.  The key lifestyle factors you can do to prevent macular degeneration is to quit smoking and wear sunglasses.  Nutrition also plays an important role in healthy eyes:
Get More Omega-3 Fats From Fish:
Omega-3 fats especially the DHA form of omega-3 fat found in fish are abundant in the retina and play an important role in development of vision.  Diets rich in omega-3 fats from fish reduce the risk of macular degeneration.  Choose to eat 2 fish meals per week and if you don't consider an omega 3 fish oil supplement. 
Eat More Colorful Fruit & Veggies!
Fruits and veggies help protect your eyes from damage and lower your risk of macular degeneration.  The antioxidant carotenoids known as lutein and zeaxanthin, found in dark green or yellow vegetables exist in high concentrations in the eye and it is believed they play an important protective role. Antioxidants are protective components that protect the eye from damage caused by free radicals naturally found in the body.  Other antioxidants besides lutein and zeaxanthin important in eye health are vitamin C (citrus fruits, potatoes, tomatoes, berries, kiwi and melons), vitamin E (nuts, seeds, vegetable oils, wheat germ, green leafy veggies), zinc (meat, seafood, eggs, legumes, whole grains, wheat germ, nuts) and beta-carotene (carrots, yams, sweet potatoes, cantaloupe, apricots, spinach, kale).  Choose to eat 3-4 fruit per day and 4 or more servings of veggies each day.  Remember one serving of fruit is 1/2 cup fresh/frozen/canned fruit, 1/4 cup dried fruit, 1/2 cup unsweetened juice.  I serving of vegetables is 1/2 cup chunky raw/cooked vegetables, 1/2 cup canned tomatoes, 1 cup leafy greens.
What about Supplements?
There are many supplements touted to be beneficial for eye health containing blends of carotenoids, antioxidants, and vitamins/minerals.  Research is somewhat unclear if these will help so your best defense is to choose a diet rich in the real thing…eat fish and bright colored green, yellow, red, and orange fruits and veggies!  If you have macular degeneration your ophthalmologist or dietitian can advise you if you need a supplement.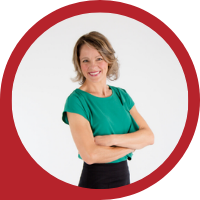 About Andrea Holwegner
CEO, Registered Dietitian, Counseling Practice Director & Professional Speaker
Andrea the «Chocolate Loving Nutritionist» is founder and CEO of Health Stand Nutrition Consulting Inc. since 2000. She is an online nutrition course creator, professional speaker and regular guest in the media. Andrea is the recipient of an award by the Dietitians of Canada: The Speaking of Food & Healthy Living Award for Excellence in Consumer Education....Read more