Nutrition for Mental Health
What you eat influences mood, anxiety and depression
Wondering how nutrition for mental health are connected? Curious about the best diet for depression or what to eat for anxiety? This article on diet for mental health is for you.
More and more research is beginning to show that diet is as important to mental health as it is to physical health.With so much uncertainty and stress during covid-19 it is understandable why mental health or the state of your psychological, emotional and social well-being may be strained. Busy or stressful family and work situations can also cause more fear, worry or anxiety.
While you may be aware of many strategies that are useful for improving mental health, often times many people fail to see the connection between what and how they eat and the role it can play on overall mental health, mood and how you feel each day. Nutrition also plays a role in prevention of anxiety and depression and as part of a treatment plan. Find our more in the article below.
WATCH my interview on Global Morning News:
What is the overall connection of nutrition and mental health?
What you eat directly influences mental health. Conversely, your mental health can influence what you eat.
This food mood connection can be positive or negative. Your food choices can uplift mood, energy and overall mental health. Unfortunately what and how we eat can also negatively lower mood, productivity and your ability to concentrate. It can also increase the risk of anxiety and depression.
Food is the building blocks of your brain. In many ways you are what you eat. Healthy food is required for the physical structure of the brain tissue and the neurotransmitters that transfer information between the brain and other parts of your body. This process simply can't happen seamlessly without healthy food.
What is the role of different nutrients for your brain?
Carbohydrates
Carbohydrates found in food such as grains, starches, fruits and vegetables provide glucose and are the preferred energy source for your brain. Eating carbohydrates trigger the release of the hormone insulin which helps blood glucose enter the cells. When insulin levels rise, more of the amino acid tryptophan can cross the blood brain barrier that affects neurotransmitters such as serotonin. Neurotransmitters are the body's chemical messengers used by nerve cells or neurons to speak to one another.
Protein
Protein in foods such as meat, poultry, seafood, eggs, legumes, nuts, seeds, tofu, eggs and dairy provide amino acids. These are the building blocks of neurotransmitters such as serotonin, dopamine, norepinephrine and histamine.
Fat
The fats in your brain partly reflect the fats in your diet. About 35% of the brain and nervous system tissue is made of polyunsaturated fatty acids that include the omega-3 essential fatty acids known as EPA (eicosapentaenoic acid) and DHA (docosahexaenoic acid). EPA and DHA have important roles in brain development and in the brain cell signal transduction.
Vitamins, Minerals and More
Minerals such as zinc, magnesium, selenium, copper and iron as well as B vitamins such as folate, vitamin B6 and B12 are nutrients commonly associated with mental health.
Antioxidants such as vitamin C, E and other bioactive components of plant based food such as flavanols, isoflavones and resveratrol are all linked to brain function. Most of these foods are available in healthy diets that include whole grains and plenty of fruits and veggies (especially dark green leafy veggies, orange colored vegetables).
A deficiency in vitamin D has been shown in some research to be associated with cognitive function and possibly depression.
Which foods are important for brain health and cognitive function?
A Mediterranean style diet is not only good for physical health, but also for mental health and cognitive function. Aim for a diet high in plant based foods such as whole grains, fruits and vegetables. Include heart healthy fats coming from fish, nuts, seeds and olive oil and legumes, lean meats, poultry and seafood as the foundation of your diet.
Research has shown that diets limited in the above healthy foods and that contain a high intake of saturated fat, trans fat or an excessive processed sugar intake can contribute to oxidative stress and inflammation in the body which changes vascular function in the body. This can increase the risk mental health conditions such as depression and anxiety as well as cognitive decline.
Note that you don't need to eliminate any of these foods, the key is to be mindful of your choices. There is always room for fun and flexibility in our diet and for foods such as desserts and savoury snack foods chosen for taste and social enjoyment. The key is #balancednotclean.
How might depression or anxiety influence eating habits?
Depression or anxiety can greatly shift what, when and how much someone eats. Some people struggle with overeating while other people struggle with undereating.
For the clients we work with regularly that are struggling with depression and anxiety here are some of the common eating challenges that we see and help our clients work through: 
Overeating in an attempt to stuff uncomfortable emotions
Undereating in an attempt to starve uncomfortable emotions
Increased cravings for sugar, fat and salty foods
Less motivation overall to plan, shop or prepare healthy foods
Side effects of medications can change appetite or weight
Overwhelm and an inability to make food decisions
Obsessive thinking of food, food rituals or disordered eating habits
Changes in overall appetite and ability to detect hunger cues
Feeling a false sense of fullness
Feeling out of control with eating or worry about bingeing
Forgetting to eat or skipping meals can lead to overconsumption later
Feeling unworthy to eat leading to weight loss
Social isolation can reduce enjoyment of food
Lack of sleep can trigger increased eating
Fear and shame to eat in front of others
Oversleeping can lead to reduced meal frequency and intake
Digestive issues due to changing eating patterns and stress hormones
 If you have struggled with some of these common issues, know that you are not alone and a helping hand is there to work with you. We can work collaboratively with you (and your therapist and physician) on a customized nutrition plan to help improve your health and mental health at a pace you can manage: Contact us for help for private virtual nutrition counseling services.
If I struggle with depression or anxiety what should I eat? 
While diet changes can be part of your treatment plan, note that it is not a substitute for medication and other treatment recommended by your doctor and therapist.
Here are 3 key things to consider when you are thinking about nutrition to help depression and anxiety:
1. Structure your eating
The most important thing you can do for your mental health right now is to first structure your eating. We call this mechanical eating which is very different than intuitive eating.
Ultimately being able to eat intuitively and learn how to eat when you are truly hungry and stop when you are full is the goal, BUT there is a time and a place for this. If you are struggling with depression or anxiety it can be very difficult to trust your hunger and appetite cues and make decisions about food. Instead when life feels overwhelming, eat mechanically (aka on a schedule).
This means choosing to use what I like to refer to as "the timing technique" – eat every 3-5 hours. For many of our clients that are anxious or depressed choosing small meals more often tends to be more manageable and appealing than eating larger meals.
Your brain needs good food to battle depression or anxiety. Do whatever you need to do to get regular healthy meals and snacks into your body on time.
Set a timer or notification on your phone to prompt your meals and snacks.
Use a habit formation app such as Strides to check off simple goals such as "eat breakfast" or "took my medication"
Eat with people in person (or online works as well!)
Ask a family member to be an accountability partner for you
2. Choose balanced meals
A balanced meal at breakfast, lunch and supper contains 3 core components:
Grains and starches include bread, pita, wraps, pasta, potato, rice, oatmeal, cereal or other grains.

These offer the fibre, B-vitamins and carbohydrate your brain and muscles need for energy.
Without adequate carbohydrate in your meals, you may feel overall fatigue and a lack of energy.

Veggies and fruit include raw veggies, leftover cooked or grilled veggies, vegetable soup, salad, fresh fruit, frozen berries, canned unsweetened fruit, and dried fruit.

This category offers fibre and health-promoting vitamins, minerals and phytonutrients. In general, as an adult, you should aim to have veggies as half of your supper.
Failing to add enough of these to your meals likely means you do not get enough in total by the end of the day. This can affect your health, energy and weight management efforts.

Source of protein such as meat, poultry, seafood, legumes (chickpeas, lentils, black beans, refried beans and more), cheese, yogurt, cottage cheese, canned tuna and salmon, eggs, tofu, nuts and seeds.

Protein and iron are key for maintaining good energy levels. As well, protein helps you to feel full after the meal, keeping you from getting hungry quickly.
Failing to add enough protein to your supper can cause blood glucose to rise sharply and then fall. This can lead to cravings.

If you need some simple ideas for healthy meal planning check out this article on our blog Back-Up Healthy Meal Planning in a Crunch, our 51 Healthy Snack Attacks and contact us for virtual nutrition counseling services so we can put together some simple ideas that work for you.
3. Avoid restrictive dieting or low-carb diets
Low-calorie diets and restricting your carbohydrate intake can increase anxiety, depression or can create obsessive food thoughts and patterns and increase the risk of eating disorders.
It can also reduce your overall mood and ability to focus and concentrate in the day and hinder your ability to sleep. A hungry body and brain will not sleep well as you can find yourself waking up often or not being able to fall asleep. Given getting high quality sleep is important for mental health, don't undereat or deprive your brain of good nutrition.
You owe it to your brain to feed it well. Your brain runs on carbohydrates as a preferred energy source. It also needs protein, fat and vitamins and minerals to build neurotransmitters and run effectively.
Work with a Registered Dietitian that specializes in nutrition for mental health, emotional eating, eating disorders and weigh concerns to help you build a customized plan that will work for your physical health and mental health for life. Contact us for help.
For more information on general mental health visit: Canadian Mental Health Association or Mental Health Commission of Canada.
Looking for guidance on eating to boost energy, mental health and mood? 
Our mental health dietitians can help! Since 2000, our team of Registered Dietitians have been worked with individuals with anxiety, depression, OCD, and more mental health conditions. Find out more about our Dietitian Nutrition Counseling Programs here.

As university trained Registered Dietitians, you can count on us for credible advice and practical meal planning so you don't have to stress about food anymore. You can achieve a healthy and joyous relationship with food and your body. Let's talk about what this can look like for you.
Check out these related blogs on our website: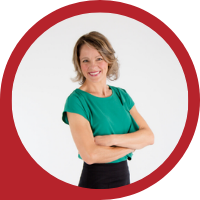 About Andrea Holwegner
CEO, Registered Dietitian, Counseling Practice Director & Professional Speaker
Andrea the «Chocolate Loving Nutritionist» is founder and CEO of Health Stand Nutrition Consulting Inc. since 2000. She is an online nutrition course creator, professional speaker and regular guest in the media. Andrea is the recipient of an award by the Dietitians of Canada: The Speaking of Food & Healthy Living Award for Excellence in Consumer Education....Read more