Nutrition for Millennials: age 15 to late 20's
Healthy eating advice for millenials
By Andrea Holwegner BSc, RD, Calgary Herald October 14, 2010
There are big changes in schedules, social commitments and living arrangements that can drastically change the nutrition habits of millennials – those between the age of 15 and late 20s. Although young adults need to take charge of their health and nutrition habits, I still find that parents play a critical role in fostering good habits for their teens and young adults that live with them.
Top 5 nutrition challenges for millennials
1. Making healthy choices on the go
Socializing with friends and pursuing extracurricular activities such as sports and hobbies can greatly influence the nutrition habits of millennials.
While parents may think that by the time their kids hit 15 years and older they should be able to make healthy choices on their own and fend for themselves, parents still need to provide some structure and stock the fridge and pantry with choices appealing to young adults.
Often I hear young adults open the fridge and say "there is nothing to eat" when in reality there are plenty of things to eat and what they really mean is there is nothing to eat that is convenient and takes minimal preparation. Parents can greatly boost the health of their family by stocking the house with plenty of grab and go items such as whole wheat subs, wraps, precooked meats, sliced cheese, chopped veggies and ready to eat fruit. Cook big batches of family favourites such as pasta and meat sauce, homemade pizza, hearty soups, stir-fries and other meals that can be easily reheated.
2. Bringing back the family meal
As a parent I would encourage you to fight for a family meal no matter how busy and how old your kids are. I grew up in a family of five where we were all expected to be home for dinner at 6 p.m. to eat together. When I think back, I don't remember ever begrudging this even as a moody teenager. It's probably because it was just "normal" and an expected part of the day. Supper was likely the only time of the day where all of us got together and actually communicated among busy schedules, sports, and school or work commitments.
Research shows that families who eat together generally eat more fruits, veggies, fibre, vitamins and minerals and consume less fried foods, soda and unhealthy fats. There are also stacks of research to show the more often you have family meals, the less likely your teen will use and abuse tobacco, alcohol, and marijuana; have a low grade point average; depressive symptoms; and become suicidal. More and more research is also showing families eating together are less likely to be overweight and have disordered eating habits.
What positive changes could happen in your family if you made family meals a priority? Make it your goal to eat one meal every day together as a family. Try supper or breakfast. If this sounds overwhelming try starting with Sunday dinner or Saturday brunch and build from there.
3. Learning to cook for one
Millennials that have graduated from high school and moved out may be cooking for themselves for the first time.
Over the past 10 years in my nutrition counselling practice I have been very surprised how many young adults have minimal cooking knowledge because they didn't learn the basics at home. As parents be sure to teach your kids how to make their favourite recipes so when they are on their own for the first time they don't feel the need to live on fast food and boxed macaroni and cheese. Don't assume they know what to do just because you as a parent are a good cook. I have had to educate 20-year-olds how to make scrambled eggs despite coming from families that cooked gourmet cuisine.
4. Consuming enough veggies, fruit and calcium rich foods
Approximately half of Canadians aged 14 to 30 do not consume enough vegetables and fruit, according to Statistics Canada in the Canadian Community Health survey. This same survey also found that 46 per cent of males and 65 per cent of females aged 17 to 30 do not consume enough milk and milk alternatives such as yogurt, cheese, and calcium fortified soy milk per day.
If you are a parent that has millennials living at home you can greatly enhance the nutrition of your family if you are willing to chop up raw veggies for the week and leave them displayed at the front of the fridge on a plate with dip. Watch how much more fruit your family will eat when you slice up cantaloupe, melon, pineapple, oranges and more than if you keep them hiding in the fridge drawer. To boost both fruit intake and calcium rich choices stock your house with frozen berries, bananas, yogurt and milk to make nutritious smoothies. Lattes and tea lattes are one convenient and appealing way to boost calcium intake.
5. Overcoming "healthorexia"
I coined a new term "healthorexia" in my nutrition consulting practice to describe the many people that I see who don't have an eating disorder, but are taking healthy eating way too far. While making healthy choices is absolutely important, so is enjoying your food and being flexible in your relationship with it. It is not necessary to strive for nutritional perfection to be healthy or manage a healthy weight. Realize imperfect is perfect.
Give yourself and your family permission to enjoy all foods and remember there are no bad foods. We all want what we can't have. Trying to take out favourite foods will only lead to overdoing them and feelings of failure for not sticking to a perfect eating regime. It is better to have small portions of something you really enjoy more often, than binge uncontrollably with feelings of guilt.
For more information on nutrition and to subscribe to a free monthly ezine loaded with practical nutrition tips, articles and recipes visit: healthstandnutrition.com.
For comments on this article and to ask Andrea your top nutrition questions visit her blog at healthstandnutrition.com/blog/.
Andrea Holwegner, the "Chocoholic Dietitian" is founder and president of Health Stand Nutrition Consulting Inc., a member of the Canadian Association of Professional Speakers and a media expert for the Dietitians of Canada. Visit healthstandnutrition.com and chocoholicdietitian.com or phone 403-262-3466 for nutrition counselling, seminars and resources.
Berry Oat Muffins
1 cup (250 mL) rolled oats
1 cup (250 mL) buttermilk or sour milk (to sour milk add 1 tbsp. vinegar to milk)
1 cup (250 mL) whole wheat flour
1 tsp (5 mL) baking powder
1/2 tsp (2 mL) baking soda
1/4 cup (175 mL) brown sugar
1 egg beaten
1/2 cup (125 mL) melted butter or non-hydrogenated margarine
1 cup (250 mL) blueberries or raspberries (fresh or frozen)
Combine oats, and buttermilk/sour milk in a small bowl. Let stand.
Combine flour, baking powder, baking soda, and brown sugar.
Add egg and melted butter. Add oat mixture to dry ingredients. Stir just until moistened.
Fold in berries. Fill muffin tins full. Bake at 400°F (200°C) for 15 to 22 minutes.
Makes 12 servings.
Nutrition information per serving: calories 167; carbohydrates 27.9 g; protein 4.8 g; fat 5.1 g; fibre 2.2 g.
Source: Health Stand Nutrition Consulting Inc., healthstandnutrition.com
Very Berry Crisp
The berries, oatmeal, and whole wheat flour pack lots of fibre and antioxidants into this delightful heart healthy dessert!
6 cups (1.5 L) mixed berries such as blueberries, raspberries, strawberries, blackberries, and/or cranberries (fresh or frozen)
1 cup (250 mL) whole wheat flour
1/5 cup (125 mL) soft tub non-hydrogenated margarine
1.5 cups (375 mL) rolled oats
1.5 cups (375 mL) brown sugar
Spray two 8- by 8-inch (20- by 20-cm) baking pans with non-stick spray. Layer the berries in the pans.
In a separate bowl with a pastry blender or fork mix together flour, margarine, oats, and brown sugar until blended into a crumbly mixture.
Spread this mixture over the berries.
Bake at 350°F (180°C) until done.
Makes 12 servings.
Nutrition information per serving: calories 313; carbohydrates 55; protein 5 g; fat 9 g; dietary fibre 6 g.
Source: Health Stand Nutrition Consulting Inc. www.healthstandnutrition.com
Spinach Mandarin Salad with Chicken
4 (3 oz/90 g) boneless skinless chicken breasts
2 (10 oz/284 mL) cans mandarin oranges, drained
1 (1 lb/500 g) bag pre-washed spinach
4 green onions, chopped
Whole-grain baguette or whole-wheat pita breadVinaigrette:
2 tbsp (25 mL) sugar
2 tbsp (25 mL) toasted sesame seeds
¹8 tsp (0.5 mL) Worcestershire sauce
¹8 tsp (0.5 mL) paprika
2 tbsp (25 mL) canola oil
4 tbsp (60 mL) red wine vinegar
Grill or pan fry chicken in a non-stick pan and cut into pieces.
While chicken is cooking place spinach, onions, and mandarin oranges in a large salad bowl. In a separate small bowl toss together all vinaigrette ingredients. Place chicken over salad and toss vinaigrette over salad just before serving. Serve with a whole-grain baguette or in a whole-wheat pita bread.
Makes 6 servings.
Nutrition information per serving: calories, 475; carbohydrates 52 g; protein 45 g; fat 10 g; dietary fibre 8 g.
Source: Health Stand Nutrition Consulting Inc., healthstandnutrition.com
Healthier Macaroni and Cheese
The whole wheat pasta and light dairy products make this a healthy alternative to an original recipe. This recipe is also high in protein and calcium.
3 cups (750 mL) dry whole wheat macaroni
1/4 cup (50 mL) flour
1.5 cups (375 mL) skim milk
1 cup (250 mL) chicken stock
1.5 cups (375 mL) light sharp cheddar cheese
1/4 tsp (1 mL) paprika
1/2 tsp (2 mL) dry mustard
1/4 tsp (1 mL) pepper
2 oz ( cup/50 mL) light cream cheese
2 tbsp (25 mL) Parmesan cheese
Cook pasta until al dente, then drain.
In sauce pan mix flour, milk and chicken stock and cook until thickened. Grate in the cheddar cheese and mix in the rest of the ingredients (except Parmesan cheese). Stir until cheeses are melted. Combine this sauce with cooked pasta and place in a large casserole dish. Top with Parmesan cheese. Bake at 350°F (180°C) uncovered for approximately 30 minutes or until done.
Makes 8 servings.
Nutrition information per serving: calories 345; carbohydrates 36 g; protein 23 g; fat 12 g; dietary fibre 4 g.
Source: Health Stand Nutrition Consulting Inc., healthstandnutrition.com
Chocolate Chip Banana Oatmeal Cookies
You are going to love these chewy cookies that are packed with nutritious oatmeal. This recipe is adapted from the recipe Banana Oatmeal Cookies from the book Eating Light Eating Right by Shauna Ratner and Frances Johnson.1 egg
1/2 cup (125 mL) soft-tub non-hydrogenated margarine or butter
1 cup (250 mL) brown sugar
1 tsp (5 mL) vanilla
2 overly ripe medium-sized bananas
1 cup (250 mL) whole wheat flour
1/2 tsp. (2 mL) salt
1/2 tsp (2 mL) baking soda
3 cups (750 mL) oatmeal (dry quick rolled oats)
3/4 cup (175 mL) chocolate chips
In a large bowl beat together the egg, margarine/butter, brown sugar, vanilla and banana until well beaten.
Add the remaining ingredients and mix well.
Drop by rounded tablespoons onto baking sheets.
Bake 350°F (180°C) for 10 to 15 minutes until golden.
Makes 40 cookies.
Nutrition information per cookie: calories 95; protein 1.8 g; carbohydrates 14.1 g; fat 4 g; fibre 1.5 g.
Source: Health Stand Nutrition Consulting Inc., healthstandnutrition.com
Juicy Burgers for the Grill
Serve these great homemade burger patties on a whole grain bun with lettuce, tomato, onions and a side salad. These are great served with baked oven fries or corn on the cob.
500 g (1 lb.) extra lean ground beef (alternatively try lean ground turkey or lean ground bison)
1/4 cup (50 mL) bread crumbs
1/4 cup (50 mL) onions, minced
1 large egg
1 tsp. (5 mL) Worcestershire sauce
1/2 tsp. (2 mL) garlic powder
Salt and pepper to taste
Optional seasonings to try: cayenne pepper, Italian seasoning, cumin, chili powder, curry powder, basil, oregano, parsley or cilantro)
In a large bowl beat egg slightly and add remaining ingredients and form into 4 patties that are inch (2 cm) thick.
Heat oiled grill to medium-high and cook patties for 5 to 7 minutes each side until completely cooked (ground meat should never be eaten pink) and thermometer reads at least 160°F (75°C).
Time Saver: Make a bigger batch and freeze uncooked for a fast supper meal another day.
Makes 4 servings.
Nutrition information per serving: calories 249; carbohydrates 7 g; protein 29 g; fat 11 g; dietary fibre 0.6 g.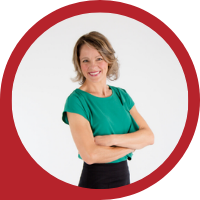 About Andrea Holwegner
CEO, Registered Dietitian, Counseling Practice Director & Professional Speaker
Andrea the «Chocolate Loving Nutritionist» is founder and CEO of Health Stand Nutrition Consulting Inc. since 2000. She is an online nutrition course creator, professional speaker and regular guest in the media. Andrea is the recipient of an award by the Dietitians of Canada: The Speaking of Food & Healthy Living Award for Excellence in Consumer Education....Read more