Nutrition for time crunched families
Nutrition for time crunched families
Listen to my QR77 Radio Program here
Every monday at 4:15pm on QR77 Radio join me and Angela Kokott host of Calgary Today with our segment "You are what you eat" to get the goods on healthy eating.  If you missed my segments I will be archiving these audio discussions on my blog here.
Nutrition for time crunched families
One of the most common things I hear is "I don't have time to eat well"
The amount of time we spend preparing food has changed.

In the early 1900's North Americans spent ~6 hours per day preparing food;
in the year 2000 we spent (~45 minutes);
what do you think the current estimate is?  (~20 minutes).

We make time for the things we prioritize. 

How big a priority is your health and your families health?
How long do you take to prepare and eat your meals?

While I certainly wouldn't want to see us going back to spending 360 minutes per day preparing food like back in the 1900's, ripping open a package and eating in 5 minutes isn't a solution either.

Replace saying "I don't have time to eat well" with "how could I afford not to take the time to eat well".

Shift how you think about food preparation since ironically many of the ways we try to save time actually costs us time.

Think making eggs takes too long for breakfast?  It may actually take longer to make toast than eggs….try it
Is it really faster to stand in line at starbucks or wait in a drive through line at Tim Hortons than make a coffee at home?
What about eating out?   I was working a family who were working parents that ate out in restaurants or picked up fast food sometimes five times per week. On restaurant days it took 2 hours to get everyone in the car, have a family feud about where to eat, order and wait – I challenged them to eat at home more often to save time which was one of their most precious resources.  They saved time and their health.
To save time this family needed to do 2 things: shop less and cook double.
Time saving tips that don't sacrifice nutrition: shop less and cook double.

Shop less. The average Canadian shops twice per week – Aim for shopping 1X per week if you are time strapped.  Shopping more often will cost you more time.  It also costs you more money.  Retailers know the more often you shop the more you will spend.  Ever run into the store just for milk and ran out with $100 worth of groceries. The more often we shop the more likely we will also do impulse buys – which may include convenience junk foods.

Cook double.  It takes the same amount of time to cook double the quantity.  Use these for lunch, for leftovers at dinner tomorrow, or freeze them for a day you are short on time.
HATE leftovers? why not try "planned extras" instead – cooking a larger quantity of ONE part of the meal for tomorrow
Eg. Rice to go with tonight's BBQ meal and leftovers for tomorrows stir-fry.  Alternatively freeze it.
Eg. Baked potatoes the first night, pan fried the next night
Eg. Extra grilled veggies from supper for a pasta salad in a few days
Eg. Double the grilled chicken breast for quesadillas, salad, or stir-fry the next night
Challenge the way you think about food preparation….cooking healthy doesn't have to take you oodles of time.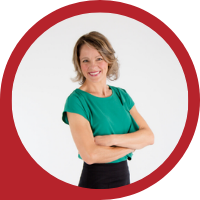 About Andrea Holwegner
CEO, Registered Dietitian, Counseling Practice Director & Professional Speaker
Andrea the «Chocolate Loving Nutritionist» is founder and CEO of Health Stand Nutrition Consulting Inc. since 2000. She is an online nutrition course creator, professional speaker and regular guest in the media. Andrea is the recipient of an award by the Dietitians of Canada: The Speaking of Food & Healthy Living Award for Excellence in Consumer Education....Read more