Nutrition Tips for Corporate Event Planners
Food is an important part of any event. When you gather a group of people together in a confined or restricted venue for a professional meeting, convention or conference, event organizers need to create a culture of health and wellness that meets the expectations of corporate clients and meeting attendees. Many people are trying to eat and live healthier and expect choices that match their lifestyle.
According to meeting planner Tracy Stuckrath,
consistent to all generations is the growing concern with healthy food
Corporate event planners must design meetings that support the business goals of their clients. Today, employee wellness and productivity are top concerns of corporations and business of all sizes. Meeting planners who design meetings that are not only efficient and cost-effective but that also result in higher attendee retention and participation earn the repeat business and recommendations from satisfied clients.
Workplace wellness initiatives are battling a cake culture that regularly provides sweet, sugary treats for employees as a reward, an incentive, for celebrations or as part of a meal. Employees are increasingly concerned about their personal health and actively seek healthy food options both at work and at home. According to professor Nigel Hunt, dean of the Faculty of Dental Surgery at the Royal College of Surgeons,
for many people the workplace is now the primary site of their sugar intake and is contributing to the current obesity epidemic and poor oral health
Poor nutrition, overeating or heavy meals lead to feelings of fatigue, sleepiness and disengagement – not the qualities you want in your meeting attendees! Providing nutritious and delicious meals and snacks at meetings provides a brain boost: attendees will have improved concentration, be more attentive and have increased creativity.
Healthy Meals Boost Productivity, Energy and Alertness
The average continental breakfast offers limited protein and is heavy on sugars and carbs, break options typically focus on caffeine and starch, and unbalanced lunch menus leave meeting attendees feeling sluggish.
To maximize attendee energy and provide healthy options for meetings, conferences and events, consider these menus and meals that follow nutrition best practices for meeting planners:
Continental Breakfast: 
Skip pastries and request all breads be whole grain, rye and multi-grain. Be careful not to solely offer muffins and bagels, since these foods don't have enough protein, and attendees will get sleepy. Add a source of protein such as peanut butter, nuts, yogurt cups, cottage cheese, cheese cubes or hard-cooked eggs.
Serve fresh fruit trays, coffee, tea, water and unsweetened juices.
Hot breakfast: 
If you are offering a hot breakfast, go for whole grain toast or whole wheat pancakes with scrambled eggs or a vegetable and cheese egg frittata. Round out the meal with oatmeal, fresh fruit salad, yogurt, bran cereal, coffee, tea, water and unsweetened juices.
Cold lunch: 
If you are bored with standard wraps and sandwiches, consider a salad bar. Serve bowls of spinach, mixed greens and vegetables such as cherry tomatoes, cucumbers, red peppers and grated carrots. Serve chicken, shrimp and beef in cubes or on skewers. Include alternative protein sources such as chickpeas, cheese cubes, grated feta, pumpkin seeds and slivered almonds. Serve several types of vinaigrette salad dressings and don't forget to include whole grain buns and bread for some complex carbohydrates for brain fuel. For dessert, serve small bowls of fruit crisp.
Hot lunch: 
Offer a buffet of dark green mixed salad greens, whole grain buns, seasonal mixed vegetables, chicken or beef entree with limited added fat, and rice or oven roasted yams and potatoes prepared with a small amount of oil. For vegetarians, offer vegetable lasagna, lentil curry or tofu stir-fry. For dessert, serve chocolate dipped strawberries and a fruit tray.
Coffee breaks: 
Serve more than just coffee and tea, since attendees need energy to get the most out of your event. Save on cost and improve nutrition by offering jugs of water and skipping pop. Infused water dispensers are flavourful, colorful and enticing:
Orange wedges
Raspberries and blueberries
Watermelon cubes and mini key limes cut in half
Splash of unsweetened juice
Thinly sliced cucumber and fresh mint leaves
Best healthy snack attacks:
Sliced fruit tray and cheese cube tray
Yogurt parfaits (yogurt, berries and granola)
Whole grain crackers and cheese platter
Bruschetta on whole wheat baguette with cheese
Deviled eggs and raw veggies and dip
Whole-wheat pita bread wedges and hummus
Trail mix or individual bowls of nuts and dried fruit
Snack-size unsweetened fruit and yogurt smoothies
Shrimp with cocktail dipping sauce and whole grain crackers
Mini bran or oatmeal muffins, yogurt cups and fresh fruit salad cups
Mini skewers of satay chicken, beef or shrimp, and veggies and dip
Regular or decaf lattes, tea lattes
A bowl of fresh fruit
As a Registered Dietitian and professional speaker, I've experienced being hired to speak at a conference on the topics of nutrition and productivity, only to watch the attendees exit my session and head straight for tables loaded with cookies, cakes and caffeine; or to address an audience who has just returned from a lunch heavy on carbs and low on protein. Don't blame the meeting attendees: they're typically rushed, stressed and simply eating what's provided, whatever their personal preference might be. As The Chocoholic Nutritionist™, I'm not suggesting you forgo sweets at meetings altogether: just use moderation, and offer alternatives.
Rather than offering large trays of squares, a variety of rich desserts and giant cookies instead offer fresh fruit trays with downsized treats. Go for bite-sized brownies, mini cookies, tiramisu in small shot glasses and single chocolates instead of bars. This allows for mindful eating with a twist of indulgence.
Brain Food Helps the Bottom Line
By offering healthy menu options, event planners can improve the results of their meeting for both attendees and for their corporate clients. A meeting menu including delicious and nutritious brain food meets the bottom line: both attendees and meeting sponsors get a better return on their conference investment. And event planners get satisfied clients, great participant evaluations and build their business.
Does your conference, government group, corporate team or association members have high-stress, fast-paced work demands and need top-notch health and productivity to keep up with the pace? Does your team struggle with their weight and have health and wellness concerns that are resulting in higher health benefit costs, more absenteeism and lost productivity? Andrea can help!
What Events Are a Good Fit for Andrea?
When you or your client:
Are looking for a fresh perspective on the topic of health, wellness and productivity.
Needs a mix of relevant, rich content mixed with entertainment and fun.
Want a high-energy, fun speaker that can connect with a broad diverse audience.
Need a change from the usual approaches to stress management, time management, productivity or personal development.
Are experiencing heavy work demands and high stress and need strategies to help boost personal energy and resiliency.
Are looking for a new, more specific session related to health and wellness instead of the usual general health and wellness speakers they have had over the years.
Best Audience Overview
Your conference, government group, corporate team or association members have high-stress, fast-paced work demands and need top-notch health and productivity to keep up with the pace. Your audience struggles with their weight or juggling optimal health and wellness.
For more information on hiring Andrea Holwegner as your health, nutrition and stress management speaker please contact Andrea. 
a version of this article was previously published on LinkedIn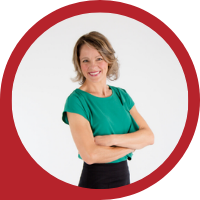 About Andrea Holwegner
CEO, Registered Dietitian, Counseling Practice Director & Professional Speaker
Andrea the «Chocolate Loving Nutritionist» is founder and CEO of Health Stand Nutrition Consulting Inc. since 2000. She is an online nutrition course creator, professional speaker and regular guest in the media. Andrea is the recipient of an award by the Dietitians of Canada: The Speaking of Food & Healthy Living Award for Excellence in Consumer Education....Read more