Nutrition to last a lifetime: nutrition for youngsters up to 15 years of age
Kids nutrition – tips for getting children to eat healthier foods
By Andrea Holwegner BSc, RD – Calgary Herald, October 7, 2010
From birth to 15 years of age, it is critical to ensure your family has the proper nutrition they need to grow and develop into healthy young adults. Not only does the food you provide early in life promote healthy lifelong eating habits, it can help your child manage a healthy weight and reduce the risk of chronic diseases such as heart disease, diabetes, cancer and osteoporosis later in life. Establishing healthy habits at a young age also ensures your kids have the essential energy they need to focus and learn at school each day.
Top 5 nutrition challenges for youngsters
1. Getting enough calcium and vitamin D for bone health:
According to Statistics Canada, more than one-third of kids aged four to nine don't get enough calcium-rich foods per day. Between the ages of 10 to 16, almost three-quarters do not consume enough. Getting enough calcium and vitamin D is important to help your kids build healthy bones and reduce the risk of osteoporosis later in life.
Be sure to offer calcium-rich foods such as milk, calcium fortified soy milk, cheese, and yogurt throughout the day at three separate times.
2. Eating enough fruits and veggies for health:
Statistics Canada reports that seven out of 10 children aged four to eight do not eat the recommended five servings of fruits and vegetables per day. At ages nine to 13, six servings of vegetables and fruits per day are recommended; more than 60 per cent don't even reach 5 servings per day.
Try offering kids fruit as snacks and as part of every breakfast and lunch. Offer veggies at both lunch and supper each day.
3. Getting adequate iron:
Growing bodies need plenty of iron which is found in foods such as meat, poultry, seafood, nuts, legumes, eggs and soy foods. These foods should be offered several times per day.
Iron is needed to build red blood cells which transport oxygen in the body. Kids are at risk for anemia or iron deficiency especially during rapid periods of growth and if few iron rich foods are consumed.
4. Overcoming picky eating:
It may come as a surprise to you that your job as a parent or caregiver isn't to determine the quantity of food your kids eat. Kids should decide how much to eat and even if they will eat at all. Parents and caregivers job is to decide what, when and where to offer food to kids.
Your kid's likes and dislikes will change regularly. Some kids need to try a food 10 to 15 separate times before they will accept it. Be patient and don't give up offering different options.
Role modelling healthy habits is essential! If you don't eat enough veggies throughout the day and make them out to be undesirable, then why would your kids want to eat them?
5. Not filling up on too much junk food:
As the "chocoholic dietitian," I believe that our favorite treats can be part of a healthy diet for you and your family.
The issue is that many kids have a diet based on junk food versus a diet rich in healthy staples. Save treats for weekends, social outings and after you are sure your kids have eaten enough healthy foods.
Too much junk food can lead to nutrient deficiencies, dental issues or increase the risk of your child becoming overweight or developing a chronic disease later in life.
Plan breakfast, lunch, and supper with three things for balance, including grains/starches, vegetables and/or fruit and a source of protein such as meat, poultry, seafood, legumes, dairy or nuts. For snacks, aim to have one or two of the above groups.
Andrea Holwegner, the "Chocoholic Dietitian" is founder and president of Health Stand Nutrition Consulting Inc. Visit healthstandnutrition.com andchocoholicdietitian.com or phone 403-262-3466 for nutrition counselling, seminars and resources.
All recipe below are from Health Stand Nutrition Consulting Inc.
Rise & Shine Pumpkin PorridgeRise & Shine Pumpkin Porridge
Makes 2 Large Servings
Starting your day off with a warm bowl of oatmeal not only tastes fantastic but will boost your fibre intake and protect against heart disease. Here is a hearty variation with added pumpkin to boost your beta carotene intake.
What You Need:
1 cup skim milk or soy milk
1/2 cup canned pure pumpkin*
4 tbsp raisins
1 tsp pure vanilla extract
1/4 tsp cinnamon
1 cup rolled oats
1 tbsp peanut butter or other nut butter
*Canned pure pumpkin is unsweetened and NOT the same as pumpkin pie filling. To check if you have the correct one, review the ingredients and confirm that "pumpkin" is the only ingredient.
How You Prepare:
1. In a pot on the stove combine milk, pumpkin, raisins, vanilla and cinnamon and bring to a gentle boil.
2. Stir in oatmeal and reduce heat until oatmeal is soft and creamy and then add peanut butter or nut butter.
3. Serve with milk and top with brown sugar or maple syrup.
Variations:
For an antioxidant rich and colorful porridge try skipping the peanut butter and pumpkin and add fresh/frozen berries. Alternatively try skipping the pumpkin and top your nut butter porridge with sliced banana. Try apples and raisins, dates and almonds or applesauce. The possibilities are endless!
Nutrition Information Per Serving: Calories 365. Carbohydrates 60.6 g. Protein 14.3 g. Fat 7.7 g. Dietary Fiber 8.1 g
* * * * *
Breaded Cajun Style Fish
Adults and kids will love this mild crunchy fish. Serve with a salad, steamed green beans or asparagus and rice for a balanced meal.
Makes 4 Servings
What you need:
400 g fresh or frozen light white fish (approximately 2-4 basa or tilapia fillets)
1/2 cup milk
1 cup bread crumbs
2 tsp. Cajun seasoning
Cayenne pepper to taste (optional if you like it hot!)
1 tbsp. fresh parsley (or 1 tsp dried parsley)
Fresh ground pepper to taste
1 tbsp. vegetable oil
Fresh Lemon wedges (optional)
How you prepare:
1. Pour milk into a shallow dish.
2. Pour bread crumbs into a separate second shallow dish and add Cajun seasoning, cayenne pepper (optional), parsley and fresh ground pepper.
3. Heat vegetable oil over medium heat in a non-stick pan.
4. Dip both sides of the fish fillet into milk mixture and then into breadcrumb mixture.
5. Pan-fry fish 3-5 minutes on each side until the bread crumb coating becomes slightly golden coloured and fish flakes easily when cut.
6. Serve with optional lemon quarters on the side.
Variations:
• If your kids like fish fingers prepare this recipe but cut the fish into fingers instead. You can pan fry or alternatively bake on a greased rimmed baking sheet, turning once, for about 15 minutes or until golden color and fish flakes easily when cut.
• If you like breaded fish and want some variation try replacing the Cajun seasoning with dried oregano, basil, garlic powder or your other favourite herbs and spices.
Nutrition information per serving: Callories 275. Protein 30g. Protein 21 g. Carbohydrates 21g. Fat 7.6 g. Fibre 1.2 g.
* * * * *
Super Speedy Chili
Enjoy this nutritious recipe served with a tossed salad and whole grain bun or on top of a baked potato with grated cheese.
What you need:
1 lb (500 g) lean ground beef (or lean ground turkey/chicken)
1 medium onion, chopped into small pieces
1 green pepper, chopped into small pieces
1 cup (250 mL) frozen kernel corn
1 19oz (540ml) can stewed tomatoes
1 19oz (540ml) can beans in tomato sauce
1 19oz can (540ml) can of kidney beans, rinsed and drained
2 tsp (10 mL) chili powder (or more)
How you prepare:
1. In a saucepan over medium-high heat, brown meat. Drain fat.
2. Add onions, green peppers and corn.
3. Add remaining ingredients.
4. Reduce heat. Cover. Simmer, stirring occasionally for 20-30 minutes.
Nutrition information per serving: Calories 310. Carbohydrates 35 g. Protein 22 g. Fat 10 g. Dietary Fiber 5 g.
* * * * *
Oat N'Raisin Cookies
These soft chewy cookies are not only tasty but contain many wholesome ingredients for health.
Makes 48 cookies
What you need:
1 cups (375 mL) brown sugar
2 eggs
1 tsp (5 mL) vanilla
cup (175 mL) soft tub non-hydrogenated margarine/butter
1 cup (250 mL) whole wheat flour
1 tsp (5 mL) baking soda
tsp (2 mL) salt
2 cups (500 mL) rolled oats
1/4 cup (50 mL) wheat germ
3/4 cup (175 mL) coconut
3/4 cup (175 mL) raisins
How you prepare:
Mix sugar, eggs, vanilla and margarine/butter. Add the remaining ingredients except raisins and stir until well mixed. Add raisins and mix well. Drop by a spoon onto a cookie sheet and flatten with a fork. Bake at 350 degrees F for 12 to 14 minutes.
Nutrition information per serving: Calories 86. Carbohydrates 13 g. Protein 1 g. Fat 4 g. Dietary Fiber 1 g.
* * * * *
Branberry Muffins
These muffins are packed with whole grain ingredients, fibre and antioxidants. Try them for a snack or have them for breakfast with some fruit and yogurt.
Makes 12 muffins.
What you need:
3/4 cup whole wheat flour
3/4 cup natural bran
1/2 cup wheat germ
3/4 cup brown sugar
1 tsp baking soda
1/2 tsp salt
1 tsp grated orange rind
1 cup blueberries
1 egg
2/3 cup buttermilk (sour milk, yogurt)
1/4 cup canola oil or other vegetable oil
How you prepare:
Beat egg with buttermilk and oil. Mix in dry ingredients until just moistened and then stir in orange rind and berries. Fill muffins cups 3/4 full. Bake at 400 degrees F for 15 to 20 minutes.
Nutrition information per serving: Calories 161. Carbohydrates 26 g. Protein 4 g. Fat 6 g. Dietary Fiber 4 g.
* * * * *
Raw Veggie Dip
This make ahead dip is tasty and lower in fat and calories than most commercial dips. Enjoy!
Makes 6 servings.
What you need:
2/3 cup light mayonnaise or salad dressing
1/3 cup light sour cream
Splash of Worcestershire sauce
1 tbsp. dried dill
1 tsp dijon mustard
Pinch of salt
Pinch of pepper
1/4 tsp onion powder
How you prepare:
Stir the above ingredients together in a bowl and refrigerate.
Nutrition information per serving: Calories 71. Carbohydrates 4 g. Fat 5 g. Protein 1 g. Dietary Fiber 0 g.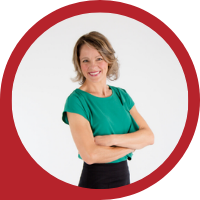 About Andrea Holwegner
CEO, Registered Dietitian, Counseling Practice Director & Professional Speaker
Andrea the «Chocoholic Nutritionist» is founder and CEO of Health Stand Nutrition Consulting Inc. since 2000. She is an online nutrition course creator, professional speaker and regular guest in the media. Andrea is the recipient of an award by the Dietitians of Canada: The Speaking of Food & Healthy Living Award for Excellence in Consumer Education....Read more