Obstacle or opportunity? How this influences your eating habits
Healthy eating change – see the opportunities rather than the challenges
By Andrea Holwegner, Calgary Herald   December 15, 2010
The way you choose to look at it will determine your success
In April 1997 outdoor enthusiast Warren Macdonald set out on a backpacking trip to Hinchinbrook Island, off the coast of Australia.
He became trapped under a one-tonne boulder in a freak rock fall accident when he was climbing to the top of one of the tallest peaks in the area.
Life as he knew it would never be the same. Macdonald lay crushed for two days before he was rescued and had to have both of his legs amputated at mid-thigh.
Within a year, Macdonald climbed Cradle Mountain in Tasmania using a modified wheelchair and the seat of his pants. In 2003, he became the first double above-knee amputee to reach the summit of Africa's highest peak, Mount Kilimanjaro. More recently, he climbed El Capitan, America's tallest cliff face. This amazing three-day journey required 2,800 pull-ups.
Earlier this week, I had the unforgettable opportunity to hear Macdonald speak at the Canadian Association of Professional Speakers convention in Montreal. His perspective on persevering amid the inevitable challenge of change was remarkable.
He believes you have a choice to view changes in your life as obstacles or opportunities. If you look for obstacles, they will most certainly be there.
Macdonald could have commiserated that the loss of his legs was the end of his life. Instead, he chose to look at it as the beginning of a new life.
He could have allowed the frustration of living in a wheelchair-unfriendly society to consume him. Instead, he chose to approach these barriers with the mantra that "you are going to have to do better than that" to prevent him from experiencing anything he wanted to do.
When it comes to lifestyle and nutrition change, are you viewing what you need to do as obstacles or opportunities?
The people who are most successful with their health have certainly looked for the opportunities.
Instead of wallowing in the difficulties of replacing some of the junk food in your diet for healthy foods, could you look for opportunities? Here are some to consider:
Better snacks can cause your energy levels to soar.
If you are trying to lose weight, simply switching to lower-calorie snacks can be enough to reduce your weight without making other changes to your diet or adding more exercise.
The old saying "fake it until you make it" will serve you well. Once you get into the groove, you will experience a new-found enjoyment for the taste of healthy food.
If you are continually frustrated that preparing and cooking healthy food takes time and feels like work, could you see the following as opportunities?
Once you get organized and learn some cooking skills, preparing supper can actually be a peaceful unwinding time from a busy day.
Meals with your family increase family connectedness and overall health, and reduce the risk of obesity and eating disorders for your kids.
Learning something new often takes time and patience – but once you get in the groove, meal preparation will become quicker and easier since you will have learned time-saving tricks.
Could going out for a walk, even when you are tired and would prefer not to go, be an opportunity for you?
Research has shown that, ironically, spending energy actually gives you energy. Ever notice that you might not have felt like going for a walk, but when you finished, you felt more energized than when you started?
There is emotion with motion. You can sort out many things you are nervous, stressed or sad about during a walk. The rhythmic side-to-side movement of walking causes nerve impulses to cross the brain from the left hemisphere "thinking" functions to the right hemisphere "feeling" functions. When your left and right brain communicate more effectively, decision-making skills and overall emotional health are enhanced.
If you feel you don't have enough time to make needed changes to your health, could you see the following as opportunities?
Time invested in choosing to eat well and keep physically fit pays off in productive sustained energy to actually accomplish more in both your work and personal life.
As the old saying goes, what you resist will persist. Not choosing to take charge of your health now will come back to bite you. Changing habits you have had for years becomes even harder with time. Why not take slow strides on your own terms rather than being forced to make extreme changes because of an illness or chronic disease?
As tempting as it is to use lack of time as an excuse, life never really slows down long enough to give you time to make all the changes to your health you want. Instead of complaining about how hard it is, your energy would be better spent by taking action right now.
When you believe that changes in your life are opportunities instead of obstacles, you have the opportunity to challenge yourself to be better than you dreamed possible.
For more inspiration on overcoming mental barriers to change, visit Macdonald's website: warren-macdonald.com.
Andrea Holwegner is president of Health Stand Nutrition Consulting Inc. Visit www.healthstandnutrition.com andwww.chocoholicdietitian.com or phone 403-262-3466 for more information on personalized nutrition counselling, seminars and to subscribe to our blog or free monthly ezine.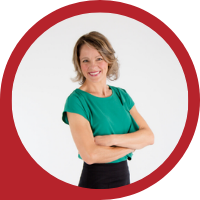 About Andrea Holwegner
CEO, Registered Dietitian, Counseling Practice Director & Professional Speaker
Andrea the «Chocolate Loving Nutritionist» is founder and CEO of Health Stand Nutrition Consulting Inc. since 2000. She is an online nutrition course creator, professional speaker and regular guest in the media. Andrea is the recipient of an award by the Dietitians of Canada: The Speaking of Food & Healthy Living Award for Excellence in Consumer Education....Read more