Online Dietitian: Our practice is open but we are now working entirely VIRTUALLY
What you need to know about our Online Nutritionist services
Last year we set up systems in our practice founded in the year 2000 to be able to see our clients virtually by video conferencing as Online Nutritionists. The response from our clients using this has already been very positive. Given the situation with COVID-19, we are grateful we have this system in place to continue to assist our clients with their goals and health concerns.
In the interest of public health, as of Tuesday March 17, 2020 we are going to see our clients entirely VIRTUALLY. We will no longer offer visits at our office in person until further notice.  We are sad about this since we love connecting with people in person BUT if you haven't yet tried online Dietitian video conferencing we are very confident you are going to find it surprisingly easy and effective.
If you are a current client please reach out to your Dietitian directly on email/phone so we can revise your upcoming calendar booking with a note that suggests you are aware this will be by Zoom.
For new clients that are nervous about technology, be assured that as experienced Online Dietitians / Virtual Nutritionists we've got you covered.  We can hand hold the process of how to use Zoom conferencing for online nutrition counseling seamlessly.
You can find out more about our Virtual Dietitian and Online Nutritionist services here:
Online Dietitian Nutrition Counseling Services
While we can of course work with you by phone our preferred way of working with you is by Zoom conferencing.
New to Zoom conferencing?
We've got you covered!
We pay for a version of Zoom known as Zoom Healthcare for telehealth video conferencing. It's stable, private and a highly secure HIPAA and PIPEDA/PHIPA compliant type of technology used by hospitals and healthcare workers. Even if you are inexperienced with computer technology you will be surprised how easy it is to use.
Before your meeting:


Before joining a Zoom meeting on a computer or mobile device, you can download the Zoom app from the Zoom download centre: https://zoom.us/download. Otherwise, you will be prompted to download and install Zoom when you click a join link.
Here is a video where you can watch what this looks like
You can also join a test meeting to familiarize yourself with Zoom here
How to join your meeting:
At the beginning of your Online Nutritionist appointment, all you will need to do is click on the join link we've provided you with to access your nutrition educators private meeting room.
Then at the start of your appointment your nutrition educator will permit access to begin the video conference. If you have family member(s) that want to join from another location this is also possible by following the same instructions. For privacy and confidentiality no one can join the video conference unless your nutrition educator permits access.
You'll love that you can see us on video just like you were in our office and that we can share our computer screen to show you education material. We can also share handouts and notes directly for you to save on your computer as well. Note that if you don't have a web cam or prefer not be on video you can simply not turn on your camera (and can turn this off at any time).
Trouble with your video/camera? Click here for instructions

Configuring audio and video Click here to watch a video
Should you have any questions please contact us and we can give you a hand or hop on a test Zoom video so you can see what it looks like.
Warmly,
Andrea Holwegner "The Chocoholic Nutritionist," CEO
& The Online Dietitian Team at Health Stand Nutrition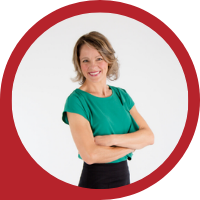 About Andrea Holwegner
CEO, Registered Dietitian, Counseling Practice Director & Professional Speaker
Andrea the «Chocolate Loving Nutritionist» is founder and CEO of Health Stand Nutrition Consulting Inc. since 2000. She is an online nutrition course creator, professional speaker and regular guest in the media. Andrea is the recipient of an award by the Dietitians of Canada: The Speaking of Food & Healthy Living Award for Excellence in Consumer Education....Read more