Free Live Nutrition Webinar: Why Clean Eating is Destined to Fail
Nutrition Webinar: Why Clean Eating is Destined to Fail
and What to Do Instead: January 21, 22, & 23, 2020
How to ditch dieting, rock meal planning and move to your personal best weight (still eating foods you love)
Register for this free live masterclass training webinar!
If you have ever felt stuck, defeated, stressed, too busy or overwhelmed when it comes to the topic of healthy eating, you are not alone. As a Registered Dietitian for close to 20 years, I have worked with thousands of individuals, parents and employees that want to look and feel better each day.
I've been listening to your goals, interests and challenges. I have an idea of where you have been stuck or what caused you to fall off the wagon. I've been studying solutions to help you overcome these roadblocks and move forward with confidence.
My mission is to help you achieve health without guilt or complexity. I want you to understand how to eat FULLY:
Eating fully = Healthfully + Soulfully
So would you be surprised to hear that I DON'T recommend "clean eating" or giving up anything? No really, I don't!
You can eat anything, just not everything. It is all about being intentional about your choices.
I've figured out the step-by-step process of what needs to happen at what time and in what order to move from where you are now to where you want to be. Once you understand the art and science of a healthy and soulful eating system, you can put this strategy on autopilot. Healthy eating becomes easier each day because you have built in enough veggies and other good stuff, but you still have a life that includes your favorite fun foods (such as chocolate or French fries). Having a system also means you are not second guessing your food choices, feeling guilty and not overwhelmed with meal planning. It also means your health and energy will be better and you will be moving towards your personal best weight.
I am revealing the system I use for eating healthful AND soulful living and the steps for simplifying meal planning in my live, FREE Master Class Webinar.
I'll be the first to admit that it can be really frustrating and overwhelming to decide what, when, where and how much to eat at home and on the go.
However, when you have a system like I do, healthy eating is much simpler, easier (and tastier).
So how do you begin the process?
The secret is to understand the most important mindset shifts needed for nutrition success and a meal planning system that is fast and flexible.
That way you can easily adapt to all the changes life and your schedule will toss you.
To help you put this strategy in action, join me next week for my live, FREE Master Class . . .
"Why clean eating is destined to fail and what to do instead"
​How to ditch dieting, rock meal planning and move to your personal best weight (still eating foods you love)
How do I know this nutrition webinar is for me?
This special training is for YOU if you want to finally create a sustainable healthy eating plan that works for even the busiest schedule. You can count on me to deliver credible advice that doesn't include weird food you can't buy at a grocery store (and actually TASTES GOOD).
This training is also for YOU if you are confused about what you "should" eat and appreciate a NO-NONSENSE approach to your lifestyle. This training is also a must if you have battled your weight and want to break out of diet prison.
I am looking forward to seeing you there!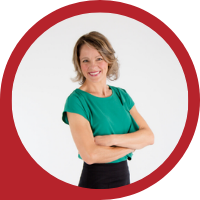 About Andrea Holwegner
CEO, Registered Dietitian, Counseling Practice Director & Professional Speaker
Andrea the «Chocolate Loving Nutritionist» is founder and CEO of Health Stand Nutrition Consulting Inc. since 2000. She is an online nutrition course creator, professional speaker and regular guest in the media. Andrea is the recipient of an award by the Dietitians of Canada: The Speaking of Food & Healthy Living Award for Excellence in Consumer Education....Read more