Our eyes are more in charge than our stomachs
Our eyes are more in charge than our stomachs
Listen to my QR77 Radio Program here:
Every monday at 4:15pm on QR77 Radio join me and Angela Kokott host of Calgary Today with our segment "You are what you eat" to get the goods on healthy eating. If you missed my segments I will be archiving these audio discussions on my blog here.
Episode 15 – Our eyes are more in charge than our stomachs
Listen to Episode 15 here: Our eyes are more in charge than our stomachs
How colored potato chips, the color of your tablecloth and more influence how much you eat 
New research this month suggests colored potato chips influence snacking habits.  How?
Researchers Dr. Paul Rozin from the University of Pennsilvania and Dr. Brian Wansink from Cornell University just published an interesting article in the May 2012 issue of the Journal of Health Psychology.
One group of students were provided with regular stacked potato chips and the other group were given regular stacked potato chips with a red potato chip inserted every 5 to 14 chips.  The group given the red potato chip markers ate about 50% less.
The red marker potato chips served as a subtle marker to help guide consumption, similar to the reason pre-portioning snacks into smalls bowls rather than eating out of a bag or box helps to decrease consumption.
Ever wondered why candies such as Smarties and M&M's are different colors despite being the same flavor?
Food marketers know that when you have more variety you eat more otherwise it would be cheaper for them to buy only one color of dye (sensory specific satiety or what I call the law of variety). 
Researchers found the person with 10 colors of M&Ms will eat 43 more M&M's (99vs 56) than his movie companion with only 7 colors of M&M's).
Barbara Kahn and Brian Wansink.  The Influence of Assortment Structure on Perceived Variety and Consumption Quantities. Journal of Consumer Research 30:4 (March 2004): 519-33.
How does the color of a tablecloth and dinnerware influence how much you eat?
Journal of consumer research  – study found that low color contrast between dinnerware and food – say vanilla ice cream in white dish significantly increases likelihood of people over serving themselves, while a higher contrast minimizes such behaviour.  Tablecloth color also influences the same way.  Try this experiment at home and see what you think.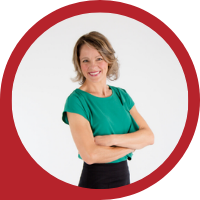 About Andrea Holwegner
CEO, Registered Dietitian, Counseling Practice Director & Professional Speaker
Andrea the «Chocoholic Nutritionist» is founder and CEO of Health Stand Nutrition Consulting Inc. since 2000. She is an online nutrition course creator, professional speaker and regular guest in the media. Andrea is the recipient of an award by the Dietitians of Canada: The Speaking of Food & Healthy Living Award for Excellence in Consumer Education....Read more