Overcoming Barriers to Physical Activity
Self-Talk Tips to Help You 'Exercise' Positive Thinking
Guest Article by Michelle Cederberg, MKin, BA Psyc
Physical activity is one of those things that everyone thinks about doing, but few people actually do with any regularity and, if your busy life transpires against your efforts to get fit, you're not alone. As a nation, we're having trouble 'fitting in fitness'. Recent statistics estimate that 63% of Canadians are sedentary, or not exercising at an adequate level to maintain good health, and a Health Canada survey reports that individuals between the ages of 18 and 59 list lack of time, lack of energy, and lack of motivation as their top three reasons for not exercising.
Does that come as a surprise?
Lack of time is the biggest culprit, often through procrastination. Lack of time draws on motivation and energy. In the daily rush from one commitment to the next, energy drains. As energy approaches nil, the last thing a busy person feels like doing is getting motivated to do physical activity. Since the daily "to do" list is endless, it guarantees that lack of time will always be an issue…and thus the circle remains unbroken.
"So, when do I take care of myself?"
Not only will regular exercise make you look better, it will also make you feel better and perform better as well. But you knew that didn't you? Yet each day you're plagued with lack of time, energy and motivation—all of which you need for making the desired changes and, when you skip another workout, you beat yourself up emotionally with the 'failure' of it.
"I'm such a loser! Why can't I figure this out?"
The resulting decrease in self-esteem further diminishes any desire to make an effort at exercise. "I can't get it right anyway…" Suddenly, years have gone by with nothing but resentment toward yourself and the exercise that eludes you. If you identify with this cycle, there is hope, and it starts with changing your mind about exercise. Your busy life will always toss barriers into your path to getting active, but it's your mind, or the way you talk to yourself about exercise, that will make all the difference between success and a sedentary lifestyle.
"It's going to be another one of those days! I haven't had enough sleep, I'm tired, I've got so much work to do, I don't have any energy, I don't want to go to the gym, but I should because I'm unfit…but I don't have the motivation."
Change Your Mind About Exercise
What do you say when you talk to yourself? For many of us, our days regularly start with an internal dialogue (or self-talk) that includes variations of one or more of the above thoughts. It's as certain as the ringing of your alarm clock. Just as we program our alarm to trigger the start of our day, so too do we program our thought processes, and then proceed through the day as if they were true. This is effective if the thoughts we feed ourselves are positive and empowering: "Today is going to be a great day! I'm alive, healthy, and happy, and I am going to go for a walk just because I can!"
Your subconscious brain believes what it hears most often, and the strongest message always wins. Unfortunately, according to behavioural psychologists, as much as 77% of self-talk is negative, or works against you, and it takes as many as 20 positive statements about yourself to counteract even one negative personal statement.
Researchers have learned that the human brain operates much like a personal computer. Once information is imprinted on the disk, the only way to change the information is to erase it or replace it; otherwise the computer will keep repeating what you "programmed" into it. "I'm such a loser! Why can't I figure this out?" The subconscious mind works in a similar fashion. Information is fed into it through our senses, our thoughts, our impressions, and what we hear from ourselves and others. "It's going to be another one of those days" most certainly will be, because we don't like to be wrong…even if being wrong means suffering.
Positive, Negative, or Logical?
Self-talk is a healthy behaviour that has potentially far-reaching effects. Positive self-talk is good for your mental and physical well-being. It has been linked to the reduction of stress, which in turn can affect other positive healthy changes like exercise. It seems logical that positive self-talk would be favoured over negative, but negative is not always bad. Negative thinking heightens an individual's sensitivity to the situation he or she is facing. When faced with potential danger or adversity, negative thinking will help you think more clearly. This logical, accurate self-talk is grounded in a person's ability to critically think their way through a situation. This can be a challenge in day-to-day life if perception and reality are not in sync, and negative thinking overrules the actual situation.
A healthy-weight adult may still have feelings of inadequacy stemming from a chubby childhood. A perfectly capable person may believe that he or she is useless after years of being told so. Beliefs shape our self-talk (in either a positive or a negative direction), which in turn affects our self-esteem—our internal feelings and evaluation of ourselves based on our perceived self-image. Self-esteem and self-image are closely related, and are largely based on beliefs that are formed early in life.
Regular exercise can do much to boost your self-esteem, provided you can find a way to habituate the exercise before your negative inner voice shuts you down. Why not take a step in the positive direction?
Be Kinder to Yourself
By becoming aware of your thoughts and attempting to manage them, you can directly influence your emotions and actions in a positive way. The development of positive thought patterns requires, quite simply, that you recognize self-talk for what it is, deal with negative messages, and harness the positive inner voice. To make self-talk positive, individuals must change what goes on in their subconscious, and transfer it to their external voice. Here are two fundamental steps to begin:
1) Pay attention to the messages you are telling yourself. How are you
communicating your thoughts to yourself and those around you?
2) Believe that if you change your self-talk to include more positive messages, you will influence your behaviour toward those messages.
THE REPLACEMENTS
You can develop the habit of positive self-talk around exercise or any behaviour you wish to improve. Below are examples of six negative self-talk scenarios along with some "alternative thought" solutions.
1) Focusing only on the problems
This is the essence of complaining. We tend to dwell on the problem instead of the solutions. "I can't find time, I'm too tired, I can't afford it, there are no good facilities near my home…"
Instead Assume that most problems have solutions, and ask, "How do I want this situation to be different?"
2) Expecting the worst
"What if I exercise and I don't lose weight?" only promotes anxiety and does not encourage effective behaviour (like focusing on each exercise session.)
Instead Talk yourself toward positive outcomes. "How can I ensure I get to each workout?" or "What activities do I really enjoy?"
3) Thinking in absolutes
This type of thinking (using words such as must, always, or never) exaggerates reality. The statements, "I always eat too much" and "I must exercise at least an hour to make a difference" will be untrue most of the time.
Instead Replace exaggeration with more accurate words such as "I often eat more than I need to, but I can change that." or "A small amount of exercise is better than none at all."
4) Shoulds 
Words such as "should have, ought to, must, have to" imply a consequence that if you don't follow through, you will feel guilty. "I should get to the gym more often" or "I have to eat fewer sweets" equates to every time you don't comply, you've done poorly.
Instead Replace these words with 'could', and realize the power of choice. "I could get to the gym, if I leave work on time."
5) All or Nothing
"If I don't lose 20 pounds this time, I'm cancelling my gym membership and eating anything I can get my hands on." Thinking in extremes distorts our reality. If we're not achieving the top of the class, we must be bottom of the barrel.
Instead Recognize that there are always options that range from positive, to negative, to in-between. With weight loss, it's good to be reminded that you can't get to 20 pounds of weight loss without first losing one, then five, then seven, then 10 pounds.
6) Negativity
People will often say things like "I'm fat" or "I'm weak" or "I'm lazy" as a means of poking fun at themselves (usually out of discomfort). Saying these types of things makes them part of your identity.
Instead Change your negative "I am" statement into a statement about behaviours. "I make healthy food choices." or "I am becoming fitter." You can change a behaviour much easier than an identity.
The reality about exercise is this: if it were easier, more people would be doing it. That being said, every effort you put into the task will help you habituate exercise once and for all, and that can happen in small steps.
Make the journey a little less daunting by reframing your fitness fears into a step-wise fitness plan that operates from a point of "I can." Once you are able to recognize the many forms of negative self-talk that may threaten your efforts at exercise, you can take the steps to gently, but authentically, choose the positive voice instead.
Be patient and persistent with yourself and enjoy the journey as you learn to talk to yourself better. Each time you hear that negative internal voice piping up, pause. Actually smile. Calm your inner voice and rephrase your thoughts toward the positive. "I am strong and capable. I can!" It takes time to replace the habits of a lifetime, and it takes time to realize success at fitness. You can find the strength and positive voice to get there. Remember that your subconscious brain believes what it hears most often, so keep telling yourself "I can" and eventually you most certainly will!
As president of Live Out Loud Fitness and Wellness Consulting, Michelle Cederberg, MKin, PFLC, helps you find energy through fitness motivation so you have it for your personal and career growth. She has built her career in the fitness industry since 1990, as a personal trainer and educator, and expands that practical experience into motivational speaking and consulting. She has a Masters in Kinesiology and specializes in Exercise and Health Psychology. Visit: Live Out Loud Fitness and Wellness Consulting, Inc. www.liveoutloud.ca or contact Michelle by Phone: (403) 850-5589. Fitness Coaching, Personal Training, Fitness Product Sales, Corporate/Group Seminars.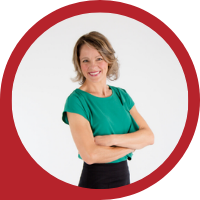 About Andrea Holwegner
CEO, Registered Dietitian, Counseling Practice Director & Professional Speaker
Andrea the «Chocoholic Nutritionist» is founder and CEO of Health Stand Nutrition Consulting Inc. since 2000. She is an online nutrition course creator, professional speaker and regular guest in the media. Andrea is the recipient of an award by the Dietitians of Canada: The Speaking of Food & Healthy Living Award for Excellence in Consumer Education....Read more