Overcoming "Homicidal Hunger"
How to Manage Your Hunger
My friend Anne some time ago coined the term "homicidal hunger" to sum up the ravenous hunger often experienced when you get home in the late afternoon after a long day of work without having enough to eat. Homicidal hunger is a state where you feel like you could literally harm someone if they stood in front of you and the fridge. The most common time of the day that people feel this way is often in between lunch and supper since it has been many hours since the last meal. If it has been more than 3-5 hours since your last balanced meal you will likely feel a dip in your energy, mood and emotions. You are also not likely to make healthy nutrition choices in a state of homicidal hunger and instead will reach for whatever is quick and loaded in carbohydrates. Your brain will naturally crave sweets, potato chips and other carbohydrate containing foods when your blood sugars drop too low. This happens to dietitians too! As the chocoholic dietitian you know that I will be reaching for chocolate mid-afternoon if I have not had a good snack between my lunch which is typically at 12:30 and my supper which is often close to 7pm. Instead of trying to rely on will power which inevitably always fails, why not set yourself up for success by trying out the following tips.
Survival tips:
Make sure your lunch contains both protein and carbohydrates. Carbohydrates in foods such as grains/starches, vegetables and fruits are essential sugar sources for your brain and muscles. If you don't get enough carbohydrates you will more likely become emotional, tired and unfocused throughout your day. At the same time, if you only carbohydrate-rich foods without a source of protein you will feel like you are on a rollercoaster ride with highs and lows in your energy levels. Protein-rich foods such as meat, poultry, seafood, eggs, dairy, legumes, soy foods, nuts and seeds are critical in a meal to help you stabilize your blood sugars leading to better focus, energy and a sense of fullness.
Eat every 3-5 hours for maximum energy and to prevent getting too hungry and overeating. If lunch was at 12 noon then by 3-5pm plan to have a snack.
Make sure you stash your office and home with healthy snacks that are visual. Food psychologists have shown that the more convenient the healthy foods are the more likely it is we will eat them. If your veggies are stashed at the back of the fridge and require peeling and chopping you may decide to skip them. If your fruit is tucked away in a fridge drawer often you won't see them and think to eat them. Instead put fresh fruit displayed attractively in a fruit bowl on your counter or on the corner of your desk in your office. Spend a half hour per week and pre-chop your veggies so they are easy to grab with hummus or veggie dip as a snack.
If you are tempted by the vending machine quick fixes of chocolate, chips and pop at work you may wish to try what my client Julian discovered. Julian decided not to bring cash and coins to work anymore and found by only carrying a debit card and/or credit card vending machine snacks quickly disappeared.
Top 10 Snack Attacks
Yogurt parfait (yogurt, berries and cereal)
Oat bran or bran muffin and cheese
Dried fruit (such as raisins/craisins/apricots/dates) and nuts (such as almonds/peanuts/cashews)
Raw veggies (such as snap/snow peas, carrots and mini tomatoes) and hummus
Fresh fruit or dried fruit bar and milk or soy milk or a smoothie
Canned fruit cup or applesauce cup and cottage cheese
Grapes and cheese cubes
Whole grain crackers and mini-can of flavored tuna/salmon
Protein bar and unsweetened juice
Coffee Shop latte, steamed milk or chai tea
Thanks for reading!
Andrea Holwegner
"The Chocoholic Dietitian"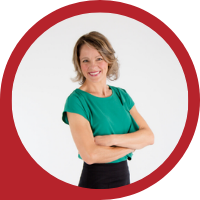 About Andrea Holwegner
CEO, Registered Dietitian, Counseling Practice Director & Professional Speaker
Andrea the «Chocoholic Nutritionist» is founder and CEO of Health Stand Nutrition Consulting Inc. since 2000. She is an online nutrition course creator, professional speaker and regular guest in the media. Andrea is the recipient of an award by the Dietitians of Canada: The Speaking of Food & Healthy Living Award for Excellence in Consumer Education....Read more