Overwhelmed? How to decide what to eat
Overwhelmed?  How to decide what to eat
Listen to my QR77 Radio Program here
Every monday at 4:15pm on QR77 Radio join me and Angela Kokott host of Calgary Today with our segment "You are what you eat" to get the goods on healthy eating.  If you missed my segments I will be archiving these audio discussions on my blog here.
We are overwhelmed….Dr. Brian Wansink, a food psychology researcher estimates we make about 200 food related decisions per day.
Think about ordering coffee in the old days (circa 1980) vs. ordering from starbucks now… No wonder people are stressed about food.
Not only are we faced with a colossal amount of decisions.  We have never been more bombarded with mixed messages about what we could and should be eating.  Many of the clients we see also know that it also seems like everything that is good for you is also bad for you and vice versa.
You have probably seen your favourite food go from good to bad to good again.  Even the innocent banana has been given a bad wrap.  A BANANA!  People may have even slipped up and had a whole banana when their weight loss plan would have only said they could have half. I want to ask you…has anyone ever gained to much weight because they ate too many bananas?

Lets look at the ingredient label on a banana….oh yah it doesn't exist.  That's because it includes….banana.

Start with REAL FOOD – real food is the stuff that grows in the ground, on trees, is recognizable as food by your great grandparents.  Real food either doesn't have a food label or has simple words an 8 year old can easily read.
Decrease FOOD IMPOSTERS
If it sounds like something that has been made by a mad scientist then likely you should eat less.  I'm not saying eliminate these.  Have a bit of fun with these but your grandma was right – eat real food.
Understand how to read a nutrition label

Get more of these: fibre, vitamin A, Vitamin C, calcium, iron
Get less of these: saturated fat, trans fat, sodium, added sugar
Review the serving size in comparison to how much you are eating since the numbers on the label will change if you eat more than the package serving.
Listen to episode 6 here: overwhelmed? how to decide what to eat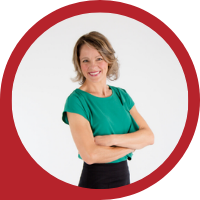 About Andrea Holwegner
CEO, Registered Dietitian, Counseling Practice Director & Professional Speaker
Andrea the «Chocolate Loving Nutritionist» is founder and CEO of Health Stand Nutrition Consulting Inc. since 2000. She is an online nutrition course creator, professional speaker and regular guest in the media. Andrea is the recipient of an award by the Dietitians of Canada: The Speaking of Food & Healthy Living Award for Excellence in Consumer Education....Read more