Plan meals to avoid overeating – Eat well and eat often, to ease cravings
By Andrea Holwegner, For The Calgary Herald March 24, 2011
Lynette, a vice-president of sales, left the house early each morning and returned home late most days from her demanding job. This often meant she had trouble taking the time to eat breakfast and pack a lunch. Midmorning, Lynette would guzzle coffee to keep her energy up. Lunch was often missed, or was choices from a vending machine or eaten at a restaurant with clients.
By the time she got home from work, Lynette was in a state I call "homicidal hunger." This happens when you feel so hungry and out of control that anyone standing between you and the fridge is definitely in the way. Instead of a healthy dinner, Lynette would unconsciously eat whatever was convenient, such as crackers, cookies, dried fruit, nuts and chocolate chips. The evening was full of snacks and emotional stress eating.
As a highly intelligent and overachieving person in her work life, Lynette was frustrated that she felt like such a failure when it came to losing weight and controlling her food choices.
But with a little planning, Lynette was able to improve her weight and develop a more positive relationship with food. Here is how she did it.
Fix the day
Trying to use willpower to avoid overeating in the evening will inevitably let you down. Instead, examine the direct connection between what you eat during the day and what you end up eating later.
Since Lynette ate the majority of her food after 6 p.m., she would go directly for comfort foods to boost energy and mood. Once she started eating, it was difficult to stop.
It was also hard to think about taking the time to cook a healthy meal, because she was so ravenous and wanted to eat immediately. This meant healthy parts of the meal such as veggies or protein, which usually require some preparation, were often missed.
Eat on time
To prevent a homicidal hunger attack, you need to ensure you are eating meals with both carbohydrates and protein throughout the day. Carbohydrates fuel your brain, while protein prolongs fullness. Make sure you are eating breakfast and then continuing to eat every three to five hours. If you need some healthy ideas, try these:
Breakfast:
Whole grain wrap with nut butter rolled round a banana
Oatmeal, dried fruit and nuts
Whole grain toast, eggs and orange juice
Bran cereal with milk and berries
Muffin and a smoothie with milk, yogurt, banana and berries
Lunch:
Whole grain bun and tossed salad with chicken and vinaigrette
Tuna or salmon sandwich on whole grain bread served with vegetable soup
Chili, baked potato and tomato juice
Whole grain wrap with turkey/ham, cheese and loaded with veggies
Pasta with tomato meat sauce served with raw veggies and dip
Snacks:
Apple or pear with cottage cheese and cinnamon
Trail mix Bran muffin and glass/ carton of milk
Latte or tea latte and fresh fruit
Whole grain crackers, cheese and carrot sticks
Yogurt parfait with yogurt, berries and cereal
Raw veggies with hummus
Hard boiled egg(s) and whole grain crackers
Smoothie with milk, yogurt and fruit
Banana or apple with peanut butter or almond butter
Find comfort without food
While managing a balanced eating routine allowed Lynette to substantially reduce her night overeating habit, tuning in to the emotional reasons was harder. Ask yourself, "How can I comfort myself without food? Is there an enjoyable hobby, task or activity that I could do instead of turning to food?"
Lynette found using "delay and distract" techniques -such as waiting 15 minutes before giving into a craving and then distracting herself with nurturing tasks (listening to music, going for a walk or taking a bath) -was sometimes helpful.
A conscious effort to do just a little bit better will always move you closer to your goals.
Andrea Holwegner, "the chocoholic dietitian," owns Health Stand Nutrition Consulting Inc. Visit www.healthstandnutrition.com or call 403-262-3466 for information on personalized nutrition counselling, professional speaking and to subscribe to her blog or free monthly ezine.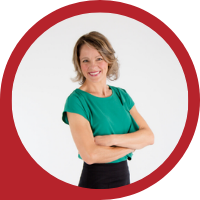 About Andrea Holwegner
CEO, Registered Dietitian, Counseling Practice Director & Professional Speaker
Andrea the «Chocoholic Nutritionist» is founder and CEO of Health Stand Nutrition Consulting Inc. since 2000. She is an online nutrition course creator, professional speaker and regular guest in the media. Andrea is the recipient of an award by the Dietitians of Canada: The Speaking of Food & Healthy Living Award for Excellence in Consumer Education....Read more