Pork Tenderloin with Honey Glazed Apples Recipe
Enjoy Pork With Apples for a Sunday Dinner Recipe
This is a tasty Sunday night dinner recipe that features tender pork tenderloin and sweet apples that was adapted from a similar recipe I've been making for years by the authors of the cookbook Best of Bridge.  Balance this recipe by adding some rice, steamed broccoli/asparagus/green beans, and a salad.
~2 lbs. pork tenderloin (~1kg)
Marinade:
1/2 cup apple juice
¼ cup honey, melted
2 tbsp. soy sauce
2 tbsp. vegetable oil
1 tsp. Dijon mustard
4 green onions, chopped
2 cloves garlic, minced
1 tbsp. grated fresh ginger
Glazed Apples:
1 tbsp. butter or non-hydrogenated margarine
2 tbsp. honey
2 tbsp. lemon juice
4 apples, peeled and thinly sliced and diced
How you prepare:
Put marinade ingredients into a long shallow baking dish. Add pork. Cover and refrigerate overnight or at least 4 hours. Bake at 350F for 40-50 minutes or BBQ until done. Cover and let stand 10 minutes. In a frying pan heat butter/margarine, honey, and lemon juice together. Add apples and toss to coat. Cook 2-3 minutes until soft. Slice pork and spoon glazed apples over top.
Per serving:
Calories 368
Carbohydrates 28 g
Protein 36 g
Fat 13 g
Dietary Fiber 1 g
I hope you enjoy this comfort food recipe for pork tenderloin with apples!
Looking for more simple meal planning tips and healthy recipes for a healthier lifestyle?  Sign up for our weekly newsletter for a healthy recipe of the week (and nutrition articles and videos with a balanced living philosophy to help encourage healthy habits but still save room for your favorites). Our nutrition newsletter is written by the Calgary Nutritionists on our team who each hold a professional Registered Dietitian license to ensure you are getting credible advice.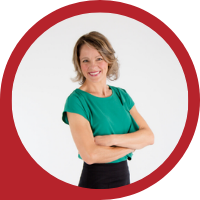 About Andrea Holwegner
CEO, Registered Dietitian, Counseling Practice Director & Professional Speaker
Andrea the «Chocoholic Nutritionist» is founder and CEO of Health Stand Nutrition Consulting Inc. since 2000. She is an online nutrition course creator, professional speaker and regular guest in the media. Andrea is the recipient of an award by the Dietitians of Canada: The Speaking of Food & Healthy Living Award for Excellence in Consumer Education....Read more