Prebiotics and Probiotics
The growing awareness of the relationship between diet and health has led to an increasing demand for food products that support health above and beyond providing basic nutrition. Probiotics and prebiotics are components present in foods, or that can be incorporated into foods, which yield health benefits related to their interactions with the gastrointestinal tract (GI).
There are 400-500 different types of live bacterial species that exist in your intestinal tract. Many of these are beneficial and occur naturally in the large intestine.1
Probiotics
Probiotic cultures, or sometimes called "good bacteria", are live microorganisms that, when consumed in sufficient amount, can provide health benefits. These cultures survive the digestion process intact and deliver good bacteria to the large intestine, where they can contribute to the well-being of the digestive system. There are approximately 20 different species of Probiotics.1 Common examples are Bifidobacterium, Lactobacillus and L.acidophilus
How do they work/why are they good for us?
The effectiveness of probiotics is related to their ability to survive in the acidic environment of the stomach and the alkaline conditions of the duodenum (intestine), as well as their ability to adhere to the intestinal mucosa of the colon. They have been shown to enhance the immune system, prevent unfriendly (bad) bacteria growth, and improve digestive function.3
Should you consume probiotics?
Probiotics have been used with some benefit in the prevention and treatment of some gastrointestinal disorders including:
Individuals that have been on antibiotics: antibiotics wipe out both good and bad bacteria and probiotics can help build up healthy bacteria.
Gastrointestinal infections such as traveler's diarrhea or antibiotic associated diarrhea- probiotics can prevent and treat diarrhea.
Lactose intolerance: probiotics can increase lactase and help your body break down lactose easier.
Bowel disorders: such as Crohn's disease, or IBS may benefit from probiotic immune system boosting and improved digestion function.
Childhood allergies: there is some evidence that probiotics can reduce allergies when given to pregnant women with a family history of atopic eczema/asthmas and postnatally to their infants for 6 months.
Urogenital infection: such as urinary tract infections, vaginal yeast infections, and bacterial vaginosis may benefit from probiotics by boosting friendly bacteria to fight off bad bacteria.
Colon cancer prevention: there is some limited research to suggest probiotics may prevent or delay onset of certain cancers.
Prebiotics
Prebiotics are non digestible carbohydrates that stimulate the growth and metabolic activity of certain bacteria such as bifidobacteria that are useful to the intestinal flora, thereby providing good digestive health. Examples are fructo-oligosaccharides and inulins. To be effective, prebiotics must escape digestion in the upper gastrointestinal tract.3
Why are they good for us?
Prebiotics may protect against some intestinal pathogens and may be helpful in some inflammatory bowel diseases. They may also have anticarcinogenic effects (colon cancer), and some prebiotics are used for the treatment of constipation. They may also enhance mineral absorption, such as calcium and magnesium (check out our article on calcium below) and might help protect against osteoporosis. There is some preliminary research that certain prebiotics might be some benefit in diabetes.1
Where do we get probiotics and prebiotics?
| Probiotics | Source | Potential Benefit |
| --- | --- | --- |
| Certain species and strains of Lactobacilli, Bifidobacteria, Yeast | Certain yogurts*, cultured dairy products such as Kefir, cottage cheese and buttermilk, and supplements**. | May improve gastrointestinal health and systemic immunity |
| Prebiotics | Source | Potential Benefit |
| Inulin, Fructo-oligosaccharides (FOS), Polydextrose, Arabinogalactan, Polyols-lactulose, lactitol | Whole grains, onions, bananas, garlic, honey, leeks, artichokes, fortified foods and beverages, and dietary supplements**. | May improve gastrointestinal health; may improve calcium absorption |
  * Raw (unpasteurized) yogurt has high amounts of probiotics. Most yogurts today are pasteurized and therefore probiotics are destroyed. However, some friendly bacteria are added back. Look on your yogurt label for products that advertise "live and active cultures". ** Be aware that The Food and Drug Administration (FDA) dos note regulate supplements in the same way it regulates drugs. Legally, manufacturers can sell supplements, even with little or no research on how well it works or how safe it is. Also because supplements can interact with medications, check with you health care provider before using any supplement.
The Bottom Line
Research shows that the combined use of prebiotics and probiotics may enhance the effectiveness of probiotics and prebiotics.3 Although benefits vary depending on the type and amount of a pre- or probiotic consumed, daily consumption of foods containing these functional components is beneficial. Did you know? FUN FACT! If you would lay all the bacteria in your body end to end, they would circle the earth 2.5 times! (2) References
Prebiotics as "Good Carbs" (Carol Ann Brannon, MS, RD, LD) Today's Dietitian Vol. 8 No. 8 p12 todaysdietitian.com/
Helpful Bacteria – Should you take probiotics? (David Schardt) Nutrition Action
Prebiotics and Probiotics PDR Health, http://www.pdrhealth.com/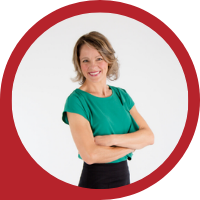 About Andrea Holwegner
CEO, Registered Dietitian, Counseling Practice Director & Professional Speaker
Andrea the «Chocolate Loving Nutritionist» is founder and CEO of Health Stand Nutrition Consulting Inc. since 2000. She is an online nutrition course creator, professional speaker and regular guest in the media. Andrea is the recipient of an award by the Dietitians of Canada: The Speaking of Food & Healthy Living Award for Excellence in Consumer Education....Read more