Nutrition for Preventing & Managing Prostate Cancer
Join me and Angela Kokott, host of Calgary Today QR77 Radio, with our monthly segment, "You are what you eat" to get the goods on healthy eating. 
Listen to Episode 42 here: Nutrition for Prevention & Managing Prostate Cancer
According to the Canadian Cancer Society 1 in 7 men will develop prostate cancer in their lifetime. The good news is there are key things that you can do in your diet to significantly reduce your risk.
1.  Reduce saturated fat
Men that consume high levels of saturated fat in their diet have a higher risk of prostate cancer and also have more advanced forms of prostate cancer. Saturated fat is found in animal foods such as the white fat visible in meat, poultry skin, butter, margarine and higher-fat dairy foods such as cream and cheese. Saturated fat is also found in tropical oils often added to baked goods such as cocoa butter and palm oil.
Choose lean meats and keep portions to the size of your palm. Eat poultry without skin, milk and yogurt (with less than 2% fat), and watch how much butter and margarine you add to foods. Since cheese is a big source of saturated fat in the Canadian diet choose strong cheeses so that smaller portions provide ample flavor (a sprinkle of parmesan, feta or goats cheese can provide lots of flavor).
Choose more sources of healthy fats such as vegetable oils, nuts, seeds and fish.
2.  Get more omega-3 fats
Consuming fatty fish such as salmon, trout, sardines or herring is a great way to boost your omega-3 fats which lower the risk of prostate cancer. Consume fish twice per week such as grilling/baking fish for supper, making homemade breaded fish sticks for the family, enjoying a salmon sandwich/salad/burger for lunch or head out for a sushi meal.
If you don't consume fish consider taking a fish oil supplement and also other sources of omega-3 fats such as ground flax seeds, hemp seeds, canola oil or omega-3 eggs.
A few spoonful's of ground flax seeds daily has also been shown in some research to slow the growth of prostate cancer cells. Sprinkle these on cereal, yogurt, oatmeal or in a smoothie.
3.  Eat more plants
Whole grain breads, cereals, brown rice, quinoa, oats and other grains are prostate cancer protective. These foods contain healthy vitamins, minerals, fibre, phytonutrients and antioxidants.
Eat enough fruits and veggies, especially cruciferous veggies such as broccoli, cauliflower, kale, cabbage, bok choy and turnips. These foods help the liver detoxify cancer-causing toxins. A 2007 study in the Journal of the National Cancer Institute that followed close to 30,000 men for over 4 years found those that consume the highest levels of these foods have about a 40% decrease in prostate cancer risk. Aim for five, 1/2 cup servings of cruciferous veggies per week or more.
Get more tomatoes! Tomatoes contain a phytochemical called lycopene that lowers cancer risk by preventing DNA damage to cells. The best bioavailable sources of lycopene is in cooked tomatoes such as tomato sauce or salsa over raw tomatoes since the cooking breaks down the cell walls and makes lycopene more available for absorption. Since lycopene is fat soluble you will also benefit from adding some olive oil to a tomato based meal.
4.  Other vitamins, minerals and herbs
Vitamin C, vitamin E, vitamin D, selenium, calcium and garlic are also being researched for their cancer preventative role. The best thing to do is achieve these from a dietary food source with the exception of vitamin D where an additional 1000IU supplement is a good idea for men.
5.  Other Lifestyle Factors
One of the most important lifestyle factors you can do to reduce the risk of prostate cancer is see your doctor for annual physical appointments for screening. It is no surprise that quitting smoking and getting enough physical activity are also important.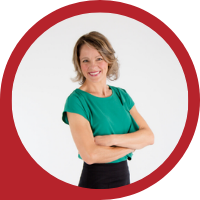 About Andrea Holwegner
CEO, Registered Dietitian, Counseling Practice Director & Professional Speaker
Andrea the «Chocoholic Nutritionist» is founder and CEO of Health Stand Nutrition Consulting Inc. since 2000. She is an online nutrition course creator, professional speaker and regular guest in the media. Andrea is the recipient of an award by the Dietitians of Canada: The Speaking of Food & Healthy Living Award for Excellence in Consumer Education....Read more