Are organic foods better? Pros and cons of organic food for healthy living
There has never been a time when how food is grown and the type of food you eat has been more heavily
debated. Here are some considerations when it comes to addressing some of the most common questions about organic food:
article originally published in Calgary Herald
What does "organic" actually mean?
In Canada, there are strict requirements by the Canadian Food Inspection Agency for both the growing and labeling of organic foods. You can identify Certified Organic foods by looking for the special approved logo.
Organic farmers use plant composting, manure composting and crop rotation as a standard practice to nourish soil. They also feed animals only organic feed. Organic foods are produced without man-made (synthetic) fertilizers, pesticides, growth hormones and GMOs (genetically modified organisms).
There is a myth that only organic growers use environmental practices but in reality conventional growers know the importance of minimizing soil degradation and erosion to improve yields. Conventional growers also know that use of fertilizers and pesticides increases cost and it would not make good business sense to disregard how and when these are applied.
Also note that organic foods are not free of pesticides or use of antibiotics. Natural pesticides such as copper sulfate are used in organic growing extensively. Organic farmers use antibiotics for treatment of sick animals since it would be unethical to fail to provide medical treatment.
Are organic foods more nutritious than conventional foods?
Simply buying a food that is organic does not guarantee good health. You can find organic foods such as sugar-loaded breakfast cereals, packaged cookies and largely ultra-processed foods in the organic foods section.
Research shows that some foods grown organically have more vitamins and minerals, while others are actually the same have even less. The nutritional content of all food (regardless if it is grown organically or conventionally) depends on soil quality, growing conditions, harvesting methods, length of time before the food is consumed and the diet of the animal itself.
Again there is variability due to many factors but overall research shows organic foods may have lower levels of some pesticides and hormones than conventionally grown foods. Despite this, remember that in Canada we have access to some of the safest and stringently monitored food on the planet.
Is going organic the best way going forward?
Organic principles established in the early twentieth century are based on the concept that "natural and traditional is best." Unfortunately, this means that some of the best farming and science advances that have the ability to improve sustainability and keep up with the growing global demand for food are not available to organic farmers.
Organic growing methods will be part of the solution to improve environmental sustainability and feed the world, but it certainly will not solve the problem.
For example, organic food production often has very low yields for the land use required. Also note that the carbon footprint for composting is surprisingly large (according to food and agricultural expert Dr. Steve Savage, fertilizing half a hectare creates as much greenhouse gas emissions as driving a car over 27,000 kilometres). Organic farming also depends on natural pesticides, such as copper sulfate, that may be worse for environmental health than some newer conventional pesticides. Organic growers also frequently use plant cover crops to improve the soil, but because of the inability to use herbicides this means they often rely on tillage (digging, stirring and overturning) for weed control that can worsen soil quality.
What is the bottom line?
An elitist mindset that organic foods are superior and that good health is only accessible to those that can afford this style of eating is misguided and concerning.
What matters most when it comes to your health is emphasizing a diet rich in whole foods grown in the ground or on trees and that do not bear a food label full of weird terms that your grandmother would not recognize. The vast majority of the world consumes conventionally grown fruits and vegetables and people with the highest plant based food intake have the lowest risk of chronic disease.
As a dietitian, parent and health advocate I buy a mix of both conventional and organically grown foods depending on a number of factors such as accessibility, cost, seasonality and a desire for variety from both a nutrition and culinary perspective. Make mindful but not obsessive choices about what you eat and where your food comes from. Do your research and learn more about both sides of the debate when it comes to organic versus conventional foods.
Dietitian Andrea Holwegner "the chocoholic nutritionist" is a media spokesperson and brand ambassador to the food and grocery industry. She is a professional speaker and owner of Health Stand Nutrition Consulting Inc. where she manages a team of Calgary dietitians specializing in weight loss, eating disorders, heart health, diabetes, digestive issues, sports nutrition, pediatrics and more. Visit www.healthstandnutrition.com or phone 403-262-3466 for more information and to subscribe to her free monthly e-newsletter or blog. Twitter: @chocoholicRD. Facebook: healthstandnutrition.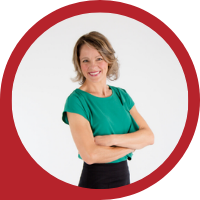 About Andrea Holwegner
CEO, Registered Dietitian, Counseling Practice Director & Professional Speaker
Andrea the «Chocolate Loving Nutritionist» is founder and CEO of Health Stand Nutrition Consulting Inc. since 2000. She is an online nutrition course creator, professional speaker and regular guest in the media. Andrea is the recipient of an award by the Dietitians of Canada: The Speaking of Food & Healthy Living Award for Excellence in Consumer Education....Read more