Quick and Healthy Breakfast
BLAST OFF your day with a QUICK & HEALTHY breakfast!…
By Andrea Holwegner, Health Stand Nutrition Consulting Inc.
Building a balanced meal at breakfast can be quick and easy! Simply include a grain or starch, a vegetable and/or fruit, and a source of protein, and you've got a balanced meal! Beginning each day with a balanced meal helps to ensure that you are getting the energy, vitamins, minerals and other nutrients that will help you stay focused, energized, and in a great mood throughout the morning.
Eating breakfast is also important for weight control as it sparks the metabolism, and helps you avoid overeating later in the day. Here are some SUMMER breakfast ideas that are fast, nutritious, and balanced:
| GRAIN/STARCH | VEGETABLE AND/OR FRUIT | SOURCE OF PROTEIN |
| --- | --- | --- |
| Multigrain toast | Nectarine | Wedge of Cheese |
| Whole grain wrap | Banana | Peanut Butter or Nut Butter |
| Reduced-fat bran muffin | Apricots or Plums | Milk or Soymilk |
| Whole grain cereal | Blueberries or Blackberries | Yogurt |
| Whole Wheat English muffin | Tomato slices | Quick Egg & Cheese (see recipe below) |
| Hot cereal | Watermelon | Milk or Soymilk |
| Whole grain cereal | Dried cranberries or raisins | Nuts or Seeds |
| Barley Pancakes (see recipe below) | Strawberries or Raspberries | Yogurt or Cottage Cheese |
Quick Egg & Cheese
This is a great quick weekday recipe that comes from www.eggs.ca. Combine with a toast or English muffin and a piece of fruit or tomato slices to balance the meal.
What You Need:
· 1 egg
· 2 tsp shredded cheese
How You Prepare:
Crack an egg in a microwave safe mug sprayed with oil or a nonstick spray. Pierce egg yolk with toothpick or fork. Cover with plastic wrap with one corner pulled back for venting.
Microwave on MEDIUM-HIGH (70%) for 45 seconds to 1 minute or until desired doneness. Sprinkle cheese on top of the egg in the mug. Let stand 1 to 2 minutes without removing plastic wrap.
Nutrition Information Per Serving:
Calories: 91
Carbohydrates: 0 g
Protein: 7.3 g
Fat: 6.5 g
Dietary Fibre: 0 g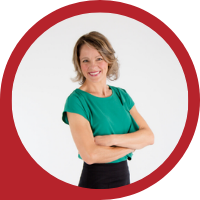 About Andrea Holwegner
CEO, Registered Dietitian, Counseling Practice Director & Professional Speaker
Andrea the «Chocoholic Nutritionist» is founder and CEO of Health Stand Nutrition Consulting Inc. since 2000. She is an online nutrition course creator, professional speaker and regular guest in the media. Andrea is the recipient of an award by the Dietitians of Canada: The Speaking of Food & Healthy Living Award for Excellence in Consumer Education....Read more