Quinoa Black Bean Salad
 One of our Favorite Quinoa Salad Recipes
This amazing recipe is courtesy of my friend Carol Richer and is loaded with good nutrition and plenty of flavor!  Enjoy this as a healthy weekday meal or lunch, or serve smaller portions as a side dish for a barbecue.  
Makes 6 Servings
What You Need:
1 cup dried quinoa
1/3 cup freshly squeezed lemon juice
3 tbsp olive oil
2 tsp cumin
1/4 tsp sugar
1.5 cups black beans, canned
1.5 cups corn, frozen
¼ cup red onion
2 cups cherry tomatoes
1/4 cup mint, fresh
1/2 cup peanuts, chopped
1/4 cup black olives
How You Prepare:
1. Cook quinoa according to package
2. Whisk together lemon juice, olive oil, cumin, salt and sugar
3. Combine quinoa with dressing and remaining ingredients **EXCEPT the fresh herbs**
4. Toss and refrigerate for at least 1 hour
5. Add fresh herbs and toss just before serving
Per Serving:
Calories 390
Carbohydrates 43.4 g
Protein 14.4 g
Fat 18.9 g
Dietary Fiber 7.3 g
Looking for more simple meal planning tips and healthy recipes for a healthier lifestyle?
Sign up for our weekly newsletter for a healthy recipe of the week (and nutrition articles and videos with a balanced living philosophy to help encourage healthy habits but still save room for your favorites). Our nutrition newsletter is written by the Calgary Nutritionists on our team who each hold a professional Registered Dietitian license to ensure you are getting credible advice.
Click here to sign-up for our free weekly nutrition newsletter: Nutrition Newsletter by our Calgary Nutritionist / Online Dietitian team.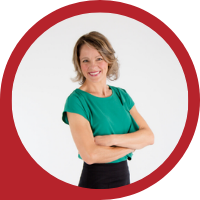 About Andrea Holwegner
CEO, Registered Dietitian, Counseling Practice Director & Professional Speaker
Andrea the «Chocolate Loving Nutritionist» is founder and CEO of Health Stand Nutrition Consulting Inc. since 2000. She is an online nutrition course creator, professional speaker and regular guest in the media. Andrea is the recipient of an award by the Dietitians of Canada: The Speaking of Food & Healthy Living Award for Excellence in Consumer Education....Read more