Red Lentil, Peanut, and Sweet Potato Soup
You Are Going to Love This Red Lentil Soup!
This is a fabulous vegetarian slow-cooker meal courtesy of Canadian Lentils.  This red lentil soup recipe is simple to prepare and perfect for a healthy weekday meal or leftover lunch.
Makes 6 Servings
What you need:
1 large sweet potato, peeled and diced
1-19 oz (540 mL) can diced tomatoes, with juice
1/3 cup (185 mL) split red lentils
1⁄4 cup (60 mL) chopped cilantro stems, saving leaves for garnish
1 jalapeño pepper, seeded and finely chopped
3 garlic cloves, crushed
1 Tbsp (15 mL) grated fresh ginger
4 cups (1 L) chicken or vegetable stock
1⁄4 cup (60 mL) peanut butter (optional)
How you prepare:
Combine all the ingredients (except the cilantro leaves) in a slow cooker. Cover and cook on low heat for 6-8 hours. Leave chunky or puree with a hand-held immersion blender.
Serve hot, topped with fresh cilantro.
Per serving:
Calories 232
Carbohydrates 32.5 g
Protein 14.1 g
Fat 7 g
Fiber 6.4 g
Looking for more simple meal planning tips and healthy recipes for a healthier lifestyle?
Sign up for our weekly newsletter for a healthy recipe of the week (and nutrition articles and videos with a balanced living philosophy to help encourage healthy habits but still save room for your favorites). Our nutrition newsletter is written by the Calgary Nutritionists on our team who each hold a professional Registered Dietitian license to ensure you are getting credible advice.
Click here to sign-up for our free weekly nutrition newsletter: Nutrition Newsletter by our Calgary Nutritionist / Online Dietitian team.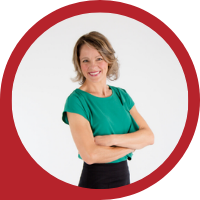 About Andrea Holwegner
CEO, Registered Dietitian, Counseling Practice Director & Professional Speaker
Andrea the «Chocolate Loving Nutritionist» is founder and CEO of Health Stand Nutrition Consulting Inc. since 2000. She is an online nutrition course creator, professional speaker and regular guest in the media. Andrea is the recipient of an award by the Dietitians of Canada: The Speaking of Food & Healthy Living Award for Excellence in Consumer Education....Read more