Rise & Shine Pumpkin Porridge
Starting your day off with a warm bowl of oatmeal not only tastes fantastic but will boost your fibre intake and protect against heart disease.  Here is a hearty variation with added pumpkin to boost your beta carotene intake. 
Makes 2 Servings
What You Need:
1 cup skim milk or soy milk
1/2 cup canned pure pumpkin*
4 tbsp raisins
1 tsp pure vanilla extract
1/4 tsp cinnamon
1 cup rolled oats
1 tbsp peanut butter or other nut butter
*Canned pure pumpkin is unsweetened and NOT the same as pumpkin pie filling.  To check if you have the correct one, review the ingredients and confirm that "pumpkin" is the only ingredient.
How You Prepare:
In a pot on the stove combine milk, pumpkin, raisins, vanilla and cinnamon and bring to a gentle boil.
Stir in oatmeal and reduce heat until oatmeal is soft and creamy and then add peanut butter or nut butter.
Serve with milk and top with brown sugar or maple syrup.
Variations:
For an antioxidant rich and colorful porridge try skipping the peanut butter and pumpkin and add fresh/frozen berries.  Alternatively try skipping the pumpkin and top your nut butter porridge with sliced banana.  Try apples and raisins, dates and almonds or applesauce.  The possibilities are endless!
Per Serving:
Calories 365
Carbohydrates 60.6 g
Protein 14.3 g
Fat 7.7 g
Dietary Fiber 8.1 g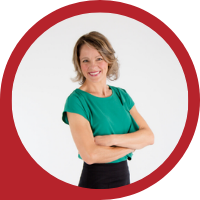 About Andrea Holwegner
CEO, Registered Dietitian, Counseling Practice Director & Professional Speaker
Andrea the «Chocoholic Nutritionist» is founder and CEO of Health Stand Nutrition Consulting Inc. since 2000. She is an online nutrition course creator, professional speaker and regular guest in the media. Andrea is the recipient of an award by the Dietitians of Canada: The Speaking of Food & Healthy Living Award for Excellence in Consumer Education....Read more