Rosemary Roasted Beets Recipe
A year-round favourite for side dishes, salads, and more!
Beets come in different shapes and sizes. There are red, golden and candy cane beets. They can be served cold in a salad, picked on a burger or warm in this delicious roasted version. The rosemary adds a pungent flavour that complements the beets. They also go great in a salad the next day. 
Makes 6 servings


Rosemary Roasted Beets Ingredients   
4-6 medium beets 

 

2 tbsp olive oil

 

2 tbsp balsamic vinegar

 

1 tbsp rosemary, diced 

 

1 clove garlic, diced 

 

Salt and pepper to taste

 

¼ cup feta cheese

 

¼ cup pumpkin seeds 

 
How to Make Rosemary Roasted Beets Recipe
1) Pre-heat oven to 375 degrees Fahrenheit. Scrub all dirt off beets and cut off ends. Dice into bite size pieces.  
2) In a large bowl add oil, vinegar, garlic, rosemary, salt and pepper. Add beets and toss until coated.   
3) Put beets on a lined baking sheet and roast for 45-50 minutes until tender but crisp.  
4) Top with feta and pumpkin seeds before serving.  
 

Nutrients per serving
150 Calories 
10.6 g Fat  
10.4 g Carbohydrates   
2 g Fiber  
5 g Protein 
I hope you enjoy this Pear & Brussel Sprout Salad recipe. If you try it, be sure to leave a comment below!
Don't miss a healthy recipe or nutrition article and sign up for our newsletter, today! 
Sound Bites is a weekly nutrition newsletter that goes out to thousands of subscribers. Written by our team of registered dietitians, it includes articles, videos, tips and recipes.
As a special BONUS, we'll email you our popular '51 Healthy Snack Attacks' PDF.
If you enjoyed this recipe, check out these other recipes and articles on our blog!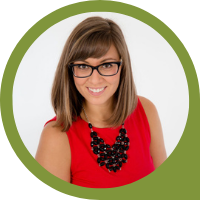 Shauna Kime
Registered Dietitian & Online Nutritionist - Weight Concerns, Women's Health, Diabetes & Meal Planning
The first thing you will notice about Shauna is her contagious optimism, energetic personality and zest. Shauna loves teaching and has a heart full of compassion and empathy for helping clients work through health concerns. Shauna specializes in healthy cooking, diabetes, cardiovascular health, weight concerns and womens health. Read more