Rustic Italian Beef and Tomato Soup Recipe
This simple beef based meal-soup recipe has two unlikely ingredients: tomato juice and day-old bread. The bread is an old-fashioned no-fat trick for thickening. A half cup (125 mL) of tomato juice represents one Food Guide Serving of vegetables.
Recipe courtesy of Canadian Beef – www.makeitbeef.ca
Makes 8 servings
Prep: 15 min. Cook: 30 min.
What you need:
2 tbsp (30 mL) olive oil
1 onion, chopped
2 carrots, sliced into half rounds
4 cloves garlic, minced
1/2 tsp (2 mL) dried rosemary, crumbled
1/4 tsp (1 mL) EACH salt and pepper
3 cups (750 mL) tomato juice
1 cup (250 mL) sodium-reduced beef broth
2 cups (500 mL) slivers of thinly sliced cooked roast beef OR cooked Extra Learn Ground Beef (see Cook's Notes below)
3 cups (750 mL) large cubes day-old baguette, French stick, or ciabatta bread
1/4 cup (50 mL) Parmigiano-Reggiano or Romano cheese, grated
1/4 cup (50 mL) fresh basil or parsley, minced
How you prepare:
Heat oil over medium-high heat in large saucepan; cook onion, carrots, garlic, rosemary, salt and pepper, stirring occasionally, until softened, about 8 minutes.
Add tomato juice, beef broth and 1 cup (250 mL) water; bring to boil. Reduce heat and simmer for 10 minutes.
Add beef and bread; stir until bread has 'melted' into soup and soup thickens, about 8 minutes. Stir in cheese and basil.
Notes:
Cook's Notes: To get 2 cups (500 mL) cooked ground beef, cook 1 lb (500 g) Extra Lean or Lean Ground Beef Sirloin or Ground Beef in non-stick skillet, over medium-high heat for 8 to 10 minutes, breaking into small chunks with back of spoon while cooking. Cook until browned and completely cooked. Drain.
Per serving:
Calories: 200
Carbohydrates: 14 g
Protein: 16 g
Fat: 9 g
Good source of iron (17% DV) and an excellent source of zinc (33% DV), 28% DV sodium.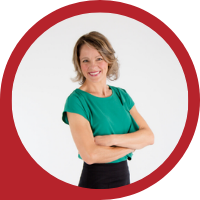 About Andrea Holwegner
CEO, Registered Dietitian, Counseling Practice Director & Professional Speaker
Andrea the «Chocoholic Nutritionist» is founder and CEO of Health Stand Nutrition Consulting Inc. since 2000. She is an online nutrition course creator, professional speaker and regular guest in the media. Andrea is the recipient of an award by the Dietitians of Canada: The Speaking of Food & Healthy Living Award for Excellence in Consumer Education....Read more