Salt Sensitivity
By Andrea Holwegner, Health Stand Nutrition Consulting Inc.
1. How much salt (sodium) do we consume vs. what is recommended?
The Heart and Stroke Foundation's research indicates that the average Canadian consumes at least three teaspoons of salt every day. The adequate intake for adults is 1500mg and we should have a maximum of one teaspoon of salt per day which is 2300mg of sodium per day.
2. What does it mean to be salt-sensitive?
Approximately 35% of Canadians are salt-sensitive, meaning excess salt in their diet can raise their blood pressure, increasing their risk of heart and stroke. Salt increases the volume of blood circulating through your arteries, which increases the pressure on the artery walls. For many Canadians, eating too much salt makes their heart work harder. If you already have high blood pressure, extra salt puts your heart at risk. Studies have shown that even people with normal blood pressure can benefit from a reduction of salt.
3. Where do we get sodium?
About 10 to 15% of your total daily consumption comes from salt we add to foods. The other 85 to 90% comes from sodium already present in prepared meals and processed foods, including canned goods, deli meats as well as sauces, condiments, salad dressings, seasonings and other foods that come in jars, cans, or packages.
4. What are some tips for getting less salt/sodium in our diet?
Salt is an acquired taste. If you slowly cut back the amount you use in cooking, and at the table, you'll find you're taste buds can adapt to enjoying less.
Here are some other ideas to get you started…
eat less packaged/processed foods and more whole natural foods
remove the salt shaker from the table
reduce the amount of salt you add during cooking or baking
read food labels and choose products that suggest less sodium
reduce your intake of restaurant and fast food meals
choose less salted snacks such as chips and go for unsalted nuts
try herbs that are sodium free to season your foods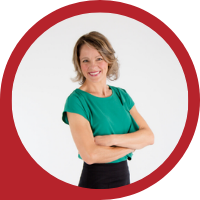 About Andrea Holwegner
CEO, Registered Dietitian, Counseling Practice Director & Professional Speaker
Andrea the «Chocolate Loving Nutritionist» is founder and CEO of Health Stand Nutrition Consulting Inc. since 2000. She is an online nutrition course creator, professional speaker and regular guest in the media. Andrea is the recipient of an award by the Dietitians of Canada: The Speaking of Food & Healthy Living Award for Excellence in Consumer Education....Read more