Setting Smart Goals for the New Year
By Andrea Holwegner, Health Stand Nutrition Consulting Inc.
Have you started to think about your goals for 2007? Read on for some tips on how to set SMART GOALS!
Reaching your goals is easier if you make them "SMART" goals:
S = Specific
M = Measurable
A = Attainable
R = Realistic
T = Timely
Specific
Goals should emphasize what you want to happen. Being specific helps you focus your efforts and clearly define what you are going to do.
WHAT are you going to do? Use action words such as direct, organize, coordinate, lead, develop, plan, build etc.

WHY is this important to do at this time? What do you want to ultimately accomplish?

HOW are you going to do it?
Measurable
When you can measure your progress, you are more likely to stay on track, reach your target dates, and experience the feeling of achievement. Choose a goal with measurable progress, so you can see the change occur. How will you know when you've reached your goal? Be specific!
Attainable
Make sure your goal is within your reach, not an impossible dream. You can attain most any goal you set when you plan your steps wisely and establish a time frame that allows you to carry out those steps.
Realistic
Don't plan to do things if you are unlikely to follow through. Better to plan only a few things and be successful rather than many things and be unsuccessful. Start small and give yourself some flexibility. A goal of never again eating sweets, cakes, and chocolate may not be realistic if you really enjoy these foods. It may be more realistic to set a goal of replacing one sweet food by one piece of fruit each day.
Timely
Set a timeframe for the goal: for next week, in three months. Putting an end point on your goal gives you a clear target to work towards. If you don't set a time, the commitment is too vague. It tends not to happen because you feel you can start at any time. Without a time limit, there's no urgency to start taking action now.

Example of a SMART goal:
Goal: Increase my intake of fruits and vegetables to 5 servings daily
How I will do it:
Choose 1 piece of fruit at breakfast and morning snack
Choose 1 serving of vegetables at lunch, 2 servings at supper
Buy extra fruits and vegetables when grocery shopping
Prepare and chop vegetables ahead of time
How I will measure it:
Record intake in my journal daily
Measure my servings
When I want to achieve it: 1 month
Small Steps Towards a Healthy 2007!
Improving your health is about making small changes that will be long-lasting. Here are some examples…
Eat breakfast one more time than you normally do.
Take a walk after dinner.
Eat a snack if it's going to be more than 5 hours before your next meal.
Eat off of smaller plates/bowls.
Park farther away from your destination, and walk the rest of the way.
Shrink down snacking after dinner.
Skip seconds.
Energize with a fitness break instead of a coffee or soda break. Slip out of the office for a quick walk around the building -Keep walking shoes in your car or office.
Ensure you eat AT LEAST three times per day.
Use water in place of one soft drink per day.
Choose fruit for dessert.
Take the stairs instead of the escalator or elevator.
Eat before grocery shopping.
Share an entrie with your dining partner.
Try a salad instead of fries with your meal.
At every meal: sit down undistracted, chew slowly, taste each flavor.
Eat one more piece of fruit today.
Try a new vegetable this week.
Keep a bag of washed and cut up raw veggies placed in a visible place in the refrigerator, handy for a quick snack.
Serve snacks on a plate or in a bowl- this helps with portion control.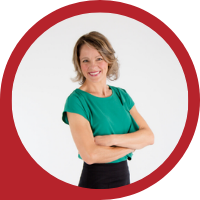 About Andrea Holwegner
CEO, Registered Dietitian, Counseling Practice Director & Professional Speaker
Andrea the «Chocolate Loving Nutritionist» is founder and CEO of Health Stand Nutrition Consulting Inc. since 2000. She is an online nutrition course creator, professional speaker and regular guest in the media. Andrea is the recipient of an award by the Dietitians of Canada: The Speaking of Food & Healthy Living Award for Excellence in Consumer Education....Read more