Sneaking Nutrition into your Picnics and Camp Trips
Tips About Food
Before the S'mores…
Sneaking Nutrition into your Picnics and Camp Trips
By Andrea Holwegner, Health Stand Nutrition Consulting Inc.
Camping, picnics, sports events and road trips… These are summer essentials for the whole family, but they can often be poorly planned when it comes to packing food! While these are great times to enjoy those marshmallows and potato chips, having nutritious foods on hand can greatly improve the mood and energy levels of everyone in your group. Before this summer comes to a close, be a hero at your next outing by filling your cooler with easy and delicious energy-boosting food options
Fuel up with Fibre
High-fibre foods help regulate your blood sugar and keep you fuller longer. This gives you longer-lasting energy and can help curb the desire to graze on less healthy snack foods all day. Also, fibre helps with digestion and keeps everyone "regular", which is great on trips for obvious reasons!!
Choose whole wheat or multigrain hamburger and hot dog buns
Heat beans over the fire or BarBQ as a side-dish or main entrée.
Throw some yummy high-fibre veggies on the grill or campfire, like corn on the cob, baked potatoes, or yams. Just wrap them in tin foil.
Pack high fibre granola bars, crackers, or trail mix as snacks
Be Savvy with Snacks
Instead of the usual chips and dip, experiment with fun and healthy alternatives. Try to get a variety of foods, especially fruits and vegetables whenever possible. Some suggestions to try are:
Baked or multigrain tortilla chips and salsa
Whole wheat pitas and raw veggies with hummus dip
Whole grain crackers with almond butter and apple wedges
Refried beans, salsa and grated cheese wrapped in a whole wheat tortilla
Enjoy the colorful fruits of summer such as cherries, apricots, nectarines, peaches, plums, watermelon and berries. Dip them in your favorite yogurt for extra flavor.
Don't Forget the Dairy
Pack individual yogurt or cottage cheese cups to snack on between meals.
Chocolate milk is always for snacks or at breakfast. Choose the plastic jugs with screw tops to transport them more easily in coolers.
Yogurt tubes can be frozen in advance, helping keep your cooler cold, and providing a nutritious ice cream-like dessert.
Grate your favorite cheese in advance and pack in zipper baggies to sprinkle on hamburgers, hot dogs, potatoes or salads.
The Bottom Line:
While sound nutrition is always important to help keep everyone energized and active, don't forget to enjoy your favorite treats as well. True health is about being good to your body, both nutritionally and emotionally!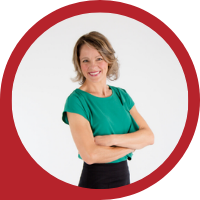 About Andrea Holwegner
CEO, Registered Dietitian, Counseling Practice Director & Professional Speaker
Andrea the «Chocoholic Nutritionist» is founder and CEO of Health Stand Nutrition Consulting Inc. since 2000. She is an online nutrition course creator, professional speaker and regular guest in the media. Andrea is the recipient of an award by the Dietitians of Canada: The Speaking of Food & Healthy Living Award for Excellence in Consumer Education....Read more