Spicy Lentil Soup Recipe
Slow Cooker Comfort Foods – Spicy Lentil Soup Recipe
Sponsored recipe from The Peanut Bureau
Warm up on a cold day with a hearty bowl of spicy vegetarian soup. Serve with a side of bread and a simple green salad for a well-balanced meal. More great recipes can be found at www.peanutbureau.ca
Prep time: 15 minutes
Slow cooker time: 4 to 8 hours
Cooking time: 5 minutes
Makes 8 servings (9 cups/2.25L)
Ingredients:
1 tbsp oil, preferably peanut
1 large carrot, finely chopped
1 stalk celery, finely chopped
1 small onion, finely chopped
1/2 tsp salt
3 cloves garlic, minced
1 tsp each of ground cumin, turmeric, and smoked paprika
1/2 tsp hot chili flakes
1 1/2 cups dried red lentils, rinsed and picked over
1 small potato, peeled and diced
1/3 cup peanut butter
1/2 cup chopped fresh parsley
2 (900ml) cartons of chicken or vegetable broth, preferably low sodium (about 8 cups)
2 tbsp lemon juice
Directions:
Heat oil in large frying pan over medium heat. Add carrots, celery, onion and salt. Cook, stirring occasionally, until vegetables are tender, about 5 minutes. Add garlic, cumin, turmeric, paprika and chili flakes. Cook just until garlic is tender, about 30 seconds. Turn into slow cooker
Add lentils, potato, peanut butter and parsley. Stir, add broth. Cover slow cooker. Cook on high for 4 hours or low for 8 hours. Add lemon juice, and season with additional salt and chili flakes to taste.
Calories – 270
Fat – 9 g
Protein – 17 g
Carbohydrate – 33 g
Fibre – 10 g
Sugar – 4 g
Sodium – 270 mg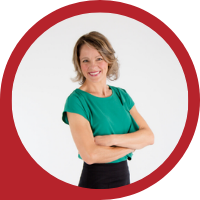 About Andrea Holwegner
CEO, Registered Dietitian, Counseling Practice Director & Professional Speaker
Andrea the «Chocoholic Nutritionist» is founder and CEO of Health Stand Nutrition Consulting Inc. since 2000. She is an online nutrition course creator, professional speaker and regular guest in the media. Andrea is the recipient of an award by the Dietitians of Canada: The Speaking of Food & Healthy Living Award for Excellence in Consumer Education....Read more