Sports Nutrition – After Exercise
What should I eat after exercise/sport?
By Andrea Holwegner, Health Stand Nutrition Consulting Inc.
The recovery meal after training/competing is the most important meal of the day for an athlete! What you eat after a workout greatly impacts your energy and stamina to workout again the next day. One of the most common reasons an athlete feels fatigued is because they have not paid close attention to their recovery nutrition.
Here are 5 R's for Recovery to consider when building your recovery meal:
REPLACE With Carbs!
You need to replace the carbohydrates your muscles burned for energy.
The harder you train or compete, the more carbohydrates you have burned and will need to replace.
Carbohydrates are found in fruits, vegetables, breads, cereals, and grains such as pasta and rice. Milk products also supply some.
Eat a source of carbohydrate right after exercise (within 15-20 minutes of completing your workout) when your muscles are most receptive to re-fuel.
REPAIR With Protein
Protein is required for rebuilding and repair of tissues such as muscle that is damaged during exercise.
Within 2 hours of finishing exercise eat a good source of protein.
Protein is found in: meat, poultry, fish, peanut butter, nuts/seeds, eggs, tofu, legumes (eg. Baked beans, lentils etc.), milk, cheese, and yogurt.
REJUVENATE with Antioxidants
The physical stress of exercise produces free radicals that can damage your body's cells such as your red blood cells and muscle cells.
Antioxidants scavenge free radicals and protect cells from damage.
Choose foods rich in these antioxidants:

Vitamin C: Citrus fruits, broccoli, sweet peppers, potatoes, strawberries etc.
Beta-Carotene: Carrots, spinach, squash, apricots, mangos, cantaloupe etc.
Vitamin E: Olive oil, canola oil, nuts/seeds, avocado
Phytochemicals: Protective components in all plant based foods
REST & RELAX
Adequate rest is needed to get the most out of your training.
Consult with a qualified exercise/sport specialist to determine. adequate rest time based on the timing and type of exercise.
REHYDRATE with Fluids
Electrolytes such as sodium and potassium improve fluid absorption. Sodium is required to adequately re-hydrate!
Eledtroylytes can be obtained by sports drink or food
Athletes need to drink more than their sweat loss
Replace 3 cups fluid per 1 pound weight lost during exercise. For example if you lose 2 pounds of sweat during exercise then you need to drink 6 cups of water to replace this.
For your info: 1 cup = 250 ml = 8 ounces
Monitor the color and amount of urine. Your urine should be pale in color and you should be urinating often throughout the day.
Recovery Meals to Get You Started:
Shake made in the blender with milk, banana, frozen berries, wheat germ, and one of the following: tofu/protein powder/cottage cheese.
Baked Potato, Steak, Steamed Broccoli
Pasta, tomato-meat sauce, salad
Toast, eggs, chocolate milk, carrots
Chicken breast, rice, green peas
Protein Bar, yogurt, fruit, juice/sport drink
Baked beans, bun, raw veggies, nuts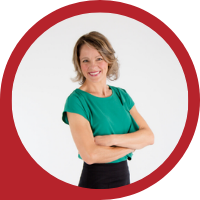 About Andrea Holwegner
CEO, Registered Dietitian, Counseling Practice Director & Professional Speaker
Andrea the «Chocoholic Nutritionist» is founder and CEO of Health Stand Nutrition Consulting Inc. since 2000. She is an online nutrition course creator, professional speaker and regular guest in the media. Andrea is the recipient of an award by the Dietitians of Canada: The Speaking of Food & Healthy Living Award for Excellence in Consumer Education....Read more