Sports Nutrition – Before Exercise
Nutrition Before Exercise or Sport Training
By Andrea Holwegner, Health Stand Nutrition Consulting Inc.
Here are some ideas to get you fueled and ready to go before going for a workout or training for your sport.
Choose Foods High in Carbohydrates
Carbohydrates are digested quickly so they won't be sitting in your stomach for a long time.
Carbohydrates top up your energy since they are the major fuel for your muscles.
Carbohydrates are found in fruits, vegetables, breads, cereals, and grains such as pasta and rice. Milk products also supply some carbohydrate.
Choose Foods Low in Protein and Fat
Protein and fat are digested slowly and may make you feel sluggish and nauseated if you eat them to close to when you will be exercising. Save protein rich foods for after exercise.Protein and fat are found in fast foods, chips, meats, pastries etc.
Choose Foods Low in Fiber
Fibre is digested slowly and may cause cramping and lead to a bathroom break during exercise. Save higher fibre foods for after exercise.High fiber foods include bran muffins, beans, high-fiber cereals.
Eat 2-4 hours before exercise or sport training
If you are consuming a meal or foods that contain protein, fat, or fibre you will need 2-4 hours to facilitate digestion so you can feel your best during exercise.
Some people may be able to eat <2 hours before exercise. Choose smaller amounts of food the closer you get to exercise. Choose mostly carbohydrate rich foods the closer you get to exercise.
Experiment during training and don't try anything new before a competition!
Different foods are successful for different people. The timing, type, and amount of food you should eat is highly variable.
Test out tolerance to fructose and lactose containing foods:
Although many people can consume milk products before exercise, some people have difficulty digesting the lactose found in milk products.
Although rare, some people get cramps during exercise after eating fructose containing foods (the main sugar found in fruit).
Liquid Assets
If you are NOT consuming food, drink a sports drink that contains electrolytes (sodium, potassium etc.) to help you retain water. Alternatively drink plain water with food because food contains electrolytes to help you retain water.
Drink 1 cup of fluid 2 hours before exercise, then 1 cup of fluid 30-40 min. before exercise.
Ideas to get you started:
Fruit smoothie in the blender with milk, yogurt, banana, berries
100% unsweetened juice box, sports bar
Hot/cold cereal, milk, dried fruit
Instant breakfast shake
Pasta, tomato sauce, salad
Sports drink, high carbohydrate energy bar, yogurt
Bagel, jam, chocolate milk, veggies
Toast, honey, apple sauce
Low fat muffin, milk, fruit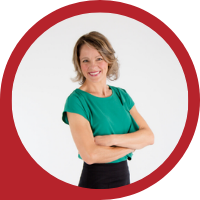 About Andrea Holwegner
CEO, Registered Dietitian, Counseling Practice Director & Professional Speaker
Andrea the «Chocoholic Nutritionist» is founder and CEO of Health Stand Nutrition Consulting Inc. since 2000. She is an online nutrition course creator, professional speaker and regular guest in the media. Andrea is the recipient of an award by the Dietitians of Canada: The Speaking of Food & Healthy Living Award for Excellence in Consumer Education....Read more