Sports Nutrition – Coaches Update for Good Nutrition
Coaches Update: How can I promote good nutrition with the athletes I coach?
By Andrea Holwegner, Health Stand Nutrition Consulting Inc.
Practice what you preach! How meaningful is it for you to tell an athlete to choose healthy snacks and meals if you don't choose them yourself? You are one of the most influential people in an athlete's life. They respect you and will follow your advice and patterns of eating, so lead by example!
Talk to them regularly – Ask your athletes about what they are eating before practice and after practice. Ask them about how much junk food they are eating. Ask Ensure you remind them to drink water and allow time in practice to ensure they do so. For traveling, ensure that you set some rules about appropriate choices and places to eat.
Ask them to keep food logs of what they are eating – Getting your athletes to keep a log of what they are eating will allow them to explore some of the patterns they are establishing, along with the types of foods they are eating, the portion sizes, and explore the emotional aspects of eating.
Seek the help of a Registered Sports Dietitian – You don't have to be an expert at everything. You will find that by working with other professionals you will have better success with your athletes. Sports dietitians keep up to date with all the current nutrition research, supplements, fad diets and common questions and scenarios to be able to give your athletes the facts.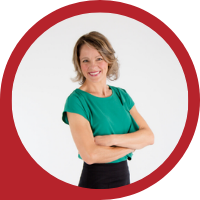 About Andrea Holwegner
CEO, Registered Dietitian, Counseling Practice Director & Professional Speaker
Andrea the «Chocolate Loving Nutritionist» is founder and CEO of Health Stand Nutrition Consulting Inc. since 2000. She is an online nutrition course creator, professional speaker and regular guest in the media. Andrea is the recipient of an award by the Dietitians of Canada: The Speaking of Food & Healthy Living Award for Excellence in Consumer Education....Read more