Sports nutrition for runners
By Andrea Holwegner BSc, RD "The Chocoholic Dietitian"
Hydration During Training
Keeping well hydrated while running and participating in other sports can help you perform at your best. Here are some of the key things you need to know to train at your best:
When you are dehydrated, you risk the following effects on sport and running performance:
Increased perceived effort (you "feel" like your workout is difficult).
Difficulty with mental focus, concentration and balance.
Increase in muscle cramps.
Impaired aerobic exercise performance.
Slower anaerobic power.
The amount of fluids you need for training depends on:
Individual differences in how much you sweat.
The type of sport, duration, and intensity (the longer or more intense the exercise, the more you will sweat).
Temperature of your environment (the hotter and more humid, the more you will sweat).
Females generally have lower sweat rates than males.
Since everyone is different, here are some general guidelines to get you started:
Exercise dulls thirst sensation. If you feel thirsty you are already dehydrated. It is best to drink on a schedule.
Research shows that if you are running or exercising at a high intensity, you may lose 0.4-1.8 litres of sweat per hour. As a general guideline try one or two cups (250-500ml) for each 30 minutes of training you do.
One way to check if you are hydrated is to weigh yourself before and after a workout and see if your body weight has changed. If it has gone down, it is likely a sign you need to drink higher amounts in your future workouts. You need to drink 1.5 litres if you have lost one kilogram of weight.
If you are training less than one hour in length, water is all you need. If you will be doing continuous, high intensity exercise longer than ninety minutes, or doing exercise throughout the day especially in hot temperatures, a sports drink or an alternative source of carbohydrate is needed to keep your muscles fuelled with energy.
Nutrition Before Training
Regardless if you are headed out for a short training run, long endurance run or hitting the gym for a workout, you need to understand what to eat before training. Your pre-training nutrition is important to top up your energy for the workout ahead.
There are several important considerations for the pre-workout meal:
Hydrate: Drink fluids throughout your day and be sure to drink at least a half litre to a full litre (two to four cups) of fluid starting four hours before your workout.
Choose carbohydrate rich foods: Carbohydrates should comprise the main part of your pre-training meal. Carbohydrates found in foods such as grains, cereals, breads, fruits and veggies are quick to digest, provide energy for your working muscles and top up your blood sugar.
Have a small amount of protein if eating 2-4 hours before training: In order to sustain energy and fullness, add a source of protein such as meat, poultry, seafood; peanut butter; yogurt/milk, cottage cheese or eggs. Excessive amounts of protein are not ideal if you only have a short amount of time before your workout since protein is slow to digest and may feel heavy in your stomach or cause cramping or bloating.
Avoid high-fat foods: Fat is very slow to digest and won't top up your muscle fuel. In your pre-training meal skip high-fat foods such as chocolate, chips, fries, greasy burgers, and cream soups.
Watch high-fibre foods: While small amounts of fibre are generally well tolerated, be aware that fibre is slow to digest and may cause stomach upset during a workout without enough time to properly digest.
Timing before your workout: The less time you have, the smaller the amount of food generally tolerated. In general, if you have two or more hours before exercising eat a high carbohydrate meal that is low in fat and has a small amount of protein. If you have less than an hour before your workout stick with a small snack that is mostly carbohydrate.
Sample meal ideas for 2 or more hours before training
Smoothie with fruit, unsweetened juice and yogurt, milk or protein powder.
Hot/cold cereal, milk/yogurt and fruit.
Toast, banana, and peanut butter.
Toast, egg(s) and juice.
Sports bar and sports drink.
Sandwich with turkey/roast beef/ham and veggies.
Pasta with tomato sauce and a small amount of meat.
Chicken noodle or vegetable soup with crackers and flavoured tuna.
Cottage cheese and canned fruit with a low-fat muffin.
Pasta salad with low-fat dressing, chicken breast and veggies.
________________________________________
Andrea Holwegner is president of Health Stand Nutrition Consulting Inc., media expert for the Dietitians of Canada, professional speaker and independent consultant to Jugo Juice. To ask Andrea your personal nutrition question, visit the "Ask the Dietitian" section of the Jugo Juice website here: www.jugojuice.com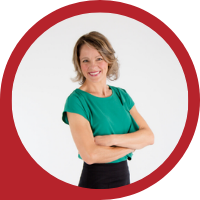 About Andrea Holwegner
CEO, Registered Dietitian, Counseling Practice Director & Professional Speaker
Andrea the «Chocolate Loving Nutritionist» is founder and CEO of Health Stand Nutrition Consulting Inc. since 2000. She is an online nutrition course creator, professional speaker and regular guest in the media. Andrea is the recipient of an award by the Dietitians of Canada: The Speaking of Food & Healthy Living Award for Excellence in Consumer Education....Read more