Sports Nutrition – Nutrition Compliments Exercise
Nutrition Compliments Your Workouts…
Exercise Alone isn't Enough
By Andrea Holwegner, Health Stand Nutrition Consulting Inc.
Whatever type of result you are looking for, nutrition can help you get their faster with more lasting results. In order to accomplish changes in your body composition, overall health, energy levels, and athletic performance, you need to exercise and eat well.
The best way to lose weight and change your body composition is by using a combination of nutrition and exercise. It only takes you a few minutes to eat 500 calories, but a long time to burn them off! If you are trying to lose fat or gain muscle mass by exercising alone, you will find the process is very slow.
Optimal nutrition can also help you to achieve better short-term health and immune function. By avoiding colds, flu's and other bugs you can keep your workout routine consistent and see the best results.
Nutrition is also strongly related to the prevention of the leading causes of death and disability such as heart disease, cancer, diabetes, and osteoporosis. Sound nutrition also helps slow aging and ensure protection against other health concerns. Don't assume that if you are exercising and/or you are a healthy weight that you don't have to worry about what you eat. Your body is like a car, and nutrition is the gas, oil, and other components of your car that make it run properly. Your car will run for a while if you don't fill it with fuel or forget to change the oil, but eventually it will break down.
Eating well directly influences your energy levels, motivation, and overall mood. This will help ensure you have the stamina to get to your workouts and do them with vigor.
Lastly, if you are training for a recreational or competitive sport, proper nutrition will improve your overall performance (speed, strength, power, and endurance). Genetics and sport/exercise training will only take you so far; examining your nutrition will give you a leading edge. Proper nutrition will also greatly improve your recovery after hard workouts so you are fresh for your next workout.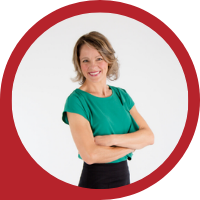 About Andrea Holwegner
CEO, Registered Dietitian, Counseling Practice Director & Professional Speaker
Andrea the «Chocoholic Nutritionist» is founder and CEO of Health Stand Nutrition Consulting Inc. since 2000. She is an online nutrition course creator, professional speaker and regular guest in the media. Andrea is the recipient of an award by the Dietitians of Canada: The Speaking of Food & Healthy Living Award for Excellence in Consumer Education....Read more