Starved and stuffed? How mindfulness and spirituality can help improve your relationship with food
We are a nation that is both stuffed and starved. We are surrounded by fast food, "all you can eat" buffets, calorie-laden convenience foods and portion distortion. At the same time, we are obsessed with dieting, underweight fashion models, gimmicks and the "latest and greatest" cure-all health books.
We live in a culture that is ironically saying, "Eat … but don't eat" and as a result we are getting unhealthier and more disordered in our relationship with food and our bodies.
I am privileged to work with registered dietitian Richelle Tabelon who not only has over a decade of experience in nutrition education, but also has volunteered in West Africa and served in the Royal Canadian Naval Reserve for over 10 years. Despite a very full schedule as a working mom of three young boys, Tabelon is "calm within chaos," which she says comes from her deep roots in spirituality. Tabelon is known for her comprehensive approach to nutrition education that focuses on physical, emotional and spiritual well-being.
"Nutrition has become so political and controversial that often people don't know what or how to eat," says Tabelon. She goes on to say, "we should be eating for nourishment, enjoyment and social reasons, but it seems more and more people are struggling with food obsession, dieting cycles, poor eating habits and emotional eating."
This not only affects ourselves personally, but Tabelon believes the more critical concern is the influence on our children since children learn what they live.
"Many parenting books discuss how parent's behaviour affects children's development. However, a major oversight is talking about the effect of parent's body image, nutrition beliefs, food rules and dieting behaviours. In our practice it is very common to see young eating disorder clients or overweight kids that have parents that struggle with food, body image and weight concerns."
What is normal eating?
Although defining normal eating sounds simple, in reality it is hard to define and even more complicated to put into action. Tabelon suggests normal eating could be defined as a balance of regularity, variety, flexibility and enjoyment. I like to say that eating fully is about eating both healthfully and soulfully. One of the best longer descriptions of normal eating is by author Ellyn Satter, which is a must-read.
How can we improve our relationship with food?
"In practice we always look at what to eat for proper nutrition and good health but I often spend even more time on how to eat because this is where I find clients struggle more with making sustainable positive changes," says Tabelon. Mindfulness and spirituality are two of the tools that can be useful in improving an overall positive relationship with food and your body.
"Mindful eating is an awareness and response to hunger and fullness so that we eat enough to be satisfied and nourished," says Tabelon. Research shows that mindful eating can help with weight management, diabetes symptoms, eating disorder recovery and overall body image and size acceptance. Tabelon emphasizes that developing spirituality can help increase resiliency, self-love, acceptance and help define self-worth and life purpose. She also suggests "spiritual practices such as prayer and meditation can help in coping with stress and anxiety and therefore be a way to nurture ourselves without food."
In practice there are dozens of ways to help improve your relationships with food and your body, but here is what Tabelon and I came up with as our top tips:
10 ways to improve your relationship with food
1. Ditch dieting for good. Recycle diet books. Do an electronic purge of any blogs, social media sites and information that focuses on dieting and perfectionism.
2. Food and feel journal. Awareness is key to making changes. Jot down what you are eating and more importantly why.
3. Ditch Distractions. When eating, only eat. Eat away from the TV, phone and computer. Eat at a table and minimize how often you eat at your desk, while driving and sitting on the couch.
4. Keep perspective. Food plays an important role in our lives, but it shouldn't be the focus. Inflexibility and unnecessary rules will lead to isolation and anxiety. Avoid all or none thinking. Restricting leads to deprivation and often overeating or bingeing.
5. Select some healthy mantras. Eat fully, both mindfully and soulfully. Slow down, listen and trust. My body is strong and wise. My weight is not my worth. What do I really need?
6. Accept. Learn to accept your body (it doesn't mean you have to love it). Focus on improving health not the number on the scale. Celebrate your curves.
7. Slow down and savour. When you slow down the pace of eating and savour each bite, food is always more satisfying.
8. Refuse to stuff and starve emotion with food. Talk to your family, a friend, dietitian, therapist or spiritual guide. Nurture yourself without using food.
9. Seek professional help. Never underestimate what you can learn from qualified help. A psychologist is like a rear-view mirror in the car to show you the things you can't see.
10. Be still. Give yourself a time out. Through quiet reflection, meditation and prayer you can nurture yourself without using food inappropriately.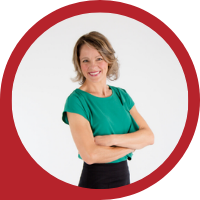 About Andrea Holwegner
CEO, Registered Dietitian, Counseling Practice Director & Professional Speaker
Andrea the «Chocoholic Nutritionist» is founder and CEO of Health Stand Nutrition Consulting Inc. since 2000. She is an online nutrition course creator, professional speaker and regular guest in the media. Andrea is the recipient of an award by the Dietitians of Canada: The Speaking of Food & Healthy Living Award for Excellence in Consumer Education....Read more