Supper meals for busy families on the go and before sport
Supper meals for busy families on the go and before sport
The Cameron family wanted to eat healthy food, but they needed it fast.
As parents with kids in soccer and other sports will attest, trying to get everyone fuelled properly, with foods the whole family will like, isn't an easy task.
After several rushed meals from a drive-thru window and several meals consisting of peanut butter and jam sandwiches, the Cameron family sought out nutrition counselling for some meal planning ideas.
Eight-year old Daniel loved anything with pasta or cheese, while 10-year old Madison's favourite foods were fruit smoothies and bread. Their parents enjoyed barbecuing and other meals that didn't involve heating up the house with the stove on warm days. This became the starting place for building some healthy supper meals everyone was happy to eat.
What and when to eat
Contrary to popular belief, most of the benefit of sports nutrition is not actually the meal immediately before physical activity. It is instead your everyday training diet for weeks and months that enhance muscle fuel, recovery and immune function. The role of any meal prior to exercise is to help you feel comfortable (i.e. not too hungry or too full). Feeling too hungry will be distracting and may cause blood sugars to be too low, thereby negatively affecting performance and hindering good recovery. Being too full can cause cramping or other digestive issues during sports and make you feel heavy or weighed down.
What and when to eat before sports is highly variable and really depends on individual tolerance. It is best to test out what works during practices so you know what will work for game days and competitions. Here are some rules of thumb to get you started:
One to two hours before sport
If you only have one to two hours before sport, your meal should be primarily carbohydrate-based since foods such as grains, starches, vegetables and fruits are quicker to digest. Foods rich in protein such as meat, nuts and cheese are slower to digest, so small portions of these are best. Skip high-fat foods such as greasy fast food, deep-fried foods and rich cream sauces since these are very slow to digest.
You may choose to have a mini-meal or snack before sports and a second mini-meal when you are finished playing. In the case of the Cameron family, they decided on a fruit and yogurt smoothie along with whole-grain toast or whole-wheat pancakes. Pasta salad with mostly pasta and veggies with small amounts of cheese and meat also worked well. Don't forget to drink some water.
Two to four hours before sport
If you have the ability to eat two to four hours before sport, then this meal can and should be a more traditional, substantial supper meal consisting of a rich source of carbohydrate-rich food, which tops up blood sugars and acts like gasoline for your muscles. You will also need a good source of protein in this meal to add satiety and ensure you have lasting energy throughout the sport you are playing. Family favourites for the Cameron household include quesadillas or grilled chicken caesar salad with garlic toast, both of which they could prepare mostly on the grill.
Five summer supper meals for busy families
1. Grilled chicken breasts or lean beef or bison burger patties on whole-wheat buns. Serve with raw veggies and dip.
2. Quesadillas on the barbecue, prepared with drained canned black beans, cheese, spinach, red peppers and green onions. Serve with sour cream and salsa as dip.
3. The night before, prepare souvlaki marinade consisting of lemon juice, olive oil, oregano, garlic, pepper and salt. Pour marinade over pork, chicken or beef, refrigerate overnight, and grill the following day. Serve with Greek salad and whole-wheat pita and hummus.
4. The night before, cook pasta and refrigerate for tomorrow's pasta salad. The next day, chop fresh veggies (such as cucumber, carrots, broccoli or cherry tomatoes) or leftover cooked veggies (such as mushrooms, asparagus and roasted red pepper) and add to pasta or other grain. Add cooked chicken or shrimp, as well as shredded or cubed cheese and your favourite dressing, such as vinaigrette, or pesto to finish. Try substituting pasta for rice, quinoa or other grains.
5. Grill salmon or other fish or seafood on the barbecue. Invest in a barbecue grill basket for sweet peppers, mushroom, zucchini, onion and/or asparagus. Also serve raw carrots or other kid-friendly veggies on the side. Serve with couscous or baby potatoes, both of which can be ready in minutes.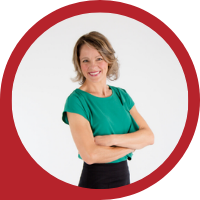 About Andrea Holwegner
CEO, Registered Dietitian, Counseling Practice Director & Professional Speaker
Andrea the «Chocoholic Nutritionist» is founder and CEO of Health Stand Nutrition Consulting Inc. since 2000. She is an online nutrition course creator, professional speaker and regular guest in the media. Andrea is the recipient of an award by the Dietitians of Canada: The Speaking of Food & Healthy Living Award for Excellence in Consumer Education....Read more