Sustaining your nutrition resolutions
Nutrition New Year's Resolutions
By Andrea Holwegner, Calgary Herald   December 29, 2010
At this time of year, it's natural to think about – and struggle to achieve – your wellness goals. This was definitely the case with a previous client of mine.
Cynthia was a baby boomer with two teenagers and a busy job in the oil and gas industry. Her goal was to lose the 25 pounds she had put on over the past two decades. Cynthia was discouraged that despite following many diets and trying to exercise, she could not seem to lose the weight for good.
Examining why people fail at something they want to achieve is often more beneficial than reviewing successes. Before setting your New Year's resolution, consider these three reasons people fail, inspired by a 2008 article in Canadian Psychology written by Richard Koestner:
1. Lack of clarity:
There are likely many things you could work on, but what are the specific things you are willing to do that can improve your long- term health? Are you being reasonable and setting yourself up with the best chances for success?
Many people have a weight loss goal in their mind that needs to be readjusted to be more in alignment with reality. I encouraged Cynthia to think about reframing her goal weight to be higher, given her age and how much she was willing to change.
I also reminded Cynthia that weight loss of one-half to one pound per week was reasonable, even though the diet industry would have her believe this number should be higher. We identified a handful of strategies, such as reducing her supper portion by a quarter and adding a protein-rich food at breakfast – as specific and clear strategies to help achieve this goal.
2. No accountability:
Have you noticed few people are good at being their own cheerleaders and motivators? How about you? You may be more likely to accomplish your goals when you have accountability tools in place to help you monitor your progress and stay on course.
These could be things like keeping a food journal, joining an online support group, arranging an exercise date with a friend or hiring a coach. When the going gets tough, or your life gets crazy, accountability tools can help you stay on task.
After Cynthia and I had met for a few initial nutrition sessions, she felt confident that she knew what to do to help her lose weight. However, after a few months she realized that knowledge did not equal action. Cynthia called the follow-up meetings we set "butt kicker" appointments, since she knew having to report to me would keep her more accountable. Meetings were also a chance to fine-tune her goals and discuss challenges such as how to balance her personal nutrition goals with her teenage sons' opposite goals.
3. Depending on willpower:
Accept that willpower will always let you down. We have a limited ability to self-regulate and alter our behaviour when we are faced with obstacles, life stressors and distractions. This is especially true when we are making a change to our nutrition and lifestyle that has not yet become a habit. It is far more effective to have a solid plan in place than to rely on willpower.
Cynthia had hoped that her willpower mixed with her strong desire to lose weight would prevent her from overeating in the evenings. She learned quickly that willpower didn't work so well when it came to managing portions of sweet baked goods. For Cynthia, relying on willpower not to eat a whole row of brownies on the counter after a long day at work didn't work so well. It was far better for her to divide treats into individual portions and keep them in the freezer. She also discovered it was essential for her to eat more at breakfast to prevent overeating later in the day.
Whatever your New Year's Resolution is this year, be sure to have clarity, accountability and a specific plan that doesn't rely on willpower for the best chance of success.
Andrea Holwegner is president of Health Stand Nutrition Consulting Inc. Visit www.healthstandnutrition.com and www.chocoholicdietitian.com or phone 403-262-3466 for more information on personalized nutrition counselling, seminars and to subscribe to our blog or free monthly ezine.
Read more: http://www.calgaryherald.com/health/Sustaining+your+nutrition+resolutions/4038912/story.html#ixzz19ibGkwr2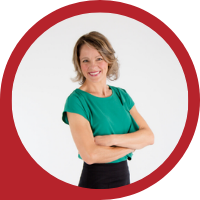 About Andrea Holwegner
CEO, Registered Dietitian, Counseling Practice Director & Professional Speaker
Andrea the «Chocolate Loving Nutritionist» is founder and CEO of Health Stand Nutrition Consulting Inc. since 2000. She is an online nutrition course creator, professional speaker and regular guest in the media. Andrea is the recipient of an award by the Dietitians of Canada: The Speaking of Food & Healthy Living Award for Excellence in Consumer Education....Read more