The magnetic power of the scale
Weight concerns and what to do about the scale when it doesn't budge
By Andrea Holwegner RD, Health Stand Nutrition Consulting Inc. – for CBC.ca
Dictionaries define the word "weight" as a measurement of gravitational pull on an object. It seems the definition of a "scale" is similar since it seems scales also have a magnetic pull on many of us.
I was recently in a women's change room at a busy fitness facility and as I was opening my locker I noticed some commotion by the door. A large electronic scale was surrounded by a mob of teenage girls dressed in field hockey uniforms. They were discussing their weight and many of the girls expressed concern that the number on the scale was disappointing.
As they left the locker room, I watched in amazement as women of all ages, shapes and sizes were drawn by the magnetic power of the scale. I sat down on the locker room bench and watched women come and go, each taking their turn on the scale. I heard sighs, witnessed grimaced faces of disappointment and blank stares of discontent. I saw friends compare numbers and discuss weight gains and losses. One woman cheered and smiled that she had lost a pound — this was particularly disturbing given that she was already clearly in a healthy weight range.
What is it about a scale that has so much power over us? Could it be that our culture is so focused on appearance and judgmental about weight? Maybe it also has something to do with the fact that health professionals use a scale to classify you as healthy or unhealthy. While a scale is one way to assess your health, it should never be the end-all-be-all for measuring your health and success. Here are some considerations that you need to know:
What determines your weight
Although your weight is a reflection of your nutrition and exercise habits, contrary to many popular diet books and so-called health experts, your weight is not explained by simply "calories in" versus "calories out." Your weight is a reflection of many complex factors above and beyond your food and activity habits such as genetics, family history, age, gender, body composition, sleep habits, hormones and stress levels. Realize that some of these factors we can change — and acknowledge that others are stubborn unchangeable parts we are stuck with. Work at the factors you have control over, like nutrition, exercise, stress and sleep, and remind yourself that you — and everyone else — have a unique weight that your body will steer toward.
Preparing for stalled progress
One of the most common scenarios that happens when people increases their activity levels is weight loss will slow and sometimes weight may actually increase as higher levels of muscle mass develop. Ironically, despite improved energy and looser-fitting clothing (since muscle takes up less space on the body than fat), many clients become upset when the scale doesn't move down. It is also common to see clients disappointed when weight loss is slower than anticipated even though they have shifted their diet to a phenomenal level of balanced nutrition that not only improves their medical status (such as blood pressure, blood cholesterol levels or blood sugar) but enhances the way they feel. In both of these circumstances, I believe people feel like they are doing the work and not getting paid. Instead of focusing on weight loss as the only paycheque, remember paycheques may be in another currency. Learn to celebrate wages in the form of health compensation and energy reimbursement.
What is a healthy weight?
There are large debates over how best to determine a person's "healthy weight." Most health professionals use tools such as body mass index (BMI), which correlates your height and weight as well as waist circumference. While there is benefit in looking at these as a starting place to determine whether you are at a healthy weight, these factors do not take into consideration individual variances, histories and body composition (fat, muscle, bone). Also consider that the scale cannot measure your eating habits or exercise habits — this oversimplifies the complex science of your body weight.
Some of the healthiest people I have seen as a dietitian will always rank high on weight charts, while some of the unhealthiest people I know with poor lifestyles will remain in healthy weight ranges on charts. You may be like many of my clients who have looked at target weight charts and been disheartened by numbers you have not been at for decades of your life. Or you may be like others who have worked hard to lose a significant amount of weight but can't seem to shed the last 10 to 20 pounds that your doctor wants to see you shed. Can these people still be considered healthy? I believe so. Choose to acknowledge the scale as only one small tool to measure your progress.
Weight wisdom
You know your body best. A true healthy weight is not something that can be found in a chart: it will be a range your body will naturally maintain when you nourish it with healthy food, exercise it regularly, and manage sleep and stress. Don't let the scale rule your happiness, self-worth, and belief in your health status. Decide not to stand on the scale each day to determine whether it is going to be a good day or a bad day filled with feelings of failure and guilt. Resist the magnetic pull of the scale and start to measure your success on your own terms.
Andrea Holwegner — the Chocoholic Dietitian — is a registered dietitian and founder and president of Health Stand Nutrition Consulting in Calgary.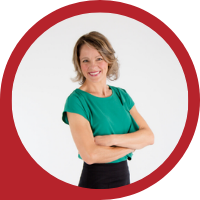 About Andrea Holwegner
CEO, Registered Dietitian, Counseling Practice Director & Professional Speaker
Andrea the «Chocoholic Nutritionist» is founder and CEO of Health Stand Nutrition Consulting Inc. since 2000. She is an online nutrition course creator, professional speaker and regular guest in the media. Andrea is the recipient of an award by the Dietitians of Canada: The Speaking of Food & Healthy Living Award for Excellence in Consumer Education....Read more