The More Variety, the More We Eat
Sensory Specific Satiety Triggers  Us to Eat More
By Andrea Holwegner, Nutrition Expert & Professional Speaker
Ever wondered why M&M's® and Smarties® are a variety of different colors rather than only one color, even though they taste the same?
Simply stated, increasing the variety of foods offered increases how much we eat.
Researchers have termed this phenomenon "sensory specific satiety." What this means is that our senses (such as taste, smell and even sight) get numbed and overwhelmed if they continually experience the same stimulus. This is why we eat more when there is variety.
Take buffets for example. You might notice that eating at a buffet is usually very challenging if you are trying to cut back on the amount of food you eat. You will eat more at a buffet if twenty foods are offered compared to three foods at a meal at home.
The good news is that you can use the concept of variety to boost your intake of healthy foods and watch your portion sizes.
Need to eat more vegetables? Offer two different types of veggies for dinner rather than one.
Want to increase your fruit consumption? Make sure you have a fruit bowl stacked with a variety of fresh fruits rather than just one type.
Know that your portion sizes are too big at supper? Only offer one starchy food instead of two (for example, include pasta OR bread at a meal but not both).
Find holiday parties challenging? Put only one or two different types of appetizers on your plate rather than six or more types of appetizers. Research shows that the lack of variety on the plate will slow you down and you will end up eating less.
References:
Barbara E. Kahn and Brian Wansink. The Influence of Assortment Structure on Perceived Variety and Consumption Quantities. Journal of Consumer Research. 30: 4; March 2004; 519-533.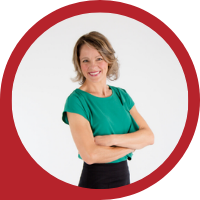 About Andrea Holwegner
CEO, Registered Dietitian, Counseling Practice Director & Professional Speaker
Andrea the «Chocoholic Nutritionist» is founder and CEO of Health Stand Nutrition Consulting Inc. since 2000. She is an online nutrition course creator, professional speaker and regular guest in the media. Andrea is the recipient of an award by the Dietitians of Canada: The Speaking of Food & Healthy Living Award for Excellence in Consumer Education....Read more