The winter weight-gain blues
What to do when you see the scale go up in the winter months
By Andrea Holwegner, Health Stand Nutrition Consulting Inc. – for CBC.ca
Are you like many people who notice the scale go up in the winter months? In the winter when there is less sunlight our serotonin ("feel good" brain chemical) levels may be lower. This, in conjunction with the cooler temperatures, can leave us unmotivated to keep up our activity.
Combine all of this with festive eating that starts before Thanksgiving and continues past New Year's as well as winter cravings for comfort foods and you can see why many people experience the winter weight gain blues. The good news is that the cooler weather need not add inches to your waistline.
Exploring winter food cravings
You inherit a unique balance of appetite control chemicals and unique experiences that shape your food preferences and cravings.
Food cravings are magnified:
When you follow a restrictive diet or skip meals.
If you are under stress or feel angry, depressed or overwhelmed. The winter holiday season can be a particularly hard time of year due to emotional and financial pressure.
If you get less sleep or are premenstrual.
By an addiction to pleasure much like the high experienced after intense exercise. A calming response is immediately produced by foods such as sweets that release quick acting chemicals in your brain called endorphins.
As a result of habit. If you condition yourself over time to have a mid-afternoon chocolate bar or popcorn at the movies and it makes you feel good, you are likely to have it again.
Because of childhood food associations, memories, cultural beliefs and holiday traditions. You may notice that you crave certain foods such as shortbread over the holidays. I crave macaroni and cheese in times of stress since it reminds me of being cared for by my mom when I was a kid.
Many people crave carbohydrates (breads, chocolate, sweets, potato chips etc.) in the winter especially when sunlight and serotonin levels are lower. A carbohydrate-rich meal/snack stimulates the release of the hormone insulin which lowers blood levels of all amino acids except tryptophan. Tryptophan levels in the brain rise and are converted to serotonin. Serotonin is a neurotransmitter that regulates sleep, reduces pain and appetite, and generally calms you down and improves your mood.
3 steps to preventing winter weight gain
1. Manage food cravings
Keep in mind that a craving is only a feeling – it is not a command. Even though the initial relief of satisfying a craving might appear to end the urge to eat, in the long run it encourages stronger and more frequent temptations and leaves you more vulnerable to the next snack attack.
Here are some key ways to manage winter food cravings:
Nibble: The most important way to manage food cravings is to nibble instead of gorge. To maintain good energy and blood sugar control eat small meals/snacks every 3-5 hours.
Plan balanced meals: Your breakfast, lunch, and supper should consist of three things for balance. Firstly a whole grain/starch such as bread/pasta/rice/potato/cereal; secondly a vegetable/fruit; and thirdly a source of protein such as meat/fish/poultry/legumes/nuts/ eggs/soy/dairy. The grain/starch and vegetable/fruit will provide the brain with sugar (carbohydrate) for energy and the protein will slow down how quickly the sugar goes into the blood and contribute to fullness.
Take a time out: Before giving into your craving, make yourself wait. Most cravings fade within 10-15 minutes. The temptation to give in to a craving becomes less frequent and progressively weaker when you outlast the urge. On the other hand it is sometimes important to have a bit of whatever it is that you have a strong craving for rather than eating down the house to try and get something that satisfies the craving! It is also important to take a time out and understand why you are eating. Stress, anger, sadness,
habit, the smell or sight food, and social environment are all triggers to eat, especially over the winter holiday months.
Avoid "all or none" thinking: As soon as you tell yourself you can't eat certain foods that will be what you crave. Give yourself flexible eating patterns that allow for some of your favourite treats, while not giving into all your cravings. Make the decision not to go on a restrictive diet. Instead go for sensible balanced eating that includes all foods.
2. See the light
Diminished sunlight in the winter months reduces the brain's level of serotonin and can leave you feeling depressed and reaching for comfort foods. Walking outdoors or participating in outdoor winter activities such as skating or skiing are fabulous ways to keep you feeling your best. At home and at work be sure to open the curtains and sit next to a window whenever possible. If you experience mild to severe depression all winter you may have SAD (seasonal affective disorder) and should speak to your doctors.
3. Boost your physical activity
Many people gain weight over the winter months since they keep eating similar amounts of food (and potentially even more food) but have also reduced their physical activity. Get moving to prevent weight gain. Bundle up and get outside or choose indoor activities to keep fit. Exercise is one of the most important ways to manage a healthy weight and keep your metabolism revved and burning calories efficiently.
Believe it or not physical activity is also essential for food craving control. It helps regulate blood sugar levels and other nerve chemicals along with endorphins. Physical activity can also improve mood and self-esteem, and be a distraction for food cravings.
Andrea Holwegner — the Chocoholic Dietitian — is a registered dietitian and founder and president of Health Stand Nutrition Consulting in Calgary.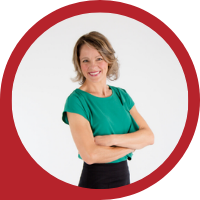 About Andrea Holwegner
CEO, Registered Dietitian, Counseling Practice Director & Professional Speaker
Andrea the «Chocoholic Nutritionist» is founder and CEO of Health Stand Nutrition Consulting Inc. since 2000. She is an online nutrition course creator, professional speaker and regular guest in the media. Andrea is the recipient of an award by the Dietitians of Canada: The Speaking of Food & Healthy Living Award for Excellence in Consumer Education....Read more