15 Tips for the Last 15 Days of the Year
Here are some quick and easy tips to squeeze into your holiday chaos! Remember, small changes can create super-sized results!
By Andrea Holwegner, Health Stand Nutrition Consulting Inc.
Pack a water bottle when you are Christmas shopping/running errands
Pack a healthy snack when you are Christmas shopping/running errands (e.g. trail mix, piece of fruit)
Don't arrive at a party or dinner too hungry to prevent overeating
For every alcoholic drink you have, drink a glass of water, or soda water with lime in between.
Dress warm and take a family walk after Christmas dinner watch the beautiful lights!
Before you go for seconds, wait 15 minutes and decide if you are still hungry.
Choose ONE dessert you will really enjoy, and savour it! What's really worth it?
Stay away from the "food table/area" until it is time to eat.
Freeze some leftover desserts or meals for later use.
Include a green vegetable in your Christmas dinner (e.g. spinach, asparagus, brussel sprouts, green beans, etc.)
Include a short daily activity to help reduce stress and stay active (e.g. 10min stretch or 10min walk)
Eat Christmas dinner S L O W L Y and truly enjoy every bite!
Buy a gift for good health (e.g. healthy cookbook, yoga/pilates class pass, pedometer, heart rate monitor)
Make some healthy food choices when you are on your own, and allow some flexibility during social/special occasions.
Focus on all the healthy decisions you made, and don't stress about the unhealthy ones!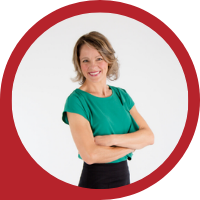 About Andrea Holwegner
CEO, Registered Dietitian, Counseling Practice Director & Professional Speaker
Andrea the «Chocolate Loving Nutritionist» is founder and CEO of Health Stand Nutrition Consulting Inc. since 2000. She is an online nutrition course creator, professional speaker and regular guest in the media. Andrea is the recipient of an award by the Dietitians of Canada: The Speaking of Food & Healthy Living Award for Excellence in Consumer Education....Read more