Tofu Tacos with Pineapple Pico De Gallo
Tofu Tacos with Pineapple Pico De Gallo Recipe
Sponsored recipe by the Peanut Bureau
Forget Meatless Mondays. Spice up Taco Tuesday with tofu so flavourful, you'll forget you're eating vegetarian. More great recipes can be found at www.peanutbureau.ca.
Baking time: 25 minutes  
Makes: 6 tacos
What you need:
1 tbsp (15 mL) peanut butter
2 tsp (10 mL)peanut oil
1 tsp (5 mL) each chili powder and hot pepper sauce
¼ tsp (1 mL) salt
12 oz (350 g) extra-firm tofu
6 stand-up style crunchy taco shells
Salsa
1 cup (250 mL) diced fresh pineapple
1 cup (250 mL) diced red pepper
½ small tomato, diced
1 green onion, thinly sliced
¼ cup (60 mL) peanuts, coarsely chopped
2 tbsp (30 mL) chopped cilantro
1 to 2 tbsp (15 to 30 mL) minced jalapeno pepper
1 clove garlic, minced
salt and pepper, to taste
Garnish: 1 handful microgreens or sprouts, optional
How to prepare:
Preheat oven to 350⁰F (180⁰C). Line a baking sheet with parchment paper.
In a small bowl, stir peanut butter with oil, chili powder, hot pepper sauce and salt. Cut tofu into 1-inch (2.5-cm) cubes. Add to peanut butter mixture and stir to coat. Spread out on baking sheet.
Bake 25 minutes. Warm taco shells in the last 2 minutes.
Meanwhile, in another bowl, stir together salsa ingredients.
Divide warm tofu between taco shells. Top with pineapple salsa and microgreens.
Per serving (1 taco)
200 calories
11 g fat (2 g saturated fat, 0 g trans fat)
0 mg cholesterol
210 mg sodium
16 g carbohydrate
3 g fibre
5 g sugars
9 g protein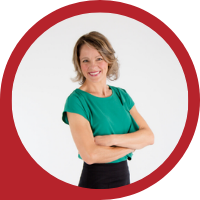 About Andrea Holwegner
CEO, Registered Dietitian, Counseling Practice Director & Professional Speaker
Andrea the «Chocolate Loving Nutritionist» is founder and CEO of Health Stand Nutrition Consulting Inc. since 2000. She is an online nutrition course creator, professional speaker and regular guest in the media. Andrea is the recipient of an award by the Dietitians of Canada: The Speaking of Food & Healthy Living Award for Excellence in Consumer Education....Read more