Tofu, Vegetable and Peanut Stir-Fried Rice Recipe
Meatless Mondays – Tofu, Vegetable and Peanut Stir-Fried Rice Recipe
Sponsored recipe by the Peanut Bureau
Rethink leftovers with this tofu, vegetable and peanut stir-fried rice. Fresh and delicious, this recipe is a far cry from your average takeout dish. More great recipes can be found at www.peanutbureau.ca
Prep time: 30 minutes
Cooking time: 7 minutes
makes 3 to 4 servings
Ingredients:
350 g block extra-firm tofu
2 tbsp soy sauce
1 tbsp sesame oil
hot Chinese chili garlic sauce, to taste
4 tsp oil, preferably peanut
1 cup very small broccoli florets
1 cup diced carrot
1 cup diced shitake mushrooms, about 6
1/2 cup peanuts
2 cloves garlic, minced
1 tbsp grated ginger
3 cups cooked and chilled brown or white rice, or leftover rice
1/2 cup frozen peas
2 green onions, thinkly sliced
Directions:
Place tofu on paper towel-lined plate. Place a few more paper towels on top of tofu, followed by another plate. Place something heavy like a large can on top to weigh down tofu and drain the liquid for about 30 minutes.
Stir soy sauce with sesame oil and hot chili sauce, and set aside.
Pat tofu dry, then cut into 1/2 inch pieces. Season with salt and pepper.
Heat 2 tsp peanut oil in large non-stick frying pan over medium-high heat. Add tofu and stir fry until golden on all sides, about 3 minutes.
Add remaining peanut oil to pan. Add broccoli, carrots and mushrooms to pan. Stir fry just until crisp-tender, about 2 minutes. Add peanuts, garlic and ginger. Stir fry for about 30 seconds. If rice is clumped, fluff with a fork. Add rice, peas, green onions and soy sauce mixture. Stir fry until rice is hot, about 2 minutes.
Per serving (1/4 of recipe)
Calories – 470
Fat – 23 g
Protein – 20 g
Carbohydrate – 49 g
Fibre – 8 g
Sugar – 6 g
Sodium – 650 mg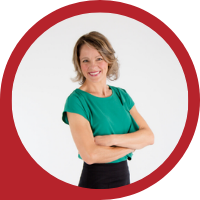 About Andrea Holwegner
CEO, Registered Dietitian, Counseling Practice Director & Professional Speaker
Andrea the «Chocoholic Nutritionist» is founder and CEO of Health Stand Nutrition Consulting Inc. since 2000. She is an online nutrition course creator, professional speaker and regular guest in the media. Andrea is the recipient of an award by the Dietitians of Canada: The Speaking of Food & Healthy Living Award for Excellence in Consumer Education....Read more