Top 10 wellness resolutions for the new year
By Andrea Holwegner, Health Stand Nutrition Consulting Inc. – for CBC.ca
">Thinking about making some nutrition and lifestyle changes for the new year? While all of us have unique areas we need to work on, I want to reflect on the most important moves you could consider making to protect your long-term health.
Our country's report card on health shows a failing grade.
According to the World Health Organization, chronic diseases such as heart disease, stroke, cancer and diabetes are the leading causes of death — by far. Chronic ailments represent 60 per cent of deaths worldwide and 89 per cent of all deaths in Canada.
The World Health Organization says at least 80 per cent of premature heart attack, stroke and Type 2 diabetes could be prevented with lifestyle changes. The good news is that nutrition can work magic.
Not only can choosing a healthy lifestyle help you manage a healthy weight and improve your energy, you can expect a reduced risk of some of the leading causes of death. The challenge for many people is that we often don't like to fix things that don't appear broken.
In my career as a dietitian, I have found that eating well is a tough sell for some people since the naysayers often can't see any immediate damage from making poor choices.
In many cases it takes years to see changes in your health. Consuming too much of certain types of fat can cause plaque buildup in your arteries, causing a heart attack or stroke years down the road.
Years of a low-fibre diet can cause diseases of the bowel. Decades of low fruit and veggie intake can substantially increase your risk of cancer.
Carrying extra weight from months of eating large portions and being sedentary will greatly increase your chances of developing diabetes. Not choosing to eat enough calcium-rich foods when you are a child or an adult can increase your chances of having a debilitating fracture of your bones due to osteoporosis when you are older.
Below are my top 10 general nutrition factors that can substantially reduce your risk of developing some of the most common lifestyle diseases in North America.
Top 10 nutrition & lifestyle tips
1. Eat plenty of plants: In 2004, Statistics Canada reported that 70 per cent of children aged four to eight and 60 per cent of kids aged nine to 13 do not eat at the recommended amount of fruits and vegetables per day. But why would we expect them to, since over half of adults do not get the minimum amount of fruits and vegetables recommended per day?
Eating plenty of fruits, vegetables and whole grains substantially reduces your risk of cancer and is one of the most important ways to keep your heart healthy and prevent diabetes. These foods reduce your blood pressure and protect your arteries from damage, thereby reducing your risk of heart attack and stroke.
Vegetables, fruits and other plant-based foods contain fibre, as well as health-promoting antioxidants and phytochemicals that protect the cells in your body. The WHO says 2.7 million deaths per year are attributable to low fruit and vegetable intake.
2. Limit trans fats and saturated fats: Eating less trans fat and saturated fat is an important way to reduce your risk of cancer and heart disease, as well as lower your blood cholesterol levels.
Trans fat is found in hydrogenated fats such as baked goods, deep-fried/processed foods, restaurant meals and some margarines. Saturated fat is found in animal-based foods such as butter, marbled meat, poultry skin, shortening/margarine and tropical oils.
3. Get more mono-unsaturated fats and omega-3s: Omega-3 fats are primarily found in fatty fish, while other sources include ground flax seeds, canola oil and walnuts. Omega-3 fats have many health benefits, including keeping your blood less sticky and less likely to clot, thereby reducing the risk of heart attack or stroke.
They are also cancer-preventive and may help with many inflammatory diseases. Mono-unsaturated fats from foods such as olive oil, nuts, seeds and avocado are also top-notch heart healthy choices.
4. Get enough calcium and vitamin D: Getting enough calcium and vitamin D through foods such as milk, soy milk, yogurt or by supplements is important for healthy maintenance of your bones to reduce the risk of osteoporosis.
What's more, getting enough calcium and vitamin D is an important way to keep your blood pressure healthy and reduce your risk of colon cancer. among other things.
5. Reduce sodium: Sodium, or salt, comes primarily from packed, processed and restaurant foods and a smaller amount from what you add to foods. Excess sodium in your diet can raise your blood pressure, increasing your risk of heart and stroke.
Salt increases the blood volume that circulates through your arteries, which raises pressure on the artery walls.
6. Drink alcohol only in moderation: Drinking alcohol at moderate levels can be beneficial to reduce overall cardiovascular disease, but high levels can increase your risk of high blood pressure and certain types of cancer.
For men, it is recommended to have no more than two drinks per day, and for women no more than one drink a day.
7. Balance soulful foods: Soulful foods are those we enjoy for non-nutritional reasons simply because they taste good or are part of an emotional response. As the Chocoholic Dietitian, I make no secret of what my favourite soulful food is.
Your favourite treats and junk foods can still fit. There is no need to remove these from your diet.
The trick is to be sure you are consuming a wide variety of healthful foods and leave space for some of the soulful foods you love. This philosophy will allow you to keep motivated and achieve the health goals you are hoping for.
8. Manage a healthy weight: Carrying extra body weight, especially around your midsection, puts substantial strain on your heart. If you are overweight, losing five to 10 per cent of your body weight will improve your cardiovascular health and reduce your risk of diabetes.
After counselling hundreds of clients seeking weight-loss advice, people can consume too many calories by choosing too much junk food or high-calorie food choices or because of portion distortion.
If you are overweight, consider whether your food choices could be improved. If you generally eat well, consider reducing your portion sizes slightly each time you eat.
9. Be active and manage stress: Regular physically activity reduces the risk of high blood pressure, stroke and coronary heart disease — the latter by as much as 50 per cent, according to the Public Health Agency of Canada.
Sustained stress over time increases your risk of heart disease and some research suggests it may increase your blood pressure and cholesterol levels. Think about ways you can squeeze physical activity into your lifestyle and how you can manage stress.
10. Quit smoking: The Heart and Stroke Foundation says smoking almost doubles the risk of ischemic stroke and increases plaque buildup in the arteries, blood clots and blood pressure — and also makes your heart work harder. There is no better way to improve your health than to quit smoking.
Rate your nutrition & health
Fill out the following checklist to assess your current nutrition and health knowledge and status.
Once you have filled this out, take a look at items you checked off as "Sometimes" or "No." Which items would seem the most approachable to work on and ultimately change?
Since change is hard and takes time. my suggestion is that you select a maximum of three items to focus on first. You can always come back to this list and choose new items to focus on, once you get the first three built into habit.
Nutrition & Health Components
YES
(I got it going on)
SOMETIMES
(I'm hit and miss)
NO
(I'm stuck at STOP)
I am happy with my overall health
I am happy with my overall energy levels
I am happy with my current overall nutrition status
I generally make good food choices when I eat at home
If I eat out regularly, I generally make good food choices
I avoid skipping meals throughout the day
I eat most of my food before 4pm
I am knowledgeable and comfortable with portion sizes I eat
I drink enough hydrating fluids each day
I allow myself flexibility in my eating and don't try to eat perfectly
Food is important to me but it doesn't consume my life
I take a daily multivitamin
I get a healthy amount of fibre in my diet
I eat enough fruits and veggies daily
I get enough calcium daily
I watch the amount of unhealthy fats I eat
I watch how much junk food I eat
I am pleased with my current level of fitness
I allow enough recovery between exercise sessions (I am not over-exercising)
I am satisfied with my body image
I am satisfied with my current body weight
I am satisfied with how I manage stress at work
I am satisfied with how I manage stress at home
I am satisfied with how I juggle work/life balance
I am able to let go of my mistakes
I regularly get enough sleep
I regularly find time for myself
I regularly find time for my important relationships (friends/family/pet)
I take medications reliably and as prescribed
I am a non-smoker and avoid second-hand smoke
I am comfortable with saying "No"
I consume no more than one drink of alcohol daily (two per day for men)
Andrea Holwegner, the Chocoholic Dietitian is founder and president of Health Stand Nutrition Consulting Inc., a member of the Canadian Association of Professional Speakers and a media expert for the Dietitians of Canada. She's the author of Juiced Up Journal: 365 Day Nutrition & Wellness Journal.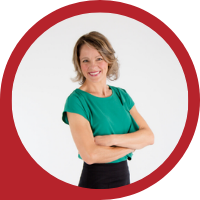 About Andrea Holwegner
CEO, Registered Dietitian, Counseling Practice Director & Professional Speaker
Andrea the «Chocolate Loving Nutritionist» is founder and CEO of Health Stand Nutrition Consulting Inc. since 2000. She is an online nutrition course creator, professional speaker and regular guest in the media. Andrea is the recipient of an award by the Dietitians of Canada: The Speaking of Food & Healthy Living Award for Excellence in Consumer Education....Read more