Top 10 Winter Snack Attacks
By Andrea Holwegner, Health Stand Nutrition Consulting Inc.
Wondering what you could choose mid-afternoon that can boost your energy?
Apple and wedge of cheese
Sliced fresh pear with cottage cheese and a dash of cinnamon
Raw veggies (such as carrots, broccoli, cauliflower, snap peas, grape tomatoes) and hummus for dip
Dried fruit bar and carton of milk
Mug of hot chocolate or chai tea (both made with milk of course!)
Handful of trail mix
Canned peaches and vanilla yogurt
Whole wheat crackers and a hardboiled egg
Cantaloupe or honeydew melon and almond flavored tofu
Mini can of pre-flavored tuna and whole grain crackers
How is YOUR New Year's Resolution Going?
40 to 45% of adults make one or more resolutions each year1. Eating healthier, losing weight, increasing exercise, and quitting smoking are at the top of the charts for New Year's resolutions.
The following shows how many of these resolutions are maintained as time goes on:
75% maintained past the first week
71% maintained past 2 weeks
64% maintained after one month
46% maintained after 6 months1
While a lot of people who make new years resolutions do break them, research shows that making resolutions is useful. The good news is that people who explicitly make resolutions are 10 times more likely to attain their goals than people who don't explicitly make resolutions1.
It's a new year and we have a chance for a fresh start. The New Year brings hope and a belief that we can change things in your life. But often what happens is that our focus, energy, and motivation fades quickly when the busyness and demands of life get in the way.
If you have set a new years resolution how can you sustain it?
AVOID THE EXTREME MAKEOVER
The New Year is a great time of year to regroup and think about setting some healthy new years resolutions BUT, you have to set goals that help yousucceed over the long term rather than address a quick fix. When you do too much too soon and try to perform an "extreme makeover" of your diet, you will find it is difficult to sustain.
"Failure is the opportunity to begin again more intelligently." (Henry Ford)
Resolve not to be too hard on yourself. If you have set a goal you found difficult to stick to, perhaps it was too much too soon. When we fail, sometimes it is a sign that we need to regroup and set a more intelligent "bite sized" goal we can stick with. Remember there is always opportunity for a fresh start.
Reference:
1Norcross, J.C., Mrykalo, M.S., & Blagys, M.D. (2002). Auld lang syne: Success predictors, change processes, and self-reported outcomes of New Year's resolvers and nonresolvers. Journal of Clinical Psychology, 58(4), 397-405.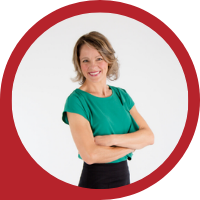 About Andrea Holwegner
CEO, Registered Dietitian, Counseling Practice Director & Professional Speaker
Andrea the «Chocoholic Nutritionist» is founder and CEO of Health Stand Nutrition Consulting Inc. since 2000. She is an online nutrition course creator, professional speaker and regular guest in the media. Andrea is the recipient of an award by the Dietitians of Canada: The Speaking of Food & Healthy Living Award for Excellence in Consumer Education....Read more