Top 3 Nutrition Strategies for Weight Loss
By Andrea Holwegner, Health Stand Nutrition Consulting Inc.
If you are like many folks that have set a New Year's Resolution to lose some weight here are my top 3 suggestions based on the dozens of clients I have seen over the years.
Understand Portion Distortion
Food researchers suggest that we underestimate how much we eat by 20-40%. "Calories are king" when it comes to managing a healthy weight. Small shifts in daily quantities add up to be big calorie deficits over the long run. If you are trying to lose weight, think about reducing what you are eating each day by a small fraction. You will be surprised that you don't necessarily need to drastically change your eating habits to start to see the scale move. Try using smaller plates, bowls and glasses since research supports this can indeed help you eat less. Think about resisting the urge to "clean your plate" when you are already full. Ask yourself "what's eating you?" Are you eating out of boredom, anger, stress or loneliness? Reflect on some ways you can comfort yourself without food.
Fight the Sumo Wrestlers
There is plenty that can be learned from observing the way Sumo wrestlers maximize fat storage for their bodies. Sumo wrestlers skip food during the day and gorge with plenty of food in the later parts of the day. If you don't want to look like a Sumo wrestler, be sure to "light the fire" or kick start your metabolism by eating on time – every 3-5 hours and always eat breakfast daily. If you eat breakfast at 7 am you will need to eat a snack and/or your lunch between 10 am-12 noon. If you consume lunch at noon then somewhere between 3-5 pm you will need a snack to tie you over if supper isn't until 6 pm or later. This means you will need to eat anywhere between 3-6 times per day. Obviously the more often you eat, the smaller your volumes of food need to be in comparison to someone that chooses to eat a few larger meals per day.
Think in 3's
Plan balanced meals to make sure you are both full and satisfied. When you are building breakfast, lunch and supper be sure to include 3 things for balance. These include grains or starches such as rice, bread, cereal, potatoes or pasta; veggies and/or fruit and lastly a source of protein such as meat, poultry, legumes, eggs, dairy or nuts. Carbohydrates found in grains, starches and in lesser amounts in fruits and veggies are essential for keeping your brain feeling satisfied. Carbohydrates provide your brain with energy or sugar and elevate serotonin which is the neurotransmitter that boosts mood. Protein is also important in a meal to make sure you feel full and stabilize your blood sugars. In other words carbohydrates provide your brain satisfaction while protein provides your stomach with fullness. One without the other will run you into trouble. The key to sticking to any weight loss program is to feel both full AND satisfied.
Andrea Holwegner
"The Chocoholic Dietitian"
Have a comment or question about this article? Post your thoughts and read more information on our new BLOG:www.healthstandnutrition.com/blog/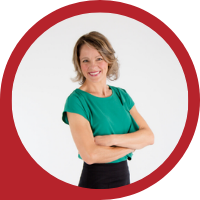 About Andrea Holwegner
CEO, Registered Dietitian, Counseling Practice Director & Professional Speaker
Andrea the «Chocolate Loving Nutritionist» is founder and CEO of Health Stand Nutrition Consulting Inc. since 2000. She is an online nutrition course creator, professional speaker and regular guest in the media. Andrea is the recipient of an award by the Dietitians of Canada: The Speaking of Food & Healthy Living Award for Excellence in Consumer Education....Read more