Top Tips for Eating Out
By Andrea Holwegner, Health Stand Nutrition Consulting Inc.
Check fast food and major franchises for nutrient listings on their website
Look for terms that may signal healthy choices:

Symbols
Heart smart/Healthy pick
Steamed, roasted, poached, tomato juice/sauce, in its own juice, broiled, garden fresh

Watch out for:

Buttery, creamy, gravy, Hollandaise sauce, fried, tempura, crispy

Beware of marketing: "Fat Free" does not mean "Calorie Free"
Watch out for alcohol…it stimulates your appetite!
Choose healthy, low or no calorie beverages such as water, soda water with lime, juice, juice and soda water mixed together or tomato juice. Many restaurants serve 0.5L to 1L portions of pop. Say no to the free refills!
Request the sauces and spreads on the side
Substitutions?

Substitute fries for salad or soup
Ask for double the veggies and ½ the rice/starch

Make sure you don't arrive too hungry. Have a small snack to help you make a sensible choice when you arrive.
Eat less! Most restaurants will serve you a much larger portion than you would ever serve yourself at home.

Order a lunch size rather than supper size
Ask for a ½ portion?
Take the leftovers home for your lunch the next day!
Keep in mind:

1 cup pasta/rice = 2 grain servings; 1 bagel= 3 grain servings; 1 foot-long sub bun= 6 grain servings; 1 cup juice= 2 fruit servings;
Palm of your hand – likely a good portion of meat for you
Size of your fist – likely a good portion of starch/grains for you
The Big Picture
Restaurant and fast food meals are often high in calories; high in fat – especially saturated/trans fats; high in sodium and low in vegetables and fruit.
If you eat out regularly you need to plan to make healthy choices.
If you eat out only occasionally don't worry about it – have what you like! All foods can fit!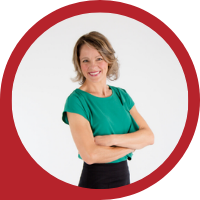 About Andrea Holwegner
CEO, Registered Dietitian, Counseling Practice Director & Professional Speaker
Andrea the «Chocoholic Nutritionist» is founder and CEO of Health Stand Nutrition Consulting Inc. since 2000. She is an online nutrition course creator, professional speaker and regular guest in the media. Andrea is the recipient of an award by the Dietitians of Canada: The Speaking of Food & Healthy Living Award for Excellence in Consumer Education....Read more